Brantley, Kipnis homers power Tribe past KC
Two-run shots support McAllister; squirrel may be good luck charm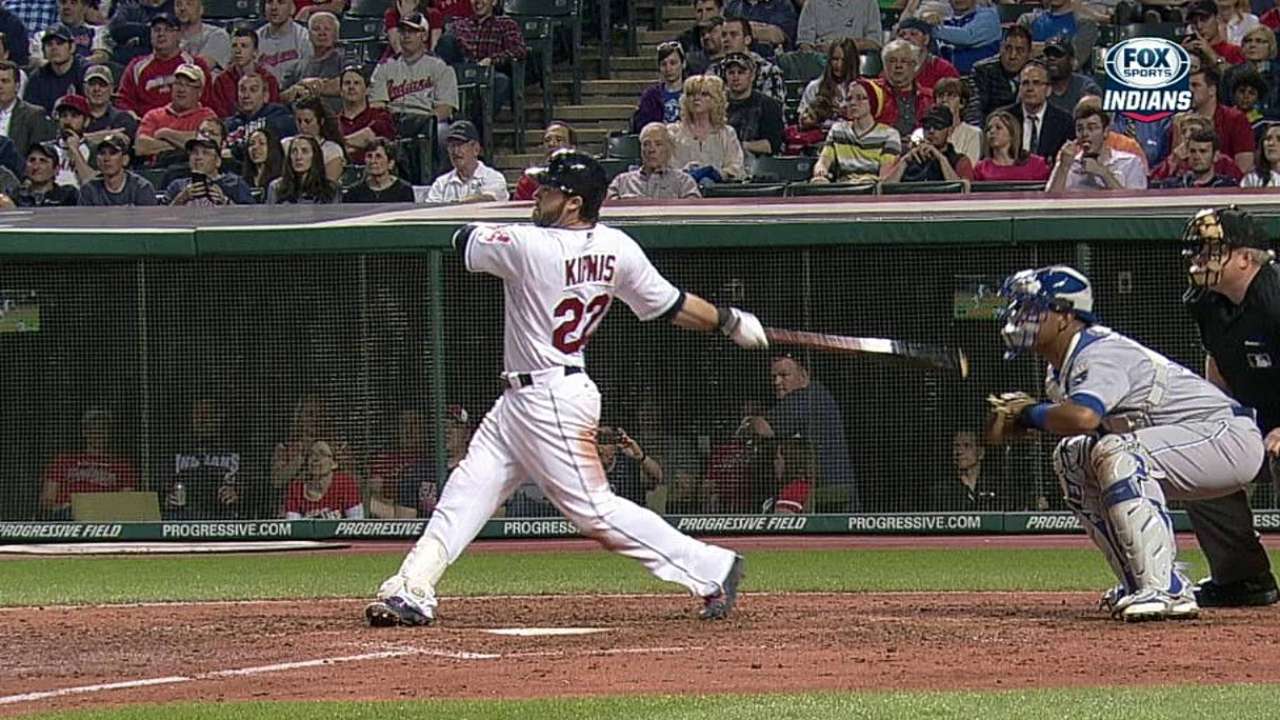 CLEVELAND -- The Indians had their rally chicken last season. Perhaps the squirrel that invaded Progressive Field on Monday night, entertaining the crowd and causing a brief delay on the field, will bring a little luck this year.
Cleveland will take any help it can get.
"He was OK by me," manager Terry Francona said.
In the opener of a four-game series with the American League Central rival Royals, starter Zach McAllister gave a solid performance and the Tribe's offense came through with a couple well-timed home runs to claim a 4-3 victory. The win was the second in a row for the Indians, who are still looking for their first three-game streak of the season.
Last September, following a rough stretch that included six losses in eight games, Cleveland's players brought a chicken to the field during batting practice. It roamed the outfield and wore a small cape with the Tribe's block "C" on display. The Indians then went on to win 19 of their last 24 games en route to the AL's top Wild Card spot.
You can decide whether it was all a big coincidence.
As for Indians' setup man Cody Allen -- the inspiration behind the team naming the chicken "Cody" last season -- he is not counting anything out. He logged one clean inning in Monday's win, as did lefty Marc Rzepczynski, who was in the Cardinals' bullpen when the famous Rally Squirrel ran in front of home plate during the Fall Classic in '11.
"It happened to them in 2011 and they won the World Series," Allen said with a smirk. "I know it's April, but you never know."
Cleveland's squirrel has hardly reached Rally status, but the critter that arrived to the ballpark on Monday certainly brought some energy. It sprinted through the outfield in the top of the second inning and ventured into the infield, forcing a momentary delay until it darted by the glove of first baseman Nick Swisher and into right field.
"I just kind of thought I'd put my glove down and give him a nice little home to come into," Swisher said with a laugh.
A group of workers eventually surrounded the squirrel and forced him into the Indians' bullpen beyond the center-field wall. There was a smattering of boos from the crowd as the small animal was escorted off the field.
"They could have got him for trespassing because I doubt if he bought a ticket," Royals manager Ned Yost joked. "And that's the first time I've seen a spectator run on the field where they didn't tackle him and arrest him."
Cleveland's relievers did what they could to help the squirrel retrieval crew.
"I was like, 'Bring it in here. Bring it in here. Get him out of harm's way,'" Allen said. "I didn't want [center fielder Michael Bourn] to be running back on a fly ball, look down and a squirrel be there. I don't think you can review that play."
The Indians (9-10) got the crowd going again in the fourth inning, when Jason Kipnis led off with a double against Royals right-hander Jeremy Guthrie. Two batters later, Michael Brantley drilled a 2-1 offering from Guthrie to deep right field for a two-run home run that pushed the Tribe to a 2-0 lead. The blast was Brantley's team-leading fourth of the season.
Shut-down innings have been an issue in the early going this season, and that held true in the top of the fifth.
Mike Moustakas and Alcides Escobar opened the inning with consecutive doubles against McAllister. The second in that series clanked off the glove of a diving Michael Bourn in center field, cutting Cleveland's lead to 2-1. The Royals evened things up when Jarrod Dyson bunted a pitch back to McAllister, who made a throwing error to first base, allowing Escobar to score.
Omar Infante later used a one-out single to left field to put the Royals ahead, 3-2.
"Any time they give us runs, you want to have a shut-down inning," McAllister said. "To give up three there was pretty frustrating for myself, especially in a game like that where runs are at a premium. To not get that shut-down inning was frustrating for me. Our guys picked me up again."
Kansas City's slim advantage held until the sixth inning, when Swisher slashed a pitch from Guthrie to the wall in left-center field for a leadoff double. That set the stage for Kipnis, who crushed a hanging 0-1 offering to right-center for a towering two-run home run. The shot marked the third of the season for the All-Star second baseman and put the Tribe ahead for good, 4-3.
Guthrie bowed out of the ballgame after giving up 10 hits in 6 1/3 innings for KC.
McAllister improved to 3-0 on the season with the win, during which he logged six innings and allowed three runs (two earned) on six hits. Over his past three outings, the big right-hander has spun a tidy 1.37 ERA with 13 strikeouts against three walks across 19 3/2 innings.
"I thought he was good," Francona said. "I thought for the most part, his fastball was 92-93 [mph] at the knees. That's a good pitch. And then off of that, he threw some offspeed pitches. The one inning that he gave up some contact, and we had a couple missteps, he kept making pitches and he didn't come unglued. And then, he went back out and pitched good again."
John Axford finished what McAllister started, facing the minimum in the ninth inning to seal the win and earn his seventh save.
What the closer did not get to do was get a good look at the squirrel.
"I guess he just took off," Axford said. "Hopefully, he'll be back tomorrow so I'll get to say hi."
Jordan Bastian is a reporter for MLB.com. Read his blog, Major League Bastian, and follow him on Twitter @MLBastian. This story was not subject to the approval of Major League Baseball or its clubs.