Masterson working on revving up his velocity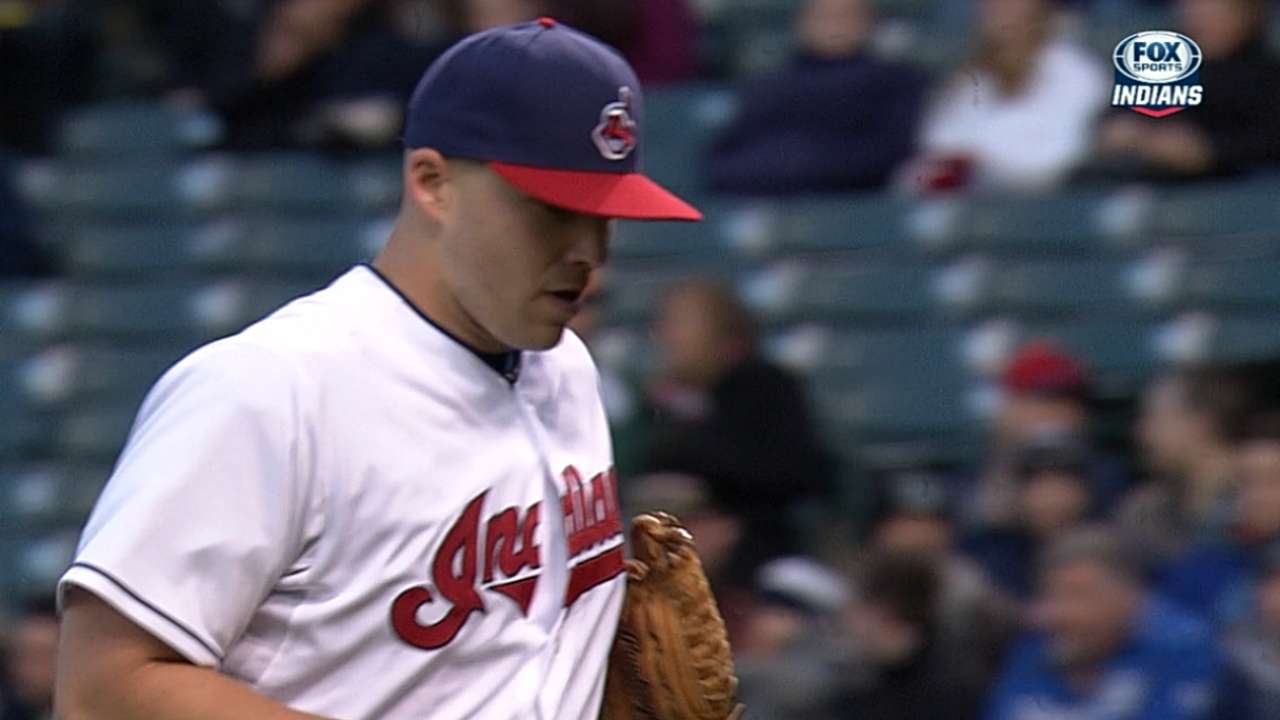 CLEVELAND -- Justin Masterson is five starts into his season and still searching for the kind of fastball velocity he featured in recent years.
The Indians have not been able to pinpoint a specific reason behind the noticeable decrease in pitch speed, but both pitching coach Mickey Callaway and Masterson are tackling the issue behind the scenes. Callaway said the big right-hander has increased the volume of four-seam fastballs during bullpen sessions in an effort to build more arm strength.
"I think right now, he just can't find that four-seam velocity that he had last year," Callaway said on Thursday morning. "I wouldn't say he's reinventing himself. I think he's playing the cards that he's dealt right now. We're working towards finding the four-seam velocity again and he's been working hard."
Masterson has averaged 88.7 mph on his fastballs (four-seamers and two-seamers combined), which is down from 91.6 mph in 2013, 91.9 mph in '12 and 92.7 mph in '11. Over that same stretch, Masterson's slider has gone from roughly 83 mph on average over the past three years to just 81.1 mph this season.
During Wednesday's start against the Royals, Masterson had very little difference in velocity between his four-seam fastball (90.3 mph) and two-seam sinker (89.5), according to PITCHf/x data. In April of last season, he was averaging 93.7 mph with his four-seamer and 92 mph with his sinker.
"In Spring Training, I don't think it was as noticeable," Callaway said. "I thought it was more he was working on just two-seaming the ball to really hone in on that aspect of his game, and really start trying to command that two-seamer. Maybe with that approach, he didn't build enough arm strength where he could go get that four-seamer. Whatever it is, I know we're working toward getting that back."
Callaway said the encouraging aspect is that Masterson has still been able to perform well on the mound in his last two outings, during which he has posted a 2.84 ERA with 15 strikeouts and four walks in 12 2/3 innings. In the previous two starts, the righty had a 10.80 ERA with 11 strikeouts and eight walks in only 8 1/3 innings.
"He's confident he's going to find it," Callaway said. "He just doesn't have it right now. He's doing whatever he can to win with the stuff he's got. He's pitching with what he's got. Every pitcher goes out there that day and they don't know what they have.
"He's trying to do the best with what he's got and he's done a pretty good job of that in his last two starts."
Jordan Bastian is a reporter for MLB.com. Read his blog, Major League Bastian, and follow him on Twitter @MLBastian. This story was not subject to the approval of Major League Baseball or its clubs.