Breaking down the Indians' 2015 Top 30 Prospects
Former first-round Draft picks Lindor, Frazier, Zimmer, Naquin high in ranks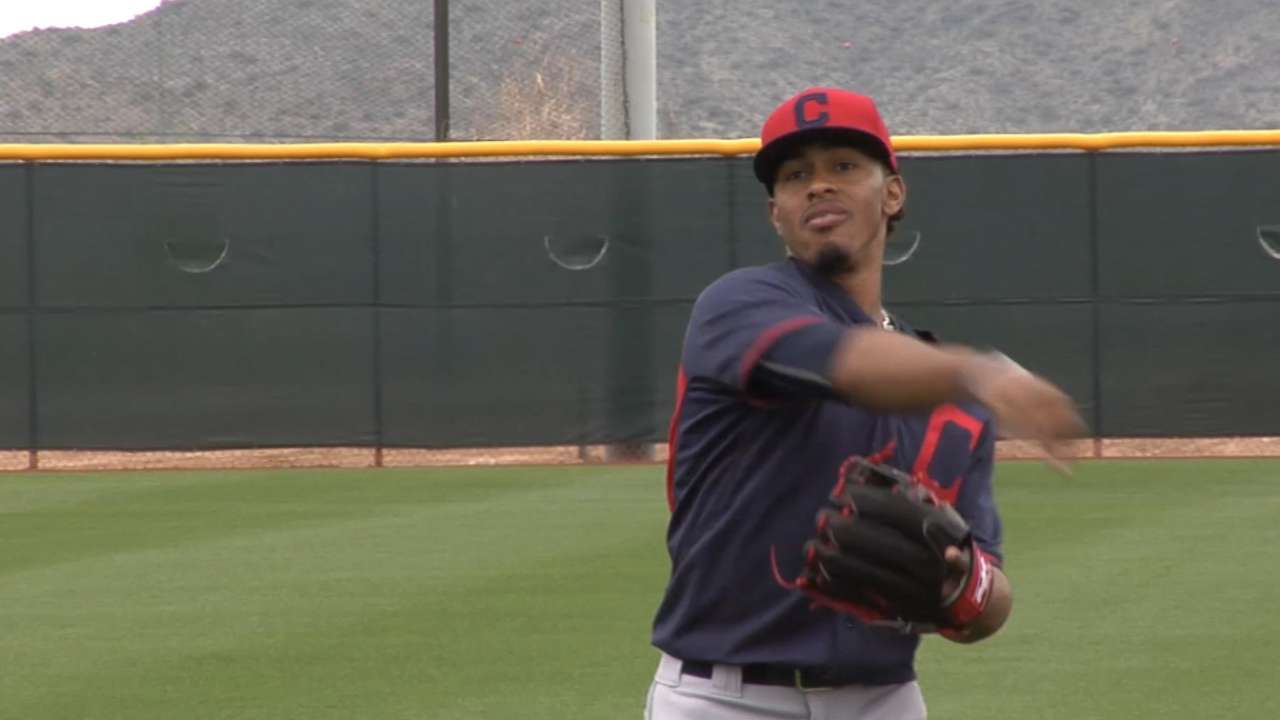 Not so long ago, the Indians' Top Prospects list was heavily populated by players who arrived in the organization from trades. But this year's rankings include only one player (outfielder James Ramsey, who arrived in the Justin Masterson trade) who wasn't drafted or signed as an amateur by the organization.
The Tribe's top picks in the past four First-Year Player Drafts all rank in this year's top five. Shortstop Francisco Lindor, the eighth overall pick in 2011, tops the list, and outfielders Clint Frazier ('13), Bradley Zimmer ('14) and Tyler Naquin ('12) follow close behind. Only third baseman Giovanny Urshela, who was signed out of Colombia, interrupts the string of top Draft picks.
Zimmer is one of four players in the top 10 from Cleveland's 2014 Draft class. He is joined by left-hander Justus Sheffield, outfielder Mike Papi and first baseman Bobby Bradley.
Indians' 2015 Top 30 Prospects list
Biggest jump: Urshela, 3B (2014: Unranked | 2015: 4)
Biggest fall: Ronny Rodriguez, 2B/SS (2014: 13 | 2015: Unranked)
Best tools
Players are graded on a 20-80 scouting scale for future tools -- 20-30 is well below average, 40 is below average, 50 is average, 60 is above average and 70-80 is well above average.
Hit: Lindor (60)
Power: Frazier (65)
Run: Naquin (60)
Arm: Francisco Mejia (70)
Defense: Lindor (70)
Fastball: Austin Adams (70)
Curveball: Sheffield (55)
Slider: Dylan Baker (55)
Changeup: Adam Plutko (55)
Control: Ryan Merritt (60)
How they were built
Draft: 22
International: 7
Trade: 1
Breakdown by ETA
2015: 8
2016: 6
2017: 7
2018: 8
2019: 1
Breakdown by position
C: 2
1B: 3
2B: 0
3B: 1
SS: 4
OF: 8
RHP: 8
LHP: 4
Teddy Cahill is a reporter for MLB.com. Follow him on Twitter at @tedcahill. This story was not subject to the approval of Major League Baseball or its clubs.