Tomlin to miss 3-4 months after shoulder surgery
Indians lose depth as righty will join Floyd, Swisher and Walters on DL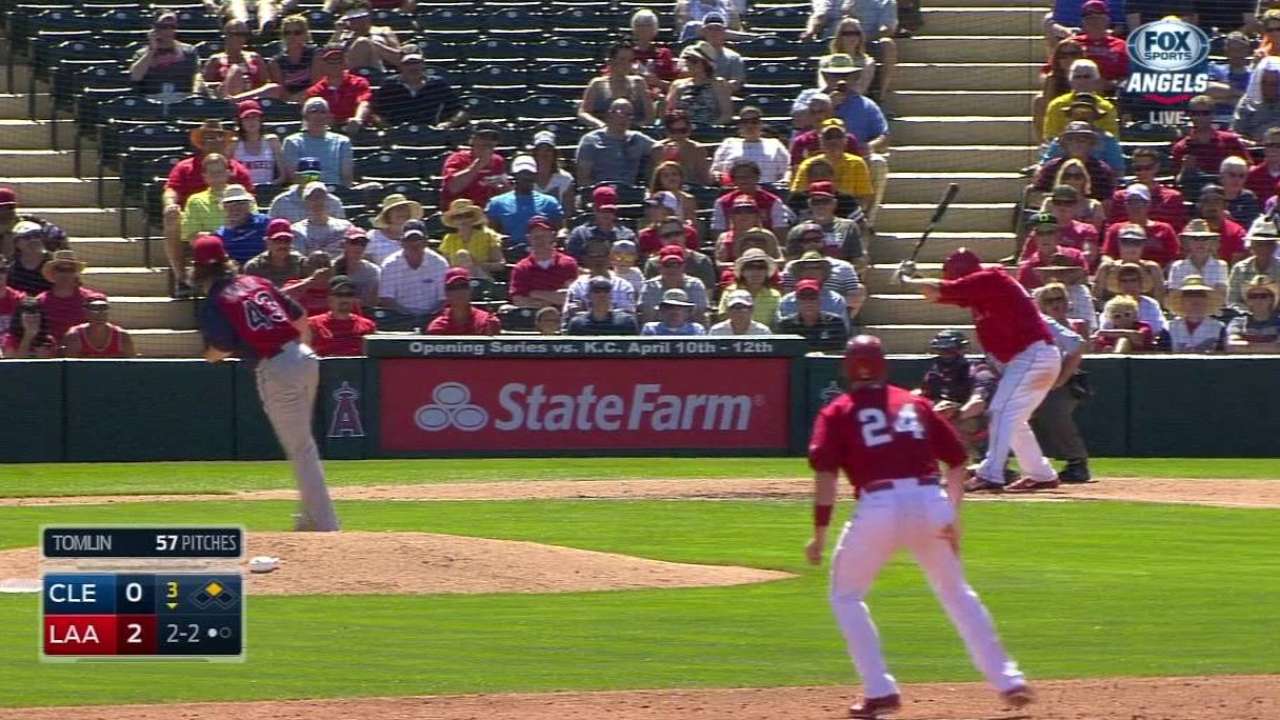 GOODYEAR, Ariz. -- The Indians lost a layer of pitching depth on Friday, when it was announced that right-hander Josh Tomlin is scheduled to undergo surgery on his throwing shoulder.
Tomlin is slated to have an arthroscopic debridement of the acromioclavicular (AC) joint in his right shoulder on Wednesday, when Dr. Mark Schickendantz will do the procedure at the Cleveland Clinic. The Indians expect Tomlin to be sidelined for at least three to four months following the operation.
"This offseason, it was something that kind of crept up," Tomlin said. "It's something I've tried to battle with since then, but it kind of lingered on through spring. It's something that I don't think was going to go away, so this is something we had to do to make it go away."
The 30-year-old Tomlin experienced shoulder soreness early in Spring Training, but the issue calmed down after a brief shutdown period, during which he received a cortisone shot. He returned to the mound and continued to build up his innings throughout camp, but the discomfort flared during a Minor League outing on Monday.
Tomlin decided it was not smart to continue pitching through the issue, and an MRI exam earlier this week revealed chronic inflammation in the shoulder joint.
"It had its good days and its bad days," Tomlin said. "Once the bad days started outweighing the good days was when I knew something probably needed to be done."
Cleveland had optioned Tomlin to Triple-A Columbus on Sunday, but the team expects to be able to have the option rescinded in order to place the pitcher on the Major League disabled list to start the regular season. Tomlin would join righty Gavin Floyd (right elbow), outfielder Nick Swisher (both knees) and utility man Zach Walters (oblique) on the DL.
In parts of five seasons with the Indians, Tomlin has gone 29-28 with a 4.89 ERA in 85 games, including 70 starts. Selected by Cleveland in the 19th round of the 2006 First-Year Player Draft, he is the longest-tenured player in the Indians' system. Tomlin missed the bulk of the 2013 season due to Tommy John surgery on his right elbow.
Tomlin is hoping to be able to help Cleveland in the second half of the season.
"That's the goal," Tomlin said. "That's the time range, and we'll try to get that down quicker."
Jordan Bastian is a reporter for MLB.com. Read his blog, Major League Bastian, and follow him on Twitter @MLBastian. This story was not subject to the approval of Major League Baseball or its clubs.