Tribe inks Kluber to 5-year pact; righty where he 'wants to be'
Deal with ace worth $38.5M at base, with $77M maximum value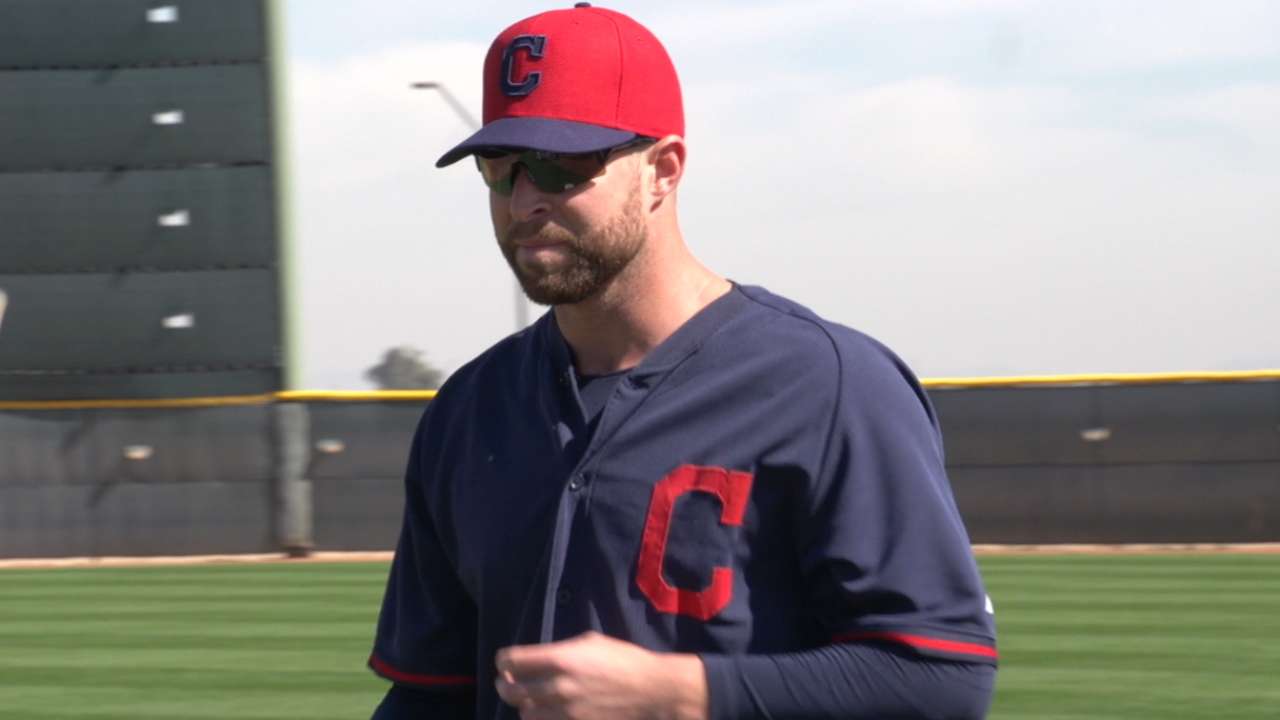 HOUSTON -- When the Indians approached Corey Kluber about exploring a long-term contract extension, the pitcher made his priorities clear. Finding an appropriate value for both sides is inevitably a part of any negotiation, but Kluber wanted to make something clear early in the process.
"Corey was really upfront," Indians general manager Chris Antonetti said. "He said, 'This is where I want to be. I want to be in Cleveland for a long time. Ideally, I'd like it to be a lifetime contract.'"
The Indians did the best they could to accommodate that request.
On the eve of Opening Day for the Indians, the club announced that it had signed Kluber to a five-year contract that includes team options for the 2020 and '21 seasons. With a guaranteed base value of $38.5 million, the deal is the richest for a pre-arbitration pitcher in Major League history. It also has the potential to keep Kluber in a Cleveland uniform through his 35th birthday.
Kluber got his wish, and he is thrilled with the end result.
"I'm excited to have it in place and be a Cleveland Indian for a long time," Kluber said on Sunday. "More than anything, I wanted to be here. The young core that Chris has done a great job of locking up, and everything that [manager Terry Francona and pitching coach Mickey Callaway] have meant to me since I've gotten here, that had more to do with it than anything. I wanted to be a part of this."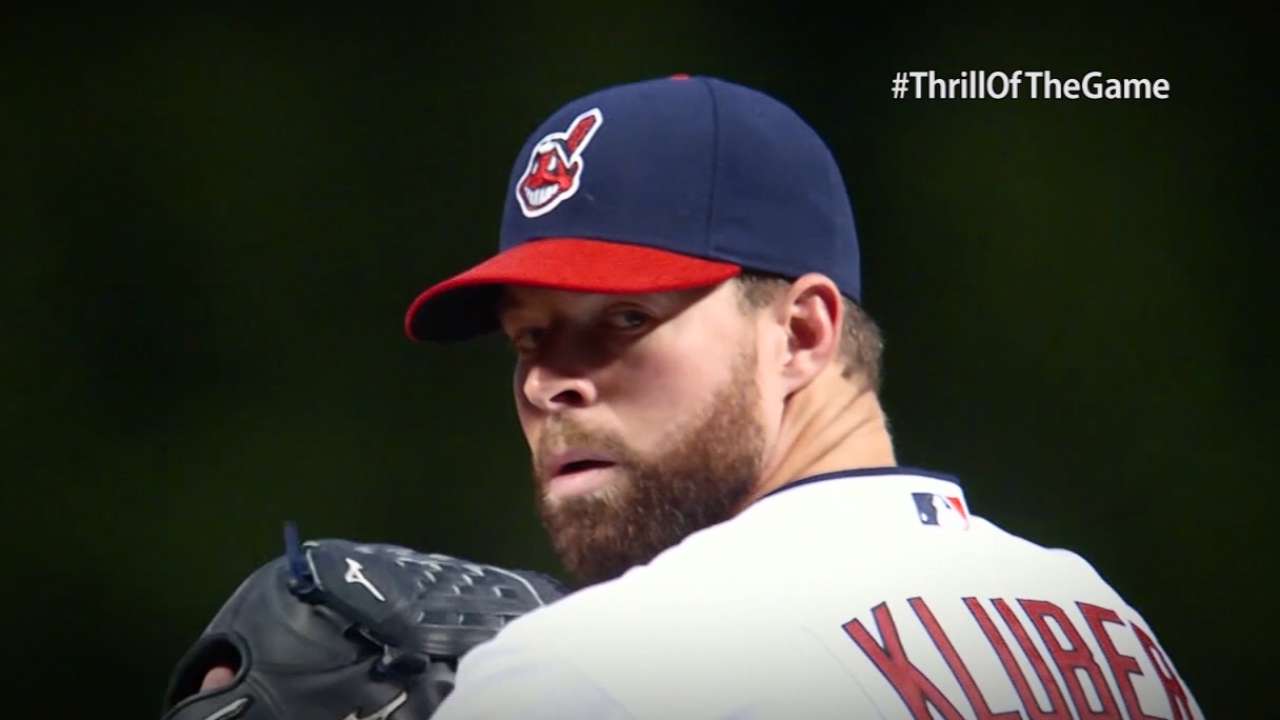 The American League's reigning Cy Young Award winner can earn a maximum of $77 million over the life of the contract, which includes a $1 million signing bonus, performance escalators and a number of provisions to account for potential trade scenarios. Kluber's 2015 salary increases to $1 million after he signed a one-year, $601,000 pre-arbitration deal during Spring Training.
Two prior examples that Cleveland examined were pacts given to Giants lefty Madison Bumgarner (five years plus two options with a $35 million base value) and White Sox lefty Chris Sale (five years plus two options with a $32.5 million base value). Kluber's agent, B.B. Abbott, also represents Sale, so he had plenty of experience with this kind of deal.
In both prior cases, however, the signing pitcher was much younger than Kluber, who will turn 29 on Friday. Kluber's situation was also unique because he now has a Cy Young Award in his trophy case. Neither Bumgarner nor Sale could make that claim.
"There are very few guys that you can look to who have had that type of success," Antonetti said. "And the ones that had didn't sign long-term deals. So, that made it a very unique landscape to navigate and, ultimately, it led us to a point where we offered more guaranteed than any pre-arbitration-eligible pitcher has received.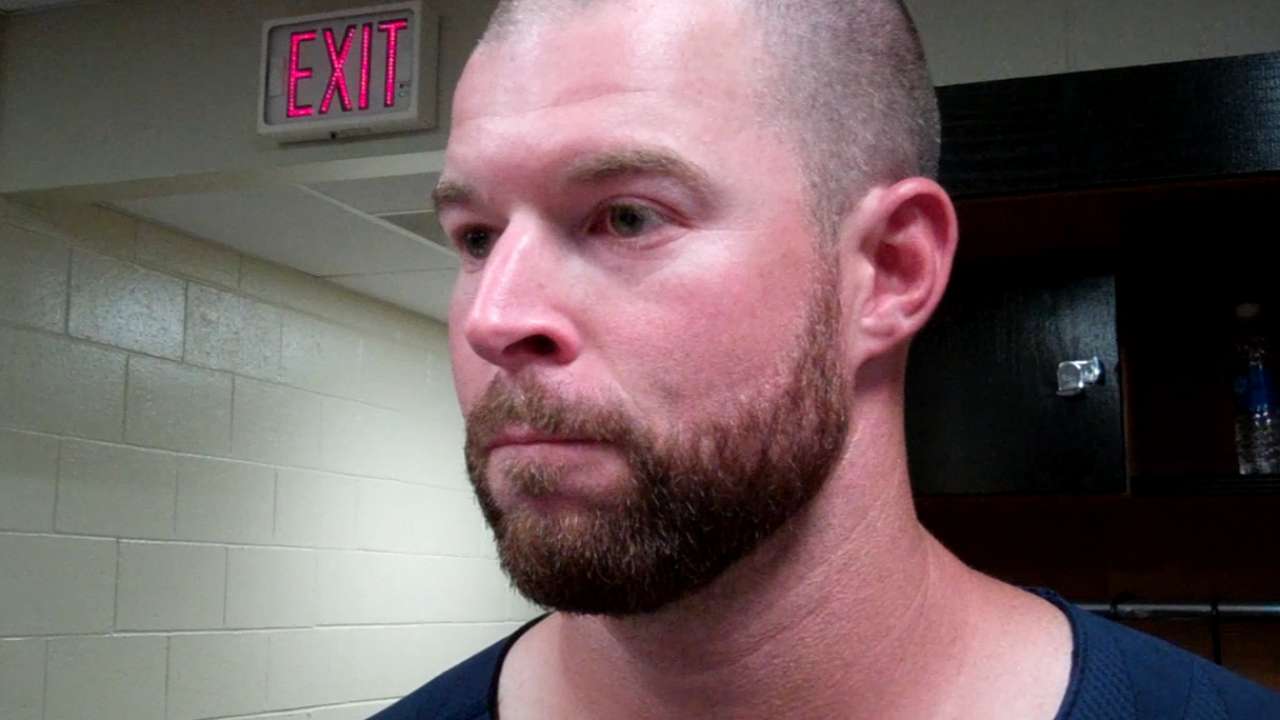 "But, in exchange for that, we were able to secure Corey's fuure here for well past his arbitration years and potentially in three free-agent years. In the end, we thought that was a risk worth taking."
The Indians also felt it was a worthy gamble due to Kluber's tireless work ethic and consistent routine.
An unheralded prospect during his days with the Padres, Kluber worked hard to redefine his pitching style after being traded to Cleveland in July 2010. Beginning in '11, he added a cutter and worked extensively on a two-seamer, and he developed into an overpowering starter by the '14 season.
Callaway, who was a Minor League pitching coordinator before joining Francona's staff in 2013, has had a front-row seat for Kluber's transformation.
"When you're watching him develop, you don't know what's going to happen in the future," Callaway said. "But, you always knew that, hopefully, this consistency is going to pay off one day. ... To see somebody go and actually do it and then pay off this big for them, it's really gratifying. It feels like you're teaching and stressing the right things."
Last season, Kluber went 18-9 with a 2.44 ERA, finishing the season with 269 strikeouts against 51 walks in 235 2/3 innings. He edged Seattle ace Felix Hernandez in voting for the AL Cy Young Award, joining Gaylord Perry (1972), CC Sabathia (2007) and Cliff Lee (2008) as the only pitchers in franchise history to win the annual accolade.
Midway through last season, following a trade that sent former Indians rotation leader Justin Masterson to St. Louis, Francona called Kluber to his office.
"We said, 'Hey, the staff, we want them to follow you,'" Francona said. "'You are a leader. You don't have to change how you do things, just be the way you are.' We just wanted him to know that we're really comfortable with that. By his actions alone, it speaks volumes."
Kluber now has the chance to lead the Indians for years to come.
"I wanted to be here. I wanted to be in Cleveland," he said. "That was the driving force behind it for me. I felt this was the best way to ensure that."
Jordan Bastian is a reporter for MLB.com. Read his blog, Major League Bastian, and follow him on Twitter @MLBastian. This story was not subject to the approval of Major League Baseball or its clubs.