Lindor making case as baseball's best shortstop
5.7 WAR leads all players at the position over last calendar year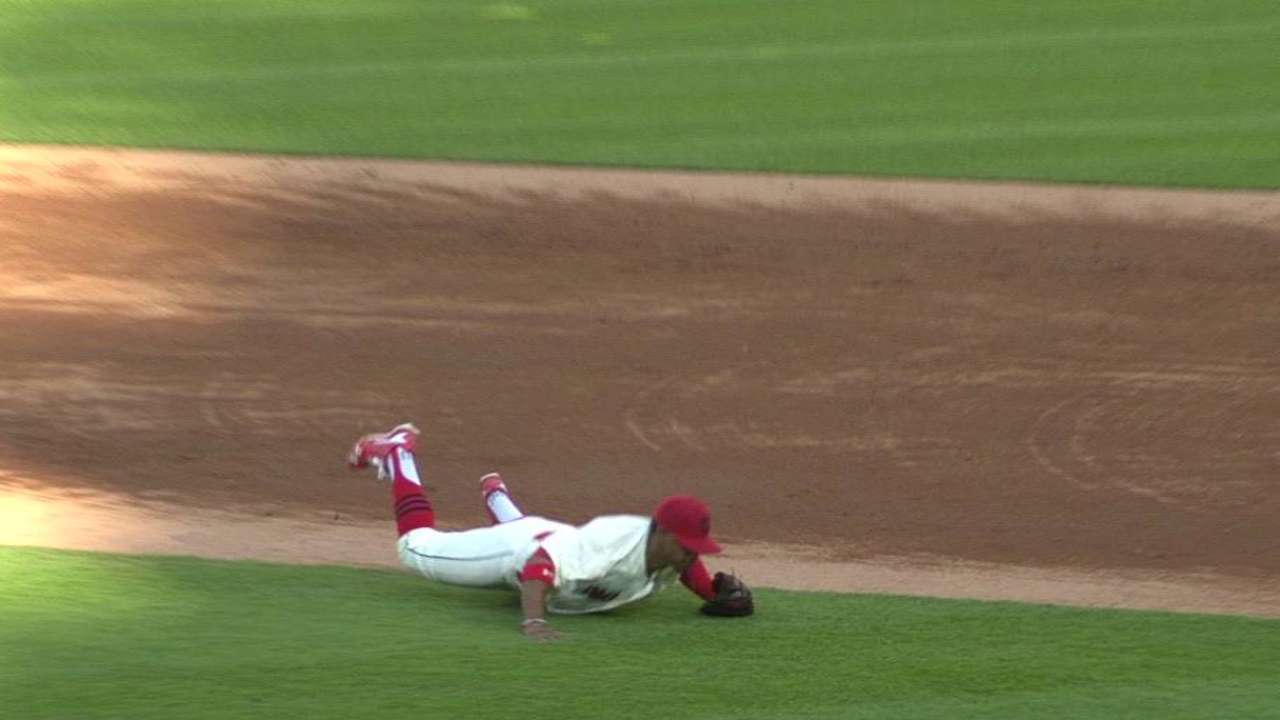 The case has been made for Carlos Correa as baseball's best shortstop. After all, he was the No. 1 overall Draft pick, he was last year's American League Rookie of the Year Award winner, and he's even been called the best player in the Major Leagues (maybe). When FanGraphs ran its preseason staff predictions a couple months back, 11 out of 55 employees chose Correa to win the AL MVP Award. Beside he and Mike Trout, no other player received more than four votes. The public opinion on the matter seems almost unanimous: Correa is viewed as baseball's best shortstop, just 126 games into the 21-year-old's big league career.
But there's a 22-year-old, just 123 games into his Major League career, who wasn't the AL Rookie of the Year Award winner and received zero preseason AL MVP Award picks, whose case for baseball's best shortstop might be just as strong as Correa's. It's time we consider whether it's actually Francisco Lindor who is baseball's best shortstop.
• FanGraphs' Dave Cameron says that it's time to believe in Daniel Murphy
The argument might not have to be complicated. Correa gained his status so quickly due to the hype and the performance. Both need to be present for a player to be accepted as a bona fide superstar in less than a calendar year. It's when the two collide that lofty claims like "baseball's best shortstop" or "MVP candidate" start to seem reasonable. So let's start with the hype.
Correa went first in the 2012 Draft, Lindor was the No. 8 overall pick in '11. At the conclusion of the '14 season, MLBPipeline.com had Correa ranked as the No. 2 prospect in MLB, with Lindor at No. 4. And when FanGraphs' prospect analyst Kiley McDaniel evaluated Correa last offseason, he put a 65 future value on him, on the 20-80 scouting scale. As prospects, Correa was regarded slightly higher, but the difference was essentially negligible. With similar pedigrees, then, we move onto production since their debuts.
Over the past calendar year, Lindor has been one of the 15 best position players in baseball by FanGraphs' WAR calculation, and the the top shortstop in the game. Amazingly, he didn't debut until more than a month from this point last year. And if you combine a few variations of WAR to balance things out, Lindor leads both Correa and Xander Bogaerts -- another young shortstop who is in this conversation -- by more than a full win.
Correa's profile has benefited from a few things, most notably his status as the top overall Draft pick, plus his team made the playoffs last year. But there's also the way they accrue their value. Correa is seen as a bat-first shortstop, while Lindor is a glove-first player, and folks (rightfully) tend to put more stock in offensive numbers than defensive numbers. Except, Correa's offensive edge over Lindor thus far has been negligible (85 runs created to 79), while Lindor's gap over Correa, defensively, has been big.
Lindor has, unsurprisingly, graded out as one of baseball's elite defensive shortstops. The glove was always his carrying tool, and, I mean, you can see why: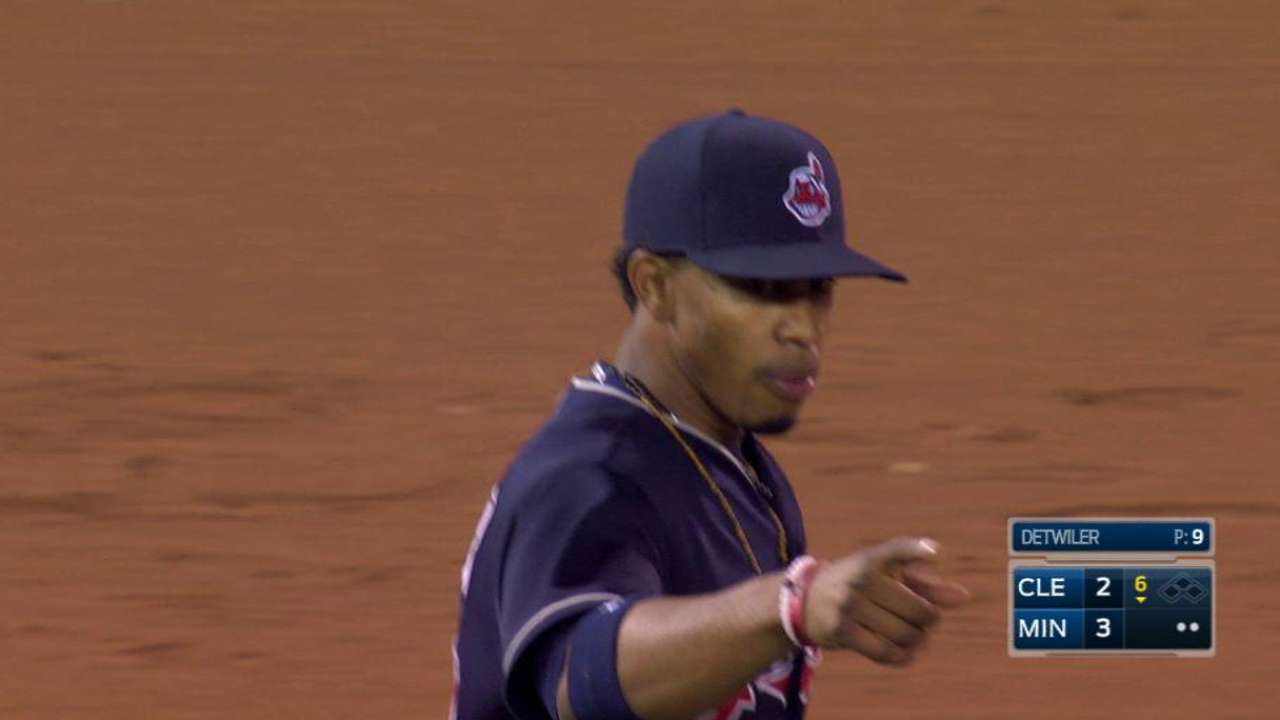 To this point, we've only dealt with which shortstop has been the better player. Lindor has been the better player. But the question we really want to know is: who is the better player? That's when we take to the projections. The projections see Correa as the top shortstop, a true-talent 4.4 WAR player over 600 plate appearances, with Lindor as the runner-up at 3.7 WAR per 600 plate appearances. That 0.7 WAR difference is close to being within WARs margin of error, and we can easily make up that gap, so long as we believe these two key points:
1. Lindor turned a corner offensively
The difference between Correa and Lindor at the plate thus far has been that we expected this from Correa. Lindor was never seen as an elite bat, especially after he hit .207/.239/.264 over his first 94 plate appearances. Since then, though, Lindor's been not only the best offensive shortstop in baseball, but one of the best hitters in the entire game. Dating back to July 9 of last season, over his last 449 plate appearances, Lindor's hit .334/.382/.516, good for a 148 wRC+. Over that same time frame, Correa's ran a 137 wRC+. If you believe that sometime around July of last year, Lindor flipped a proverbial switch, then maybe you think the projections are missing something, and you mentally bump up his offensive projection a bit.
2. Lindor can sustain a high BABIP
It's impossible to ignore that the brunt of Lindor's offensive production has been thanks to one of the highest BABIPs in baseball. At .351, there's still 14 names ahead of him since last year, so he's not an outlier, but he also never showed this ability in the Minors. That brings us back to point one, that he unexpectedly turned a corner, but we can also look to see if Lindor passes the test of players who can sustain high BABIPs. Is the player fast? Check. Does the player spray the ball all over the field? Check. Does the player avoid easy outs on fly balls and popups? Check. If the projections are missing something with Lindor's bat, perhaps it's that his turning of the corner is coming in the form of his ability to run a higher-than-average BABIP.
Since Lindor's debut, it's tough to argue that any shortstop has outplayed him. He's done everything Correa's done and more, just without the awards, accolades, exposure or mainstream hype. What's tougher to argue is who the best shortstop is. Really, it's a question without an answer, but the gap between the two leading candidates is closer than most seem to think. Based on past production, it's Lindor. Based on the projections, it's Correa. If you give yourself reasons to buy Lindor's bat, it shifts back to being him. But what's the point in debate, anyway? The two best shortstops in baseball are both younger than 23, and we haven't seen anything like them in some time. Turns out, everyone's a winner.
A version of this article first appeared at FanGraphs.com. This story was not subject to the approval of Major League Baseball or its clubs.