Tale of the Tape: Kluber faces Sanchez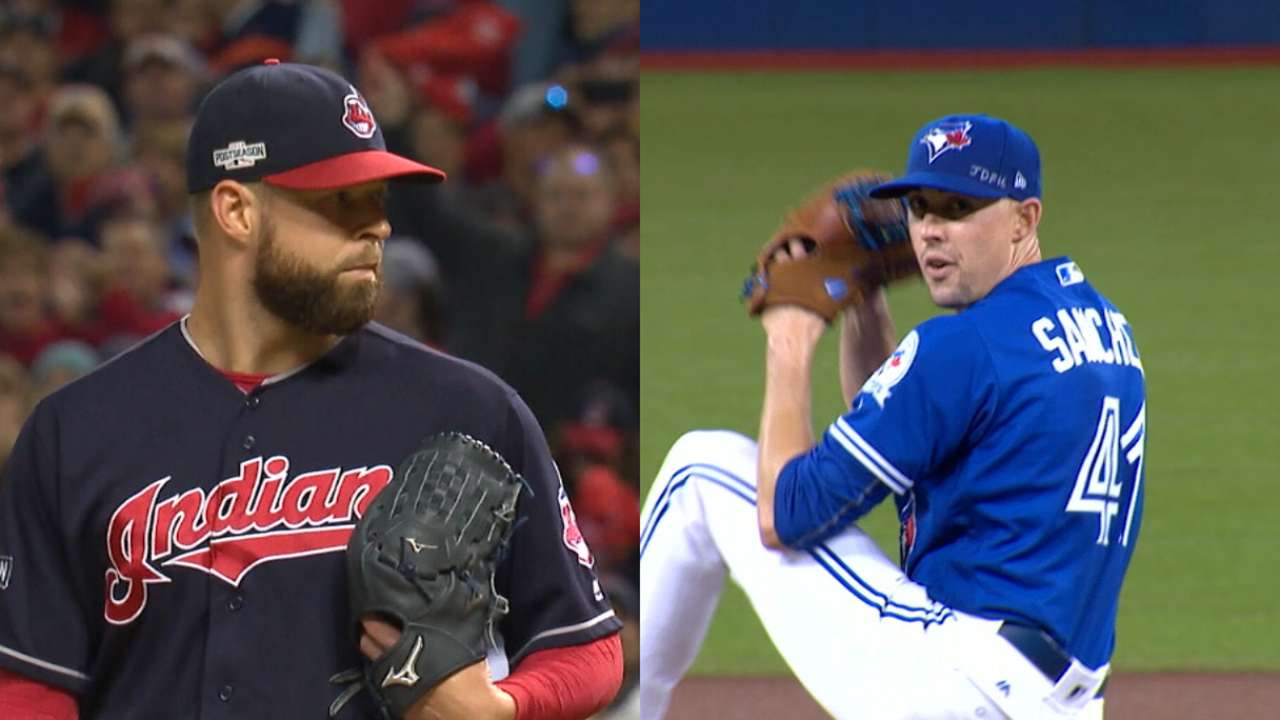 With one more win, the Indians will send themselves to their first World Series since 1997. Facing Cleveland's best pitcher, Toronto will have mount a furious comeback down 3-0 in the American League Championship Series, starting with Game 4 on Tuesday at Rogers Center.
Injuries have decimated Cleveland's rotation, so the Indians will turn to ace Corey Kluber on three days' rest to sweep their second straight series of the postseason. But they will have steep competition in the form of 24-year-old right-hander Aaron Sanchez, whose Blue Jays were 46-35 at home in the regular season and are 2-1 so far in the postseason.
• ALCS Game 4: Today at 4 ET on TBS/Sportsnet/RDS
Let's take a closer look at the pitching matchup:
Season stats
Kluber: 18-9, 3.14 ERA, 215 IP, 227 K
Sanchez: 15-2, 3.00 ERA, 192 IP, 161 K
Kluber against the Blue Jays
2016: 2 GS, 0-1, 6.30 ERA, 10 IP, 12 K, 8 BB
Career: 5 GS, 1-3, 5.34 ERA, 28 2/3 IP, 27 K, 14 BB
Loves to face: Edwin Encarnacion, .200 (3-for-15), 2 Ks
Hates to face: Josh Donaldson, .375 (6-for-16), HR, 3 BBs
Why he'll win: Kluber has been nothing short of excellent this postseason with 13 1/3 scoreless innings -- 6 1/3 of which came in Game 1 of the ALCS. He has been able to keep the ball on the ground -- his 48.5 percent ground-ball rate is higher than he has had in any season -- and has gotten out of every jam he has put himself into. Kluber has even been stronger on the road (3.03 ERA, 2.90 FIP) than at home this season (3.24 ERA, 3.60 FIP).
Pitcher beware: All 136 of Kluber's career starts in the regular season and the postseason have come with at least four days' rest, so Tuesday's game will be a new experience for Kluber. And though his results haven't showed it, Kluber battled a mild right quadriceps strain that forced him to miss his last start of the season. In the Wild Card Era -- since 1995 -- pitchers on short rest in the postseason have struggled; they have averaged barely more than 5.5 innings per start with a 4.26 ERA.
Bottom line: The Indians will need Kluber to go deep into the game after six relievers combined to throw 8 1/3 innings on Monday. Fortunately, Kluber has pitched at least six innings in 27 of his 32 starts this season and pitched at least seven innings 19 times.
Sanchez against the Indians
2016: 1 GS, 0-0, 9.00 ERA, 4 IP, 5 K, 1 BB
Career: 3 G, 2 GS, 1-0, 5.06 ERA, 10 2/3 IP, 10 K, 7 BB
Loves to face: Mike Napoli, .000 (0-for-6), 2 K
Hates to face: Lonnie Chisenhall, .400 (2-for-5), HR, 3 RBIs
Why he'll win: In his first full season in the Majors, Sanchez became a force to be reckoned with by pacing the AL with a 3.00 ERA. He was third in the league with a 54.4 percent ground-ball rate and led AL starters with 0.70 home runs per nine innings -- an area which has hurt Toronto this series. Even at his young age, Sanchez has shown impressive stamina by averaging 6.4 innings per start.
Pitcher beware: Sanchez did not impress in his first career postseason start by walking four and giving up two homers in 5 1/3 innings. He wasn't able to limit damage with a 23.8 percent left on base percentage. Sanchez has also historically struggled against the Indians, and Rogers Centre isn't the friendly confines one would hope (3.74 home ERA and 3.98 FIP vs. 2.48 road ERA and 3.24 FIP).
Bottom line: Sanchez has looked more human in the last two months of the regular season (3.76 ERA) compared to the first four months (2.71 ERA). Toronto will need first-half Sanchez to show up and keep the ball on the ground if it wants to keep playing.
Ben Weinrib is a reporter for MLB.com. This story was not subject to the approval of Major League Baseball or its clubs.