DYK: Facts and figures from ALCS Game 3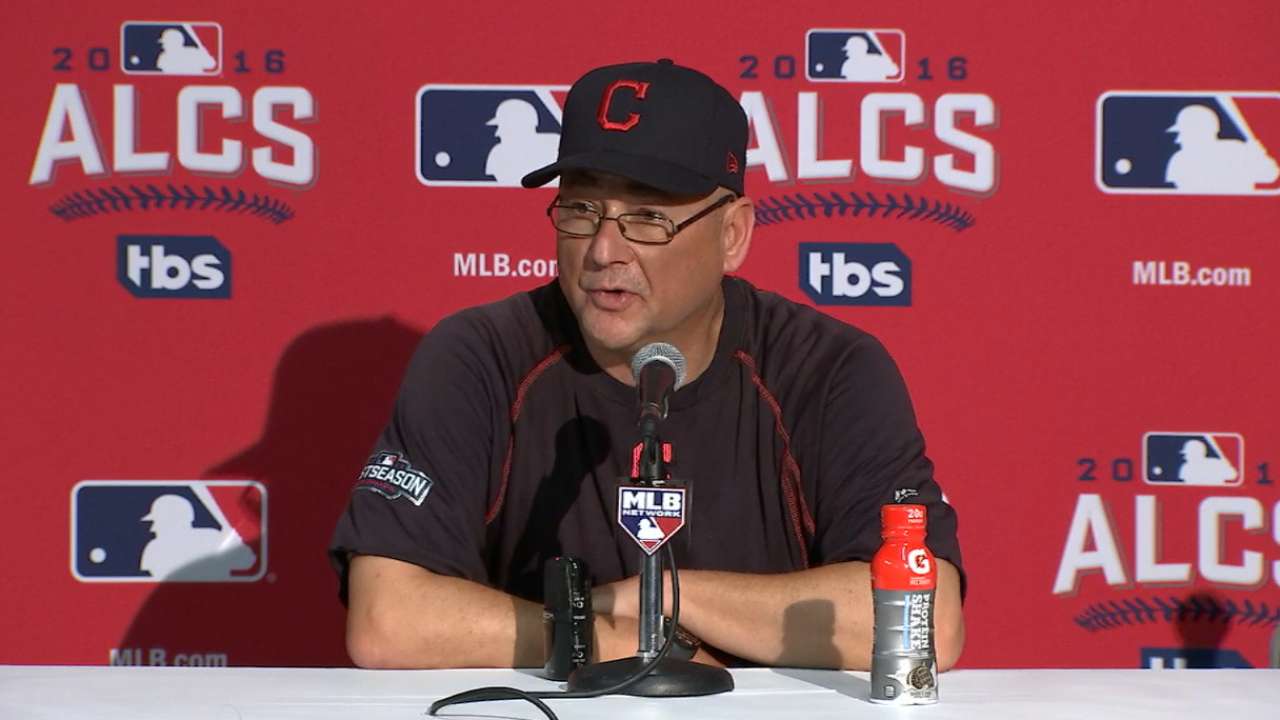 With their Game 3 win on Monday night, the Indians took a commanding 3-0 lead in the American League Championship Series over the Blue Jays with two more chances to clinch a World Series berth before heading home. This would be Cleveland's first World Series appearance since 1997, and it hasn't won a title since '48.
In Game 4, the Tribe will go with Corey Kluber against the Blue Jays' Aaron Sanchez.
• ALCS Game 4: Today at 4 ET on TBS/Sportsnet/RDS
But before we move on to what could be the final game of the series, here's a final look at some of the most interesting facts from Monday's game:
• Indians starter Trevor Bauer left the game after recording two outs when his lacerated right pinkie finger would not stop bleeding. Bauer became the 12th starter in postseason history to not get out of the first inning, with the most recent pitcher being the Cardinals' Rick Ankiel in Game 2 of the 2000 National League Championship Series. However, Bauer was the first starter in LCS history to exit that early without giving up a run. The start matched the shortest of his career, when he lasted two-thirds of an inning against the White Sox on June 28, 2013.
• The Indians tied a postseason franchise record by using seven pitchers. They have done so four times, with the most recent time coming in Game 2 of the 1998 ALCS. The Major League record is nine pitchers, which has been done three times.
However, Cleveland entered the record books by becoming the first team to win a postseason game without having a pitcher record more than five outs. Relievers Bryan Shaw and Cody Allen both pitched 1 2/3 innings on Monday, and Shaw earned the win.
• Indians first baseman Mike Napoli seemed unlikely to homer off Blue Jays starter Marcus Stroman, considering he was 0-for-9 against him and was hitless in his past 25 at-bats against right-handers coming into Monday. But Napoli hit a 411-foot shot, according to Statcast™, at 109.5 mph. That was the third-hardest-hit homer of the postseason, trailing Jayson Werth (110.5) and Carlos Santana (109.6).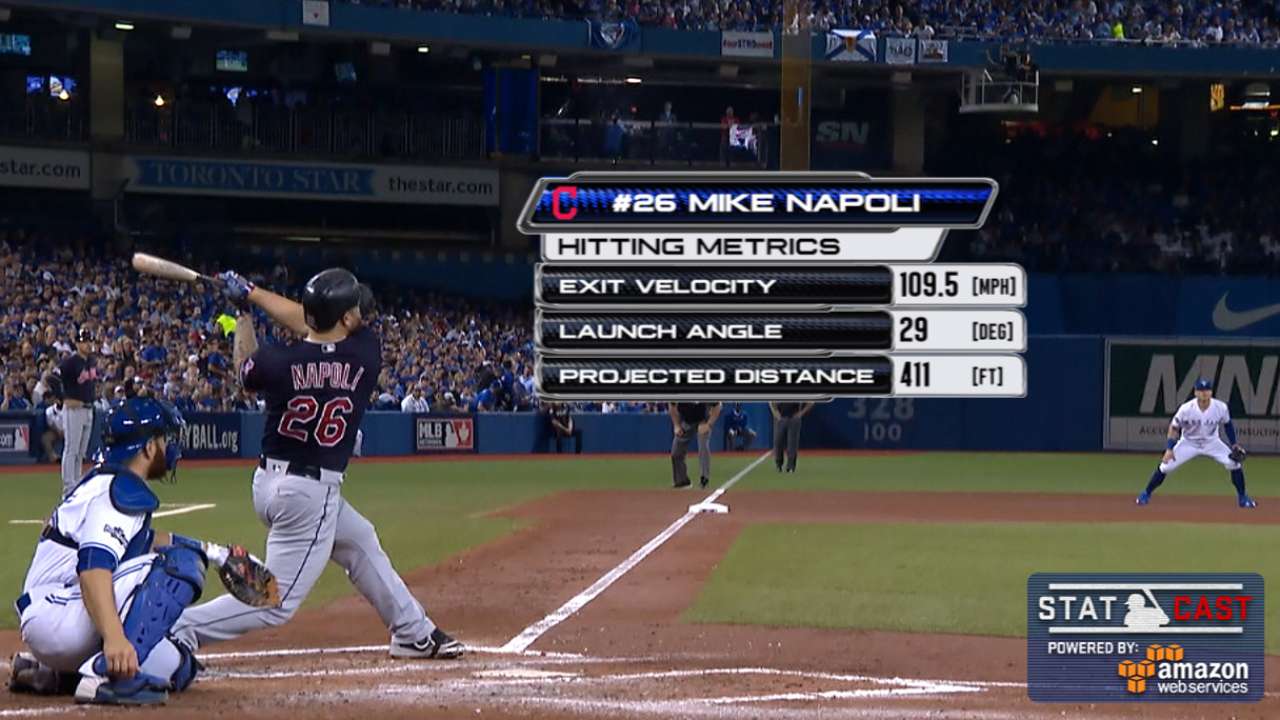 Napoli's homer gave Cleveland a homer in each of its first six postseason games, which is a new franchise record. He also became the fifth player to hit a postseason with four teams, joining Ron Gant, Jon Olerud, Reggie Sanders and Russell Martin.
• Indians second baseman Jason Kipnis launched a 405-foot homer in the sixth inning with an exit velocity of 107.6 mph. That was his hardest-hit homer of 2016, surpassing a June 30 homer off Toronto's R.A. Dickey with an exit velocity of 106.2 mph.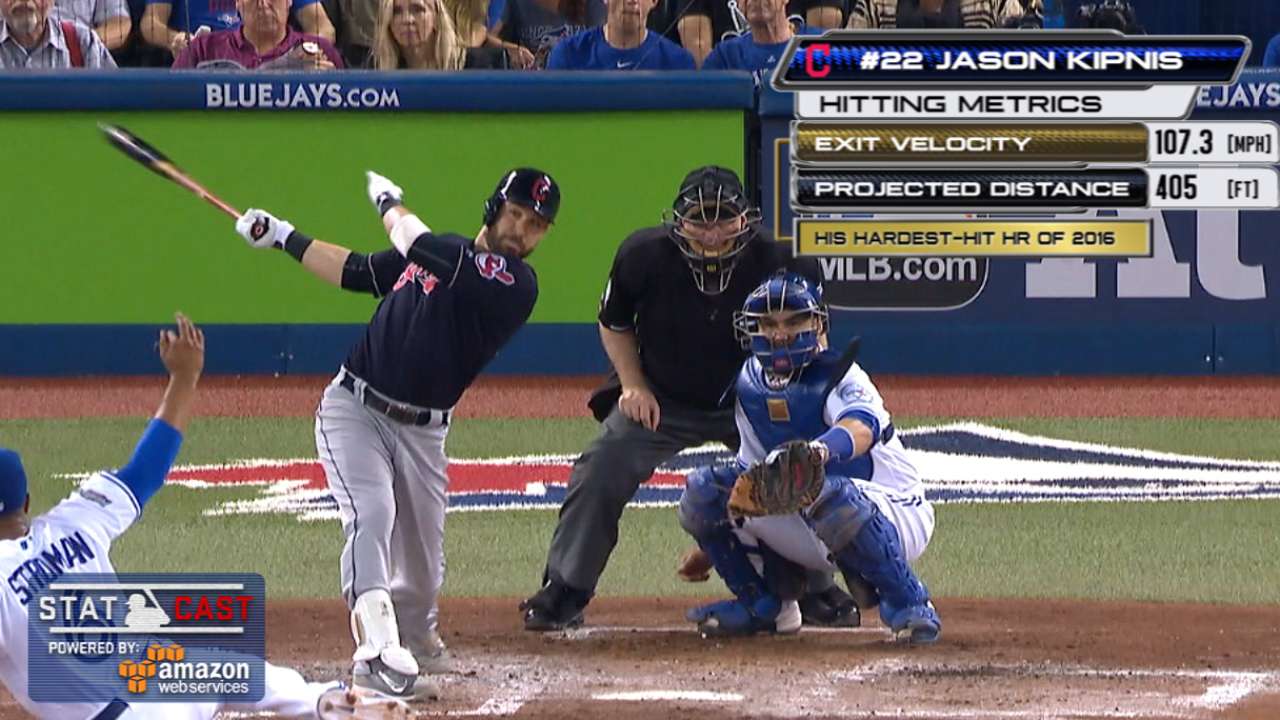 • Stroman had not allowed multiple homers in 14 consecutive starts dating back to July 15 at Oakland. Napoli's homer was the third-hardest-hit homer off him of the year, and Kipnis' was the sixth-hardest-hit homer.
• Cleveland right-hander Zach McAllister threw his two hardest pitches of the year on Monday registering at 98.5 and 98.3 mph. His fastball averaged 94.2 mph during the regular season, and he only topped those marks twice in his six-year Major League career, both of which came in 2015.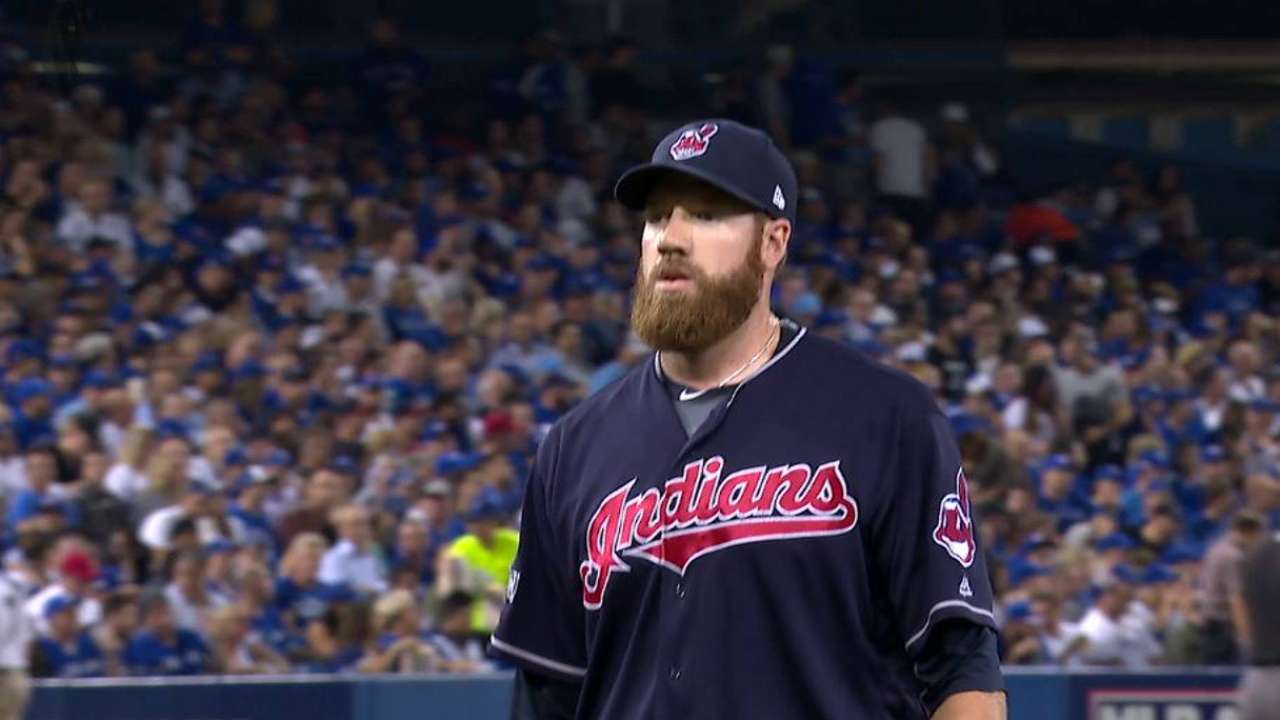 • Blue Jays catcher Dioner Navarro singled off Indians left-hander Andrew Miller to lead off the ninth inning. It was just the second hit Miller has given up off his slider this postseason. Batters are now 2-for-18 against the pitch.
• The Indians are now 6-0 to begin the postseason, becoming the third team in the Wild Card Era (since 1995) to do so. The 2014 Royals started 8-0 but lost the World Series in seven games to the Giants, and the 2007 Rockies started 7-0 and were swept by the Red Sox in the World Series. The only two other teams to win their first six postseason games were the 1976 Reds, who started 7-0 and won the World Series, and the 1970 Orioles, who started 6-0 and won the World Series.
• Blue Jays right fielder Jose Bautista, first baseman Edwin Encarnacion, catcher Russell Martin and shortstop Troy Tulowitzki were a combined 1-for-14 with two walks and five strikeouts on Monday. For the series, they are a combined 5-for-42 with a double, five walks and 17 strikeouts.
Ben Weinrib is a reporter for MLB.com. This story was not subject to the approval of Major League Baseball or its clubs.