Ramirez arrives in time to help Tribe's run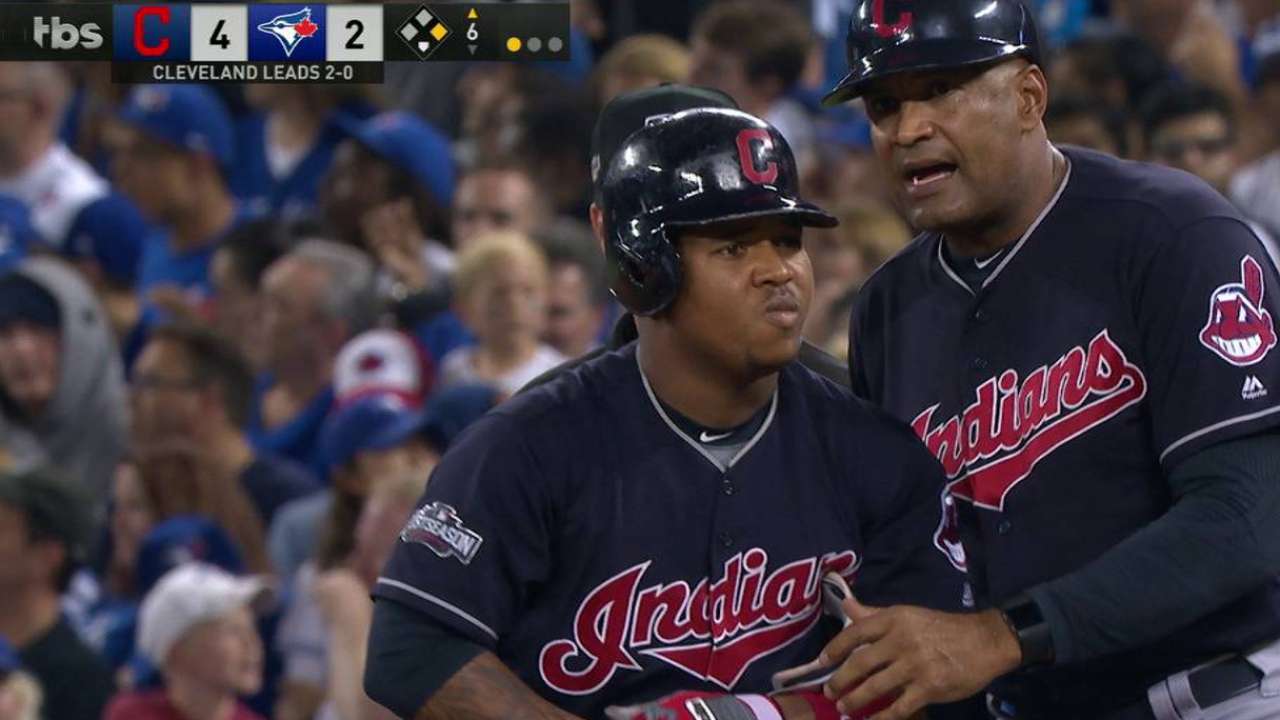 CLEVELAND -- Wherever he's been needed, Indians' infielder Jose Ramirez has risen to the occasion.
Ramirez started the season in left field to fill in for injured star Michael Brantley and finished the season as the starting third baseman -- with stints at second base and shortstop in between. He's been a key cog in the Indians' World Series run.
• World Series Game 1: Tonight, 7:30 p.m. ET air time/ 8 game time on FOX
Ramirez first broke into the Majors at age 20 in 2013 but didn't establish himself until this season. He finished second in the American League in doubles (46) and seventh in average (.312) with the second-fewest strikeouts (62) among qualified hitters.
"He's been huge because you can put him anywhere in the lineup," Indians hitting coach Ty Van Burkleo said. "And he's done such a great job there because he's a tough out. You can't just pitch around [Mike] Napoli, because this kid can hit a double somewhere and drive in a couple runs. Even though he's not the huge home run hitter, he adds protection because he's such an efficient hitter."
• Shop for Indians World Series and AL champs gear
Ramirez broke camp in 2015 as the team's starting shortstop but was optioned in June after slashing just .180/.247/.240. The demotion was effective because after hitting .293 for Triple-A Columbus, Ramirez was recalled in August and slashed .259/.337/.438 the remainder of the year in Cleveland, saying that he felt better.
"Just working hard and focusing and keeping your mind in check," Ramirez said through a translator. "If you have a bad moment, it's going to mess you up, it could ruin you, and so you've got to focus and keep on working hard."
Now it's hard to imagine the Indians without Ramirez.
At the start of this season, he filled in admirably for Brantley, despite previously only playing two games in the outfield in the Majors and another four in the Minor Leagues.
Ramirez split his time between left field and third base and took over full-time at the hot corner when Cleveland released veteran Juan Uribe in August. And once he became a full-time third baseman, he improved even more, hitting .339 from August on.
"It's been good," Ramirez said. "You don't get as tired playing as many different positions, and I really think that's helped a lot. I've worked really hard, and that's helped. I've stayed focused for every at-bat. And the experience helps."
Ramirez has continued to be a strong contributor in October. He went 5-for-10 in the AL Division Series, and although he was 1-for-17 in the AL Championship Series, he was strong defensively.
To the teammates who know him best, Ramirez's breakout is no surprise. Indians shortstop Francisco Lindor has played with him since Class A Lake County in 2012 and has had the utmost confidence in his former double-play partner.
"I knew he could do it," Lindor said. "I remember the first time I met him. He wasn't hitting very well, and he said, 'I'm going to bunt the whole entire game.'" He went out there, and I think he had four or five at-bats, and bunted every single one of the at-bats until he finally got that one hit. Then he took off, and he led us to the playoffs."
Ben Weinrib is a reporter for MLB.com. This story was not subject to the approval of Major League Baseball or its clubs.