Return to AL rules boosts Tribe's lineup, defense
Francona gets to use Napoli and Santana along with ideal outfield trio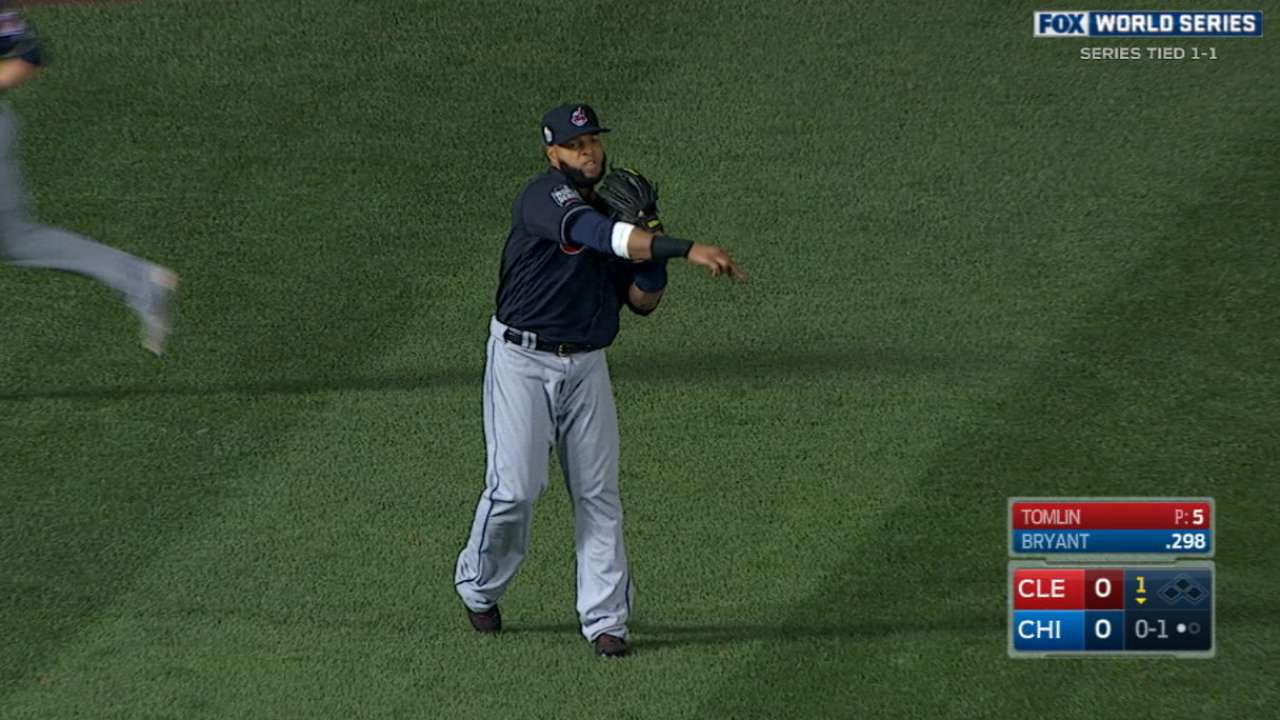 CLEVELAND -- With the Indians returning to Cleveland for Game 6 of the World Series on Tuesday, manager Terry Francona will have one less issue on his mind, thanks to a return to the American League rules.
Without a designated hitter for Games 3-5 in Chicago, Francona had to get creative. Carlos Santana and Mike Napoli led the team with 34 homers apiece -- Jason Kipnis (23) was the only other to collect more than 15 -- but only one could play first base, and neither played another position in the field all season.
Francona started Santana in left field in Games 3 and 5, but sat Napoli in Game 4 to move Santana back to first and improve the outfield defense. Now he'll be able to have both sluggers in the lineup -- the lineup that helped the Tribe win 94 regular-season games and the AL pennant -- without worrying about his defense as the Indians try to clinch their first World Series title since 1948.
"That had to be nerve-racking for [Santana] out there, and he did a great job," said Kipnis, who grew up just outside Chicago in Northbrook, Ill. "But, we can go back to what's comfortable, what's worked for us. Add that to the comfort of our home stadium with our fans behind us, we're going to get back to doing what we've done."
• Shop for Indians World Series and AL champs gear
Santana played his part in the 12 2/3 innings he manned left field. The Cubs hit four easy fly-ball outs to the Dominican native -- one of which was a sacrifice fly -- but nothing else, which helped validate Francona's decision to move him out of position.
"I thought Carlos did an amazing job," Francona said. "There were no crazy chances out there or anything, but everything that was hit to him, he looked like a left fielder. Actually got behind the one ball and made a nice throw, hit the cutoff man. I was really proud of him."
The Cubs will also receive a boost with Kyle Schwarber able to rejoin the lineup as their DH. Schwarber was not medically cleared to play the outfield because of a knee injury that forced him to miss most of the season, but he was 3-for-8 with a double and two walks in the first two games of the Series. He pinch-hit once in Chicago and popped out.
• Return to Cleveland means return of Cubs' X-factor
"I'm a much bigger fan of the National League game in general, but under these circumstances, where we are right now in the year, I'll take that American League game just to get Schwarbs involved," Cubs manager Joe Maddon said. "But they're good, too. They'll put an extra guy in there, and like you said, they're used to it. But for right now, at this moment in time, the fact that Kyle cannot play defense but can still play offense and run the bases, it does work out well for us. So I'm very excited about writing his name in [Tuesday]."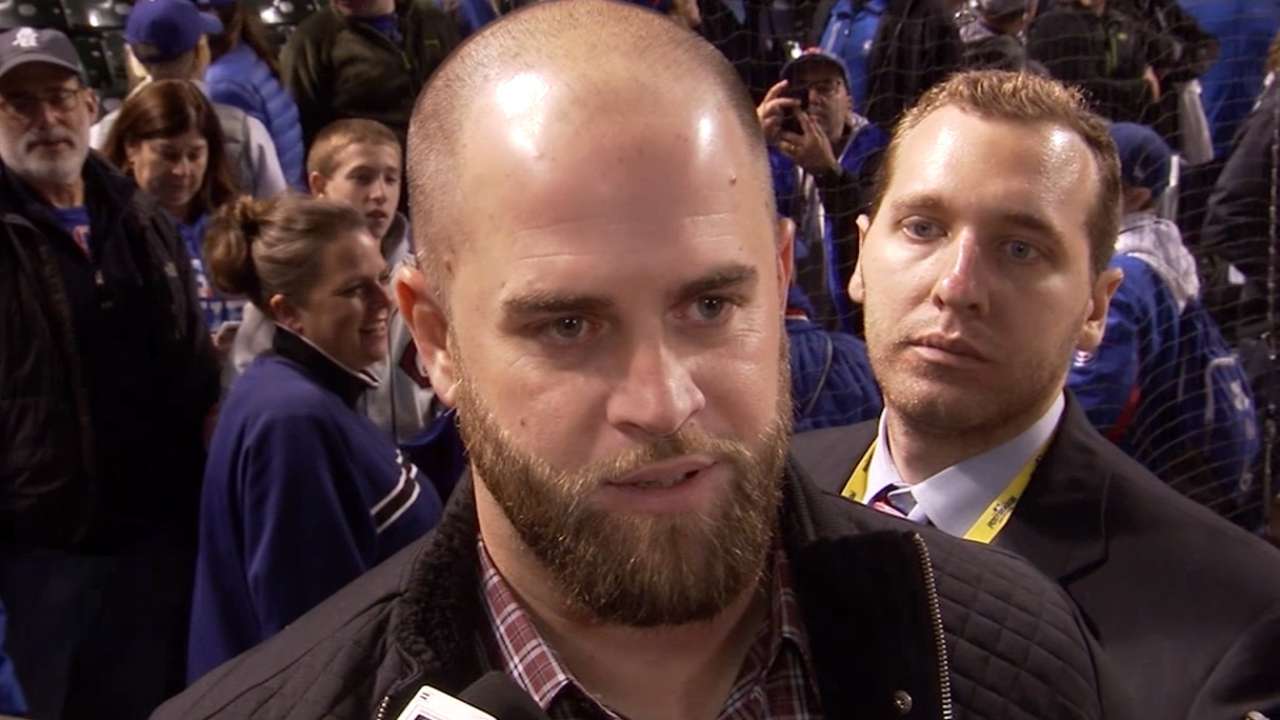 Perhaps as important as the bonus of having both Santana and Napoli in the lineup, the Indians are able to field their best defensive outfield.
"Tito was put in a tough situation," Napoli said. "We have an offense and a lineup every day, so to go to [NL rules], where our lineup isn't where it was to get us where we [are], it [stinks], but it's part of it. We knew that coming in.
"We've had that lineup all year. Obviously it's going to be what we're used to. We're better when we have our DH."
Ben Weinrib is a reporter for MLB.com. This story was not subject to the approval of Major League Baseball or its clubs.