MLB.com Columnist
Lindsay Berra
Lindor, Davis take home MLB Awards
Shortstop wins Best Defensive Player hardware; outfielder honored for Best Postseason Moment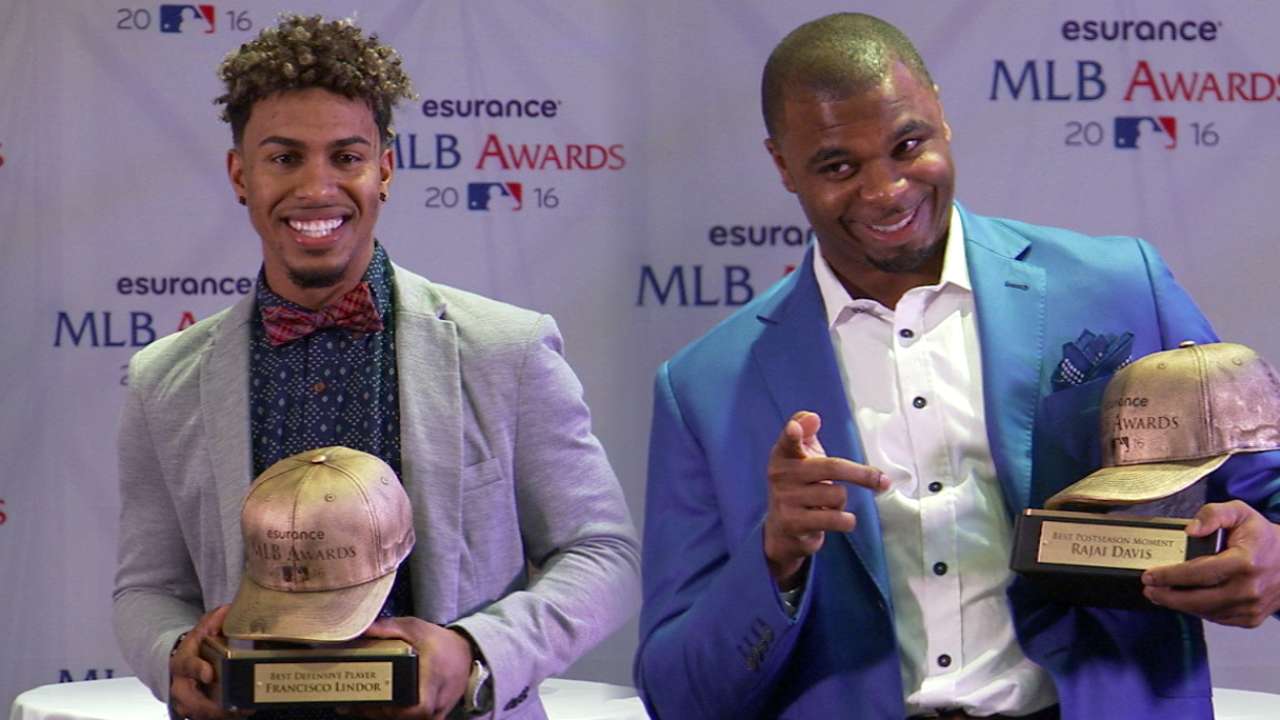 NEW YORK -- Cleveland Indians Francisco Lindor and Rajai Davis were dressed to the nines to claim two awards at the Esurance MLB Awards reception at New York City's Chelsea Market on Thursday night.
Lindor sported a red plaid bow tie as he claimed the award for Best Defensive Player. Davis, in a teal-blue suit, took home the award for Best Postseason Moment -- his World Series Game 7 game-tying home run off of Cubs closer Aroldis Chapman.
Lindor bested Red Sox right fielder Mookie Betts, Giants shortstop Brandon Crawford, White Sox outfielder Adam Eaton and Cubs shortstop Addison Russell for the award.
"Best Defensive Player was a difficult category for me to judge with the five candidates," said MLB Network analyst Scott Braun. "Ultimately, Lindor provided the blend I was looking for: consistency, defensive metrics and passing the eye test with the way he made the improbable look easily doable."
Lindor was quick to give credit to all those who helped him, including the fans who voted for him to win the award.
"I take a lot of pride in this," Lindor said. "My pops, my brother and my cousin, they have helped me so much, and this award is an honor and a blessing. I play for the fans and the city of Cleveland and for Puerto Rico and my family, and I thank them. When we play the games, we try to put on a show for them so they can enjoy everything, and it's pretty cool having them vote me into this award."
In his first full season in the big leagues, Lindor, 23, finished with 17 Defensive Runs Saved, ranking fourth among MLB shortstops and second in the American League. Lindor also posted a 20.8 Ultimate Zone Rating, which was first in the AL and second in MLB.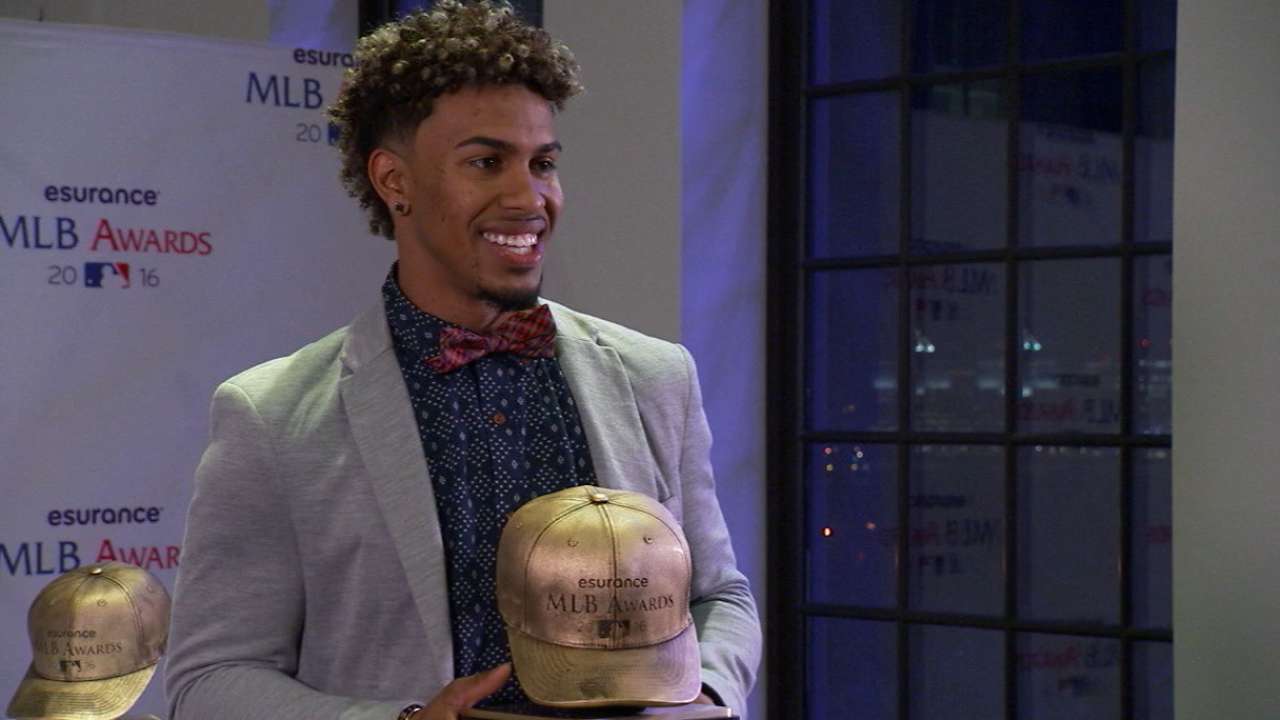 In more traditional statistics, Lindor was second in the AL in both assists (448) and total chances (674), with just 12 errors and a .982 fielding percentage in 158 games. He also took home both a Rawlings Gold Glove Award and a Platinum Glove Award earlier this month.
Davis' home run topped Blue Jay Edwin Encarnacion's walk-off homer against Baltimore in the AL Division Series, Dodger Clayton Kershaw's save against the Nationals in Game 5 of the NLDS, Cub Miguel Montero's pinch-hit grand slam in Game 1 of the NL Championship Series and Cub Ben Zobrist's go-ahead double in the 10th inning of Game 7 of the World Series.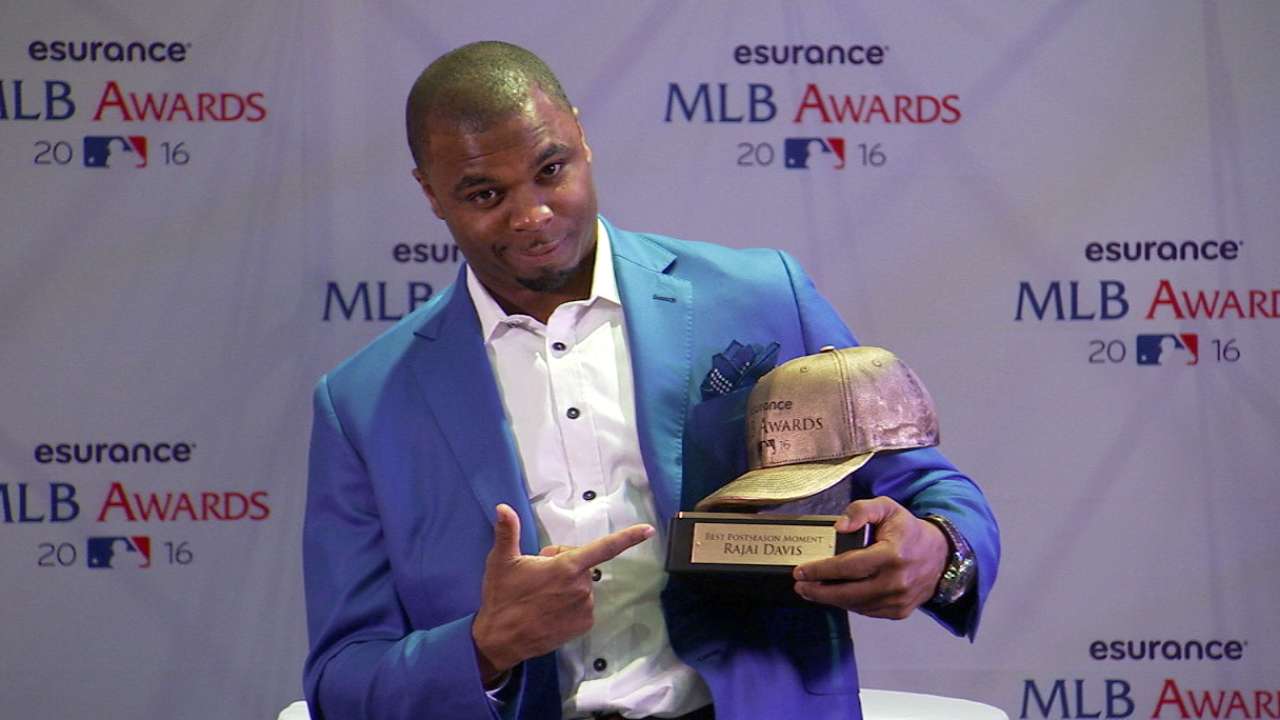 The 36-year-old Davis, known more for speed than power, hit 12 home runs during the regular season with a .249 batting average. Davis' Game 7 home run was his only homer of the postseason, and he called it the best moment of his career.
2016 MLB Award winners
"It was a moment that I'll never forget," Davis said. "I believe God gave me an opportunity to be in that position with a man on first base in the bottom of the eighth. That was a position I could have only dreamed of, and to be put in that position and come through? That's another thing."
The Esurance MLB Awards annually honor Major League Baseball's greatest achievements as part of an industry-wide balloting process that includes five groups, each of which accounts for 20 percent of the overall vote: media, front-office personnel, retired MLB players, fans at MLB.com and Society for American Baseball Research (SABR) voters.
The MLB Awards are an all-inclusive program, encompassing the top players and performances from both the AL and NL from Opening Day through the end of the postseason.
Individual awards go to the Best Major Leaguer in addition to the winners in the following categories: Best Hitter, Pitcher, Rookie, Defensive Player, Manager, Executive, Social Media Personality and Postseason Performer.
Winners are also recognized for the year's best Offensive Play, Defensive Play, Regular-Season Moment, Postseason Moment, Single-Game Performance, Social Media Post, Fan Catch, Broadcast Call, Player-Fan Interaction and Trending Topic.
Voting began on Sept. 19 at 4 p.m. ET at MLB.com/awards, one hour after the inaugural Esurance MLB Fans of the Year winners were announced.
Lindsay Berra is a national columnist for MLB.com. This story was not subject to the approval of Major League Baseball or its clubs.