Miller honored after revolutionizing playoffs
Tribe reliever wins MLB Award for Best Major Leaguer, Postseason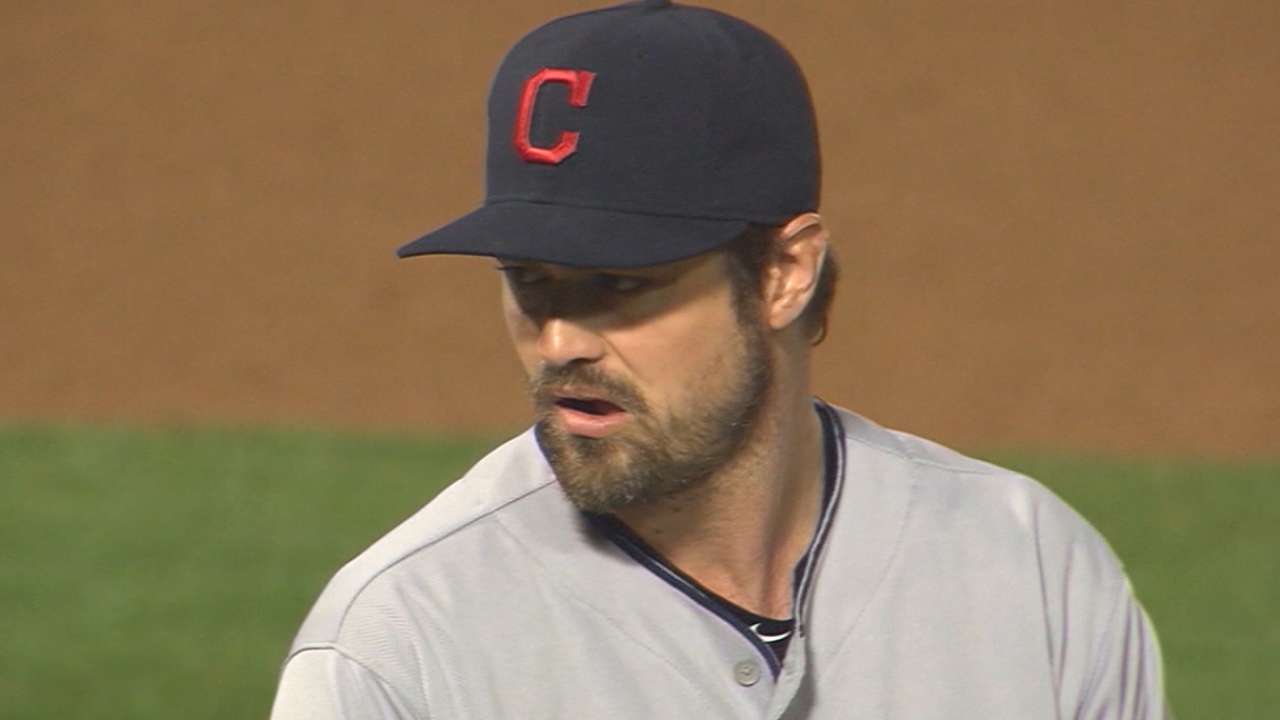 Andrew Miller wasn't just a player in the unforgettable 2016 postseason. He was a bit of a revolution.
The lanky, bearded phenomenon of a left-handed relief pitcher somehow managed to transcend mere accomplishment on the field of play to become an emblem of a sea of change in the sport, one that we should be seeing more and more of in future Octobers.
Yes, Miller, the former sometimes Yankees closer, turned dominant setup guy who arrived in Cleveland in a Trade Deadline deal, galvanized the Indians' bullpen down the stretch and then became a dominant force that at times singlehandedly helped carry the club through the postseason to the 10th inning of Game 7 of the World Series. For that amazing performance, Miller has been named the winner of the Esurance MLB Award for Best Major Leaguer, Postseason.
2016 MLB Award winners
"I think the first thing that really struck a chord with me is when we walked into the clubhouse when we first got him and he's watching videos of the opposing hitters and scouting report," Indians pitching coach Mickey Callaway said of Miller during the postseason. "Man, you've got two pretty good pitches that you could just stick with, but he's totally prepared and that's what allows him to go above and beyond what most people can do. Those two pitches that he has and his ability to know exactly where he can go ... makes him really, really special."
Those two pitches are a fastball that can reach the upper 90s and a video-game slider. But the usage of Miller in the earlier innings, if necessary, seemed to help power a trend that was echoed by Dodgers manager Dave Roberts with closer Kenley Jansen and others: if you've got a great reliever, use him in the most important situations, not necessarily just the ninth inning.
"Everybody who has seen Andrew pitch knows his numbers," Indians manager Terry Francona said during the American League Division Series win over the Red Sox. "He's an elite reliever. But on top of that, because we can leverage him whenever we feel helps us the most, you have that going for you.
"So it's easier for [closer] Cody [Allen] and Bryan Shaw and [Dan] Otero, so their numbers have been better, too. But the idea [is] that you can pitch him anytime and [take advantage of] his willingness. ... So it's been a really fun bullpen to work with."
Miller wasn't the only member of the Indians to win an Esurance MLB Award in a banner year for the AL champions. Shortstop Francisco Lindor won Best Defensive Player, Francona won Best Manager, outfielder Tyler Naquin's inside-the-park, walk-off homer won for Best Play: Offense, the Indians and Cubs won the Best Trending Topic for their epic World Series Game 7 marathon, and outfielder Rajai Davis' game-tying homer in that same Game 7 was awarded Best Postseason Moment.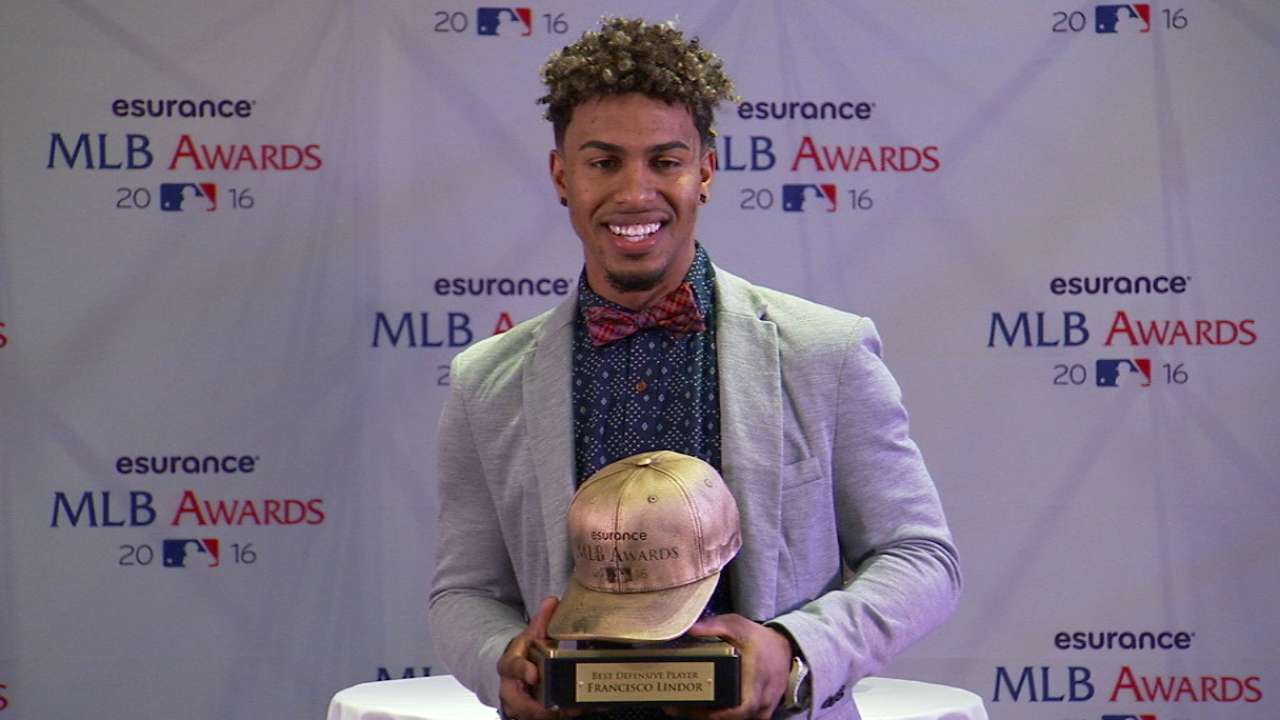 Miller was brilliant in the regular season, going 10-1 with a 1.45 ERA and 123 strikeouts in 74 1/3 innings over his stints with New York and Cleveland. Somehow he was even better with the higher stakes on the line in the postseason, going 2-0 with a 1.40 ERA, 0.88 WHIP, 30 strikeouts in 19 1/3 innings and a save. He won the AL Championship Series MVP Award for pitching 7 2/3 scoreless innings and striking out 14 batters over four games. Then he pitched in four of the seven games in the World Series, struck out nine batters over another 7 2/3 innings and earned a victory in Game 3.
It was enough to beat out teammate Corey Kluber and Cubs stars Anthony Rizzo, Kris Bryant and Jon Lester for the honor.
The Esurance MLB Awards annually honor Major League Baseball's greatest achievements as part of an industry-wide balloting process that includes five groups, each of which accounts for 20 percent of the overall vote: media, front-office personnel, retired MLB players, fans at MLB.com and Society for American Baseball Research (SABR) voters.
The MLB Awards are an all-inclusive program, encompassing the top players and performances from both the American League and National League from Opening Day through the end of the postseason.
Individual awards went to the Best Major Leaguer in addition to the winners in the following categories: Best Hitter, Pitcher, Rookie, Defensive Player, Manager, Executive, Social Media Personality and Postseason Performer.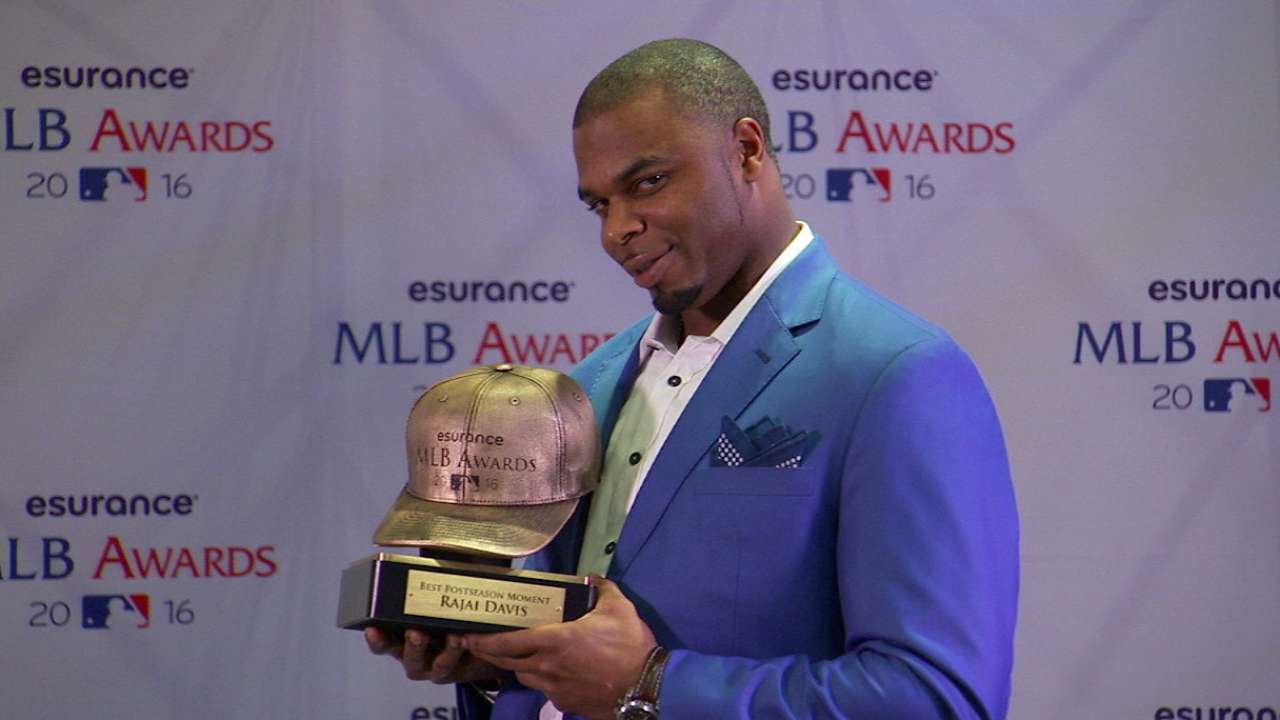 Winners were also recognized for the year's best Offensive Play, Defensive Play, Regular-Season Moment, Postseason Moment, Single-Game Performance, Social Media Post, Fan Catch, Broadcast Call, Player-Fan Interaction and Trending Topic.
Voting began on Sept. 19 at 4 p.m. ET at MLB.com/awards, one hour after the inaugural Esurance MLB Fans of the Year winners were announced.
Winners of the 2016 Esurance MLB Awards were unveiled at a reception in Manhattan's Chelsea Market, on MLB social channels and during a live broadcast on MLB Network and MLB.com.
Doug Miller is a reporter for MLB.com. Follow him on Twitter @DougMillerMLB. This story was not subject to the approval of Major League Baseball or its clubs.