Mejia makes impression on Francona, Tribe
Indians' No. 2 prospect hit go-ahead grand slam on Saturday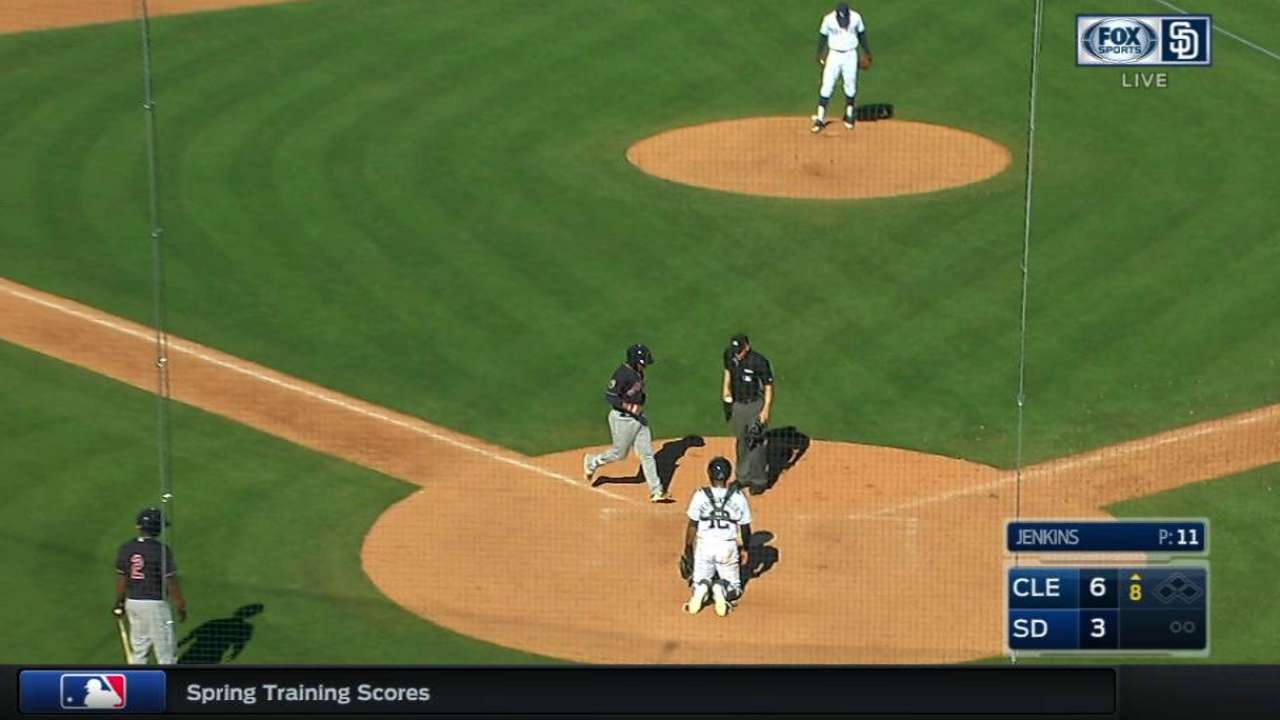 PEORIA, Ariz. -- On a day the Indians optioned three players back to the Minors, their No. 2 prospect according to MLBPipeline.com, Francisco Mejia, continued to impress, stamping his ticket for an extended stay in the big league training camp.
Mejia, 21, hit a go-ahead grand slam in the seventh inning of Saturday's 7-6 win over the Royals. It was an impressive at-bat, with Mejia fighting off pitches until he found one he could hit squarely.
"I didn't want to strike out," Mejia said of the bases loaded, one out situation. "I was just looking for a good pitch to hit. I took a deep breath and tried to create a good situation."
Mejia stayed hot during Sunday's win over the Padres. He went 2-for-2 with a solo home run.
Though his 50-game hitting streak in Class A Lake County last year was the longest Minor League hitting streak in 62 years and fourth longest ever, he is making his mark as a catcher. Indians coach Sandy Alomar Jr. says he may have the best arm on the team, and manager Terry Francona says he could prove to have one of the best arms in the Majors.
"He's got a cannon," Francona said. "Switch hitter; there's a lot to like."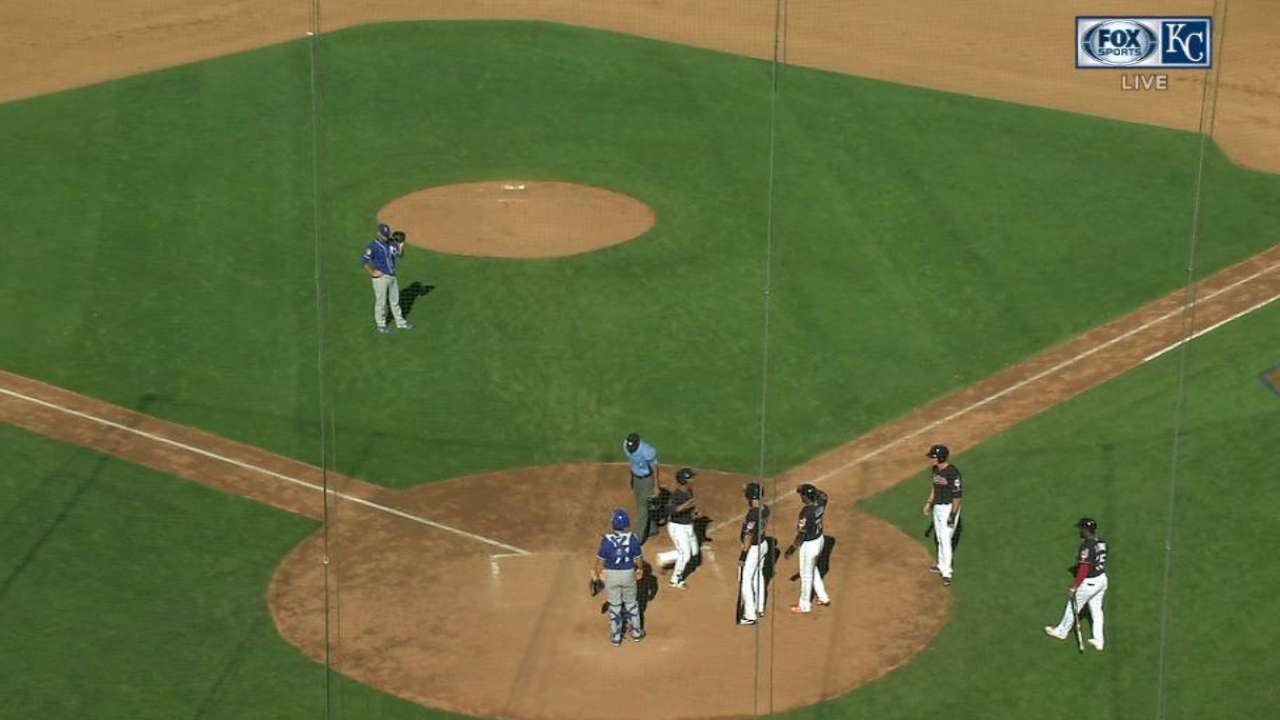 Mejia stayed put while three other players made the move to Minor League camp.
Right-handed reliever Perci Garner was optioned to Triple-A Columbus after making four scoreless Cactus League appearances, yielding five hits and five walks while striking out five over 3 2/3 innings.
"Perci, by his own admission, probably put a little too much pressure on himself," Francona said. "April can be kind of a cruel month. So you let young guys get on a roll first, and that's what he's going to start doing now. His command isn't where it needs to be, and he knows that. So get him going and get him more consistent and confident and have him help us win games, because there's a lot to like."
Garner was 5-1 with a 1.94 ERA in 51 relief innings in Double-A Akron last year, before throwing 27 2/3 innings for Columbus, going 2-0 with a 1.63 ERA. He finished the season in Cleveland, where he made eight appearances and posted a 4.82 ERA over 9 1/3 innings.
Left-handed starter Tim Cooney is sidelined with a muscle strain in his forearm and is expected to miss 10-12 weeks. He was optioned to Columbus, as well. Cooney was 1-0 with a 3.16 ERA in six starts spanning 31 1/3 innings for the Cardinals in 2015 and missed all of last season with a shoulder injury.
Dylan Baker was optioned to Double-A Akron. He made only one appearance over the last two years due to right elbow surgery in May of 2015 and arthroscopic elbow surgery in August of 2016.
"He had 22 months off of games because of the couple surgeries," Francona said. "He threw the other day, and he threw the ball so well. But he needs to go start getting on a routine. This is an exciting young man. He needs consistent work right now."
Owen Perkins is a contributor to MLB.com. This story was not subject to the approval of Major League Baseball or its clubs.