Clutch hits by Santana aid comeback
Switch-hitter ends Twins starter Santana's 22-inning scoreless streak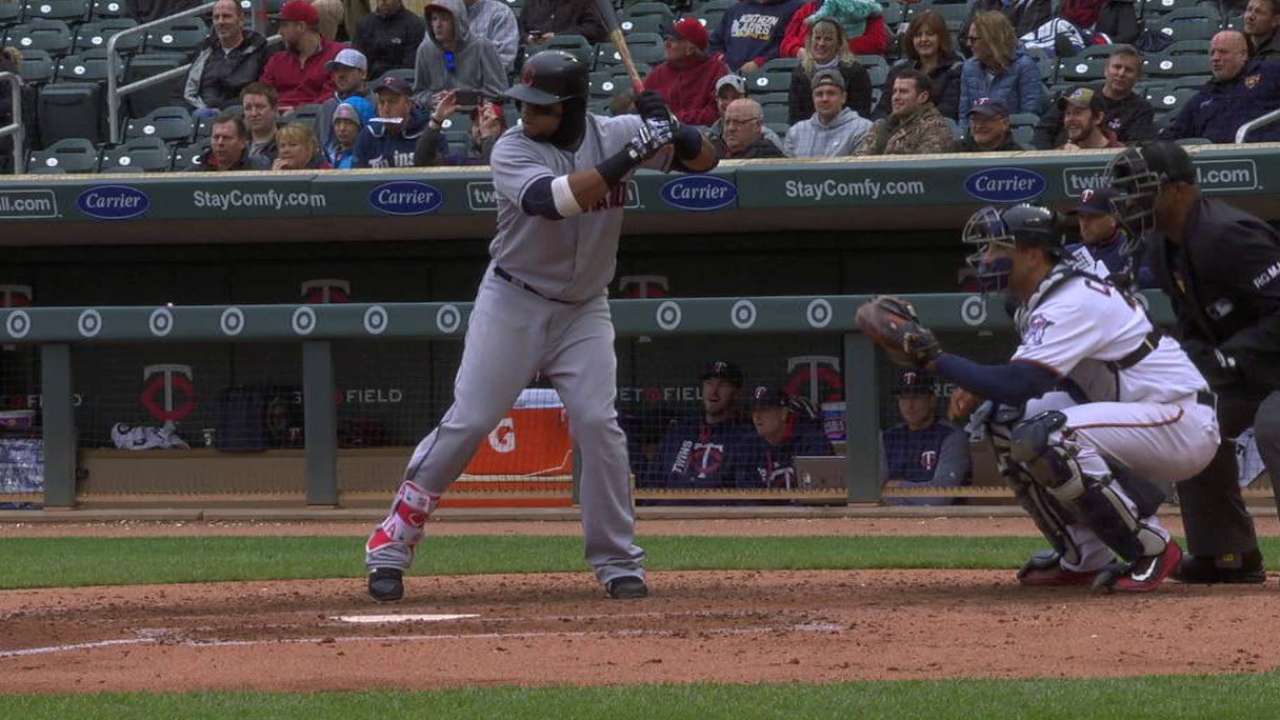 MINNEAPOLIS -- Carlos Santana could fit in just fine in a number of different places in the Cleveland lineup. Manager Terry Francona likes Santana batting leadoff, though, and has written Santana's name at the top of the lineup card in all 15 games so far this season.
Having the switch-hitting Santana bat leadoff proved successful on Thursday as the Cleveland first baseman notched a pair of RBI doubles and had three total hits in the Indians' 6-2 victory over Minnesota.
Things set up nicely for Santana as Cleveland was able to roll over its lineup twice for him with runners in scoring position. The first instance came in the top of the fifth as the Indians trailed 2-0.
Twins right-hander Ervin Santana was facing Cleveland's Santana and had not allowed a run in 22 innings -- the longest active streak in the Majors. Carlos got the best of Ervin in the top of the fifth when he connected for the first of his two RBI doubles.
Carlos Santana's double to the gap in right-center scored Abraham Almonte, who doubled two batters earlier. The run cut Minnesota's lead to 2-1.
"Santana, I know the last three starts he's thrown well," Carlos Santana said. "For me, I try to concentrate in the middle. He used for me a lot of changeups, but I tried to make good contact."
Santana's versatility at the top of the lineup paid off once again in the seventh. When Minnesota brought in left-handed reliever Taylor Rogers to face Santana, it forced the Indians' first baseman to bat from the right side of the plate.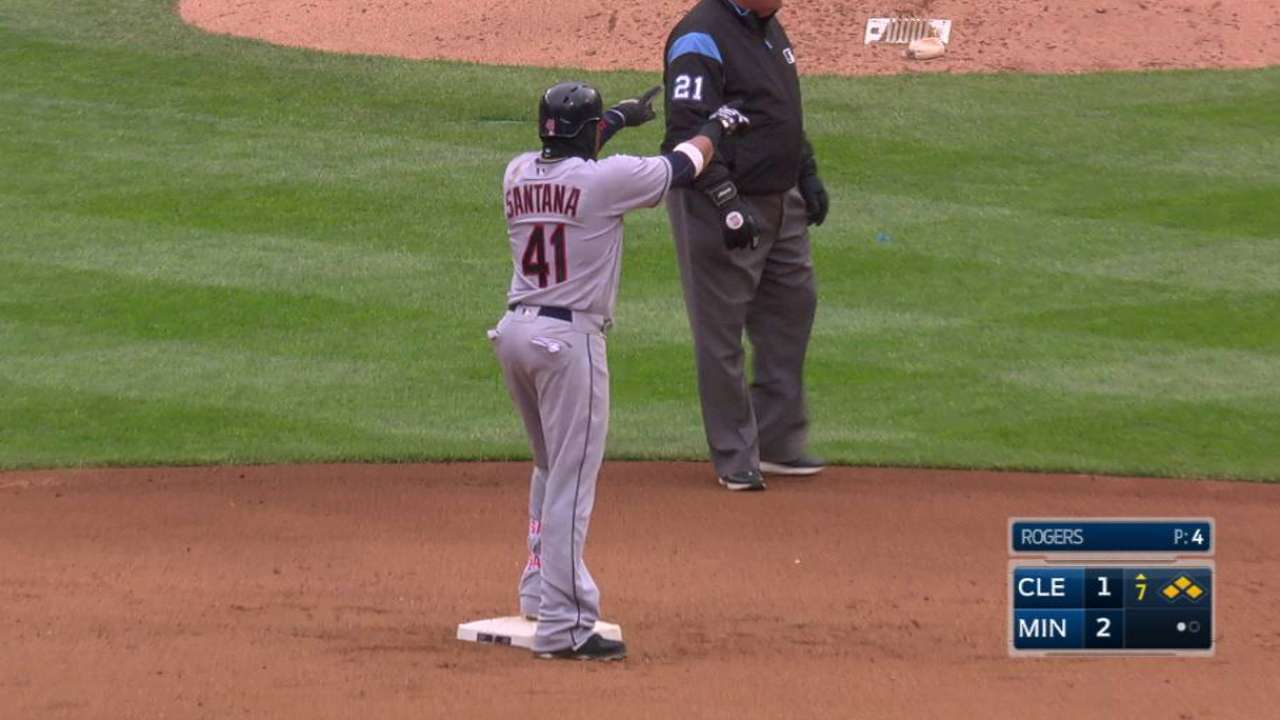 The end result was the same for Santana as it was in the fifth. Another RBI double, this time scoring Yandy Diaz. Santana's second double tied the game at 2-2 and helped pave the way for a three-run seventh inning for Cleveland's offense.
"Part of the reason with him leading off is when you turn the lineup over, you've got a switch-hitter sitting there at the top of the order," Francona said. "They brought in the lefty to face him. He took a really good swing and turned the game around."
Santana said he just tried to make good contact in the seventh with a runner in scoring position. It didn't seem to matter which side of the plate Thursday. Batting right-handed this time, Santana pulled a double to left field to once again make an impact.
"Rogers came in and was pitching well, but Santana turned on one and it kind of changed the game," said Twins manager Paul Molitor.
As Cleveland's offense started to come around this series -- the Indians scored 20 runs in three games -- it was a different player stepping up each game in a big situation. Thursday was Santana's turn to fill that role.
Whether against a starting pitcher on an impressive scoreless streak, or a reliever who forced him to switch batter's boxes, Santana came up big when the Indians needed him.
"It's a little tough, but that's why I go to the cage and do something on both sides," Santana said of hitting right-handed, something he's done less than half as much as he has left-handed in his career. "Hitting is complicated, but I try to do what I can do."
Tyler Mason is a contributor to MLB.com and covered the Indians on Thursday. This story was not subject to the approval of Major League Baseball or its clubs.