Lindor lends advice to Zimmer after callup
Indians' top prospect went 0-for-3 in Major League debut Tuesday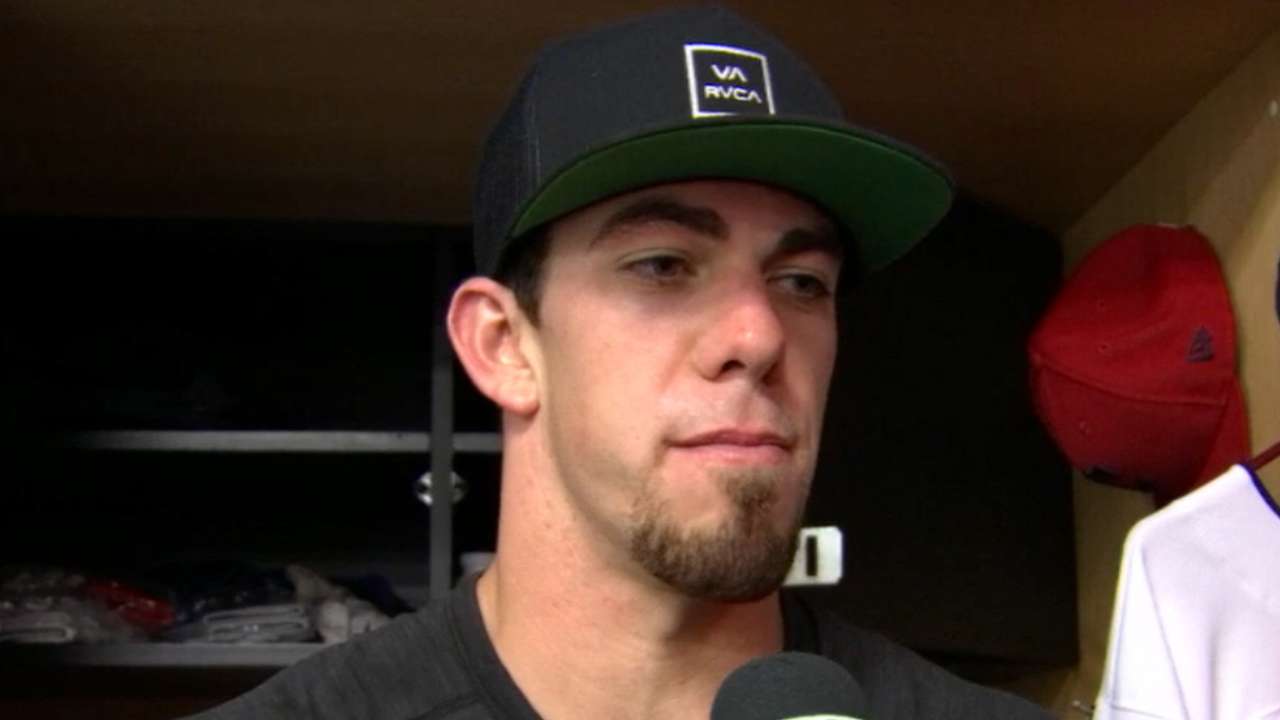 CLEVELAND -- Francisco Lindor remembers the mixture of nerves and anxiety that he felt when he walked into Comerica Park for his Major League debut two years ago. The Indians' shortstop knows that Bradley Zimmer experienced the same when he walked into Cleveland's clubhouse on Tuesday.
When Zimmer arrived to Progressive Field, the rookie found his locker in a back corner of the room, neighboring the stall belonging to Lindor. That could be of benefit for Zimmer, considering both players were first-round Draft picks, dealt with top-prospect status in the Minors and arrived to the big leagues amidst considerable hype.
Zimmer was glad Lindor's locker was next to his.
"He's doing some pretty special things this year," Zimmer said. "It's cool getting to sit next to a guy like that and kind of pick his brain and be a part of the team now."
Zimmer was a first-round pick by the Indians in the 2014 Draft, and he made his Major League debut as the Tribe's center fielder in Tuesday's 6-4 loss to the Rays. Zimmer went 0-for-3 with three strikeouts. Lindor, who was Cleveland's top pick in the 2011 Draft, debuted on June 14, 2015, against the Tigers, and he delivered a pinch-hit single in his first at-bat.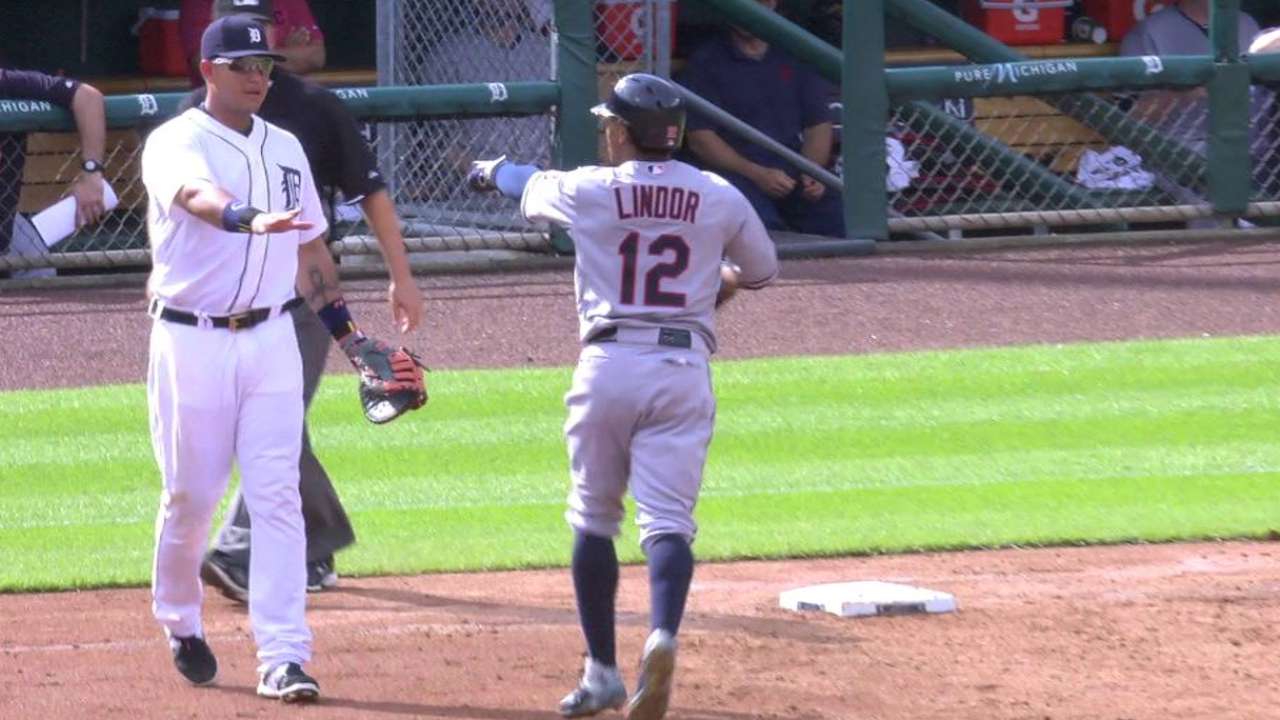 Lindor also tripped over first base on the play, leading to some friendly advice for Zimmer.
"If you hit a hard line drive, jog," Lindor told Zimmer. "Don't sprint, because you might fall."
That was hardly the only tip that the Indians' shortstop gave Cleveland's newest outfielder.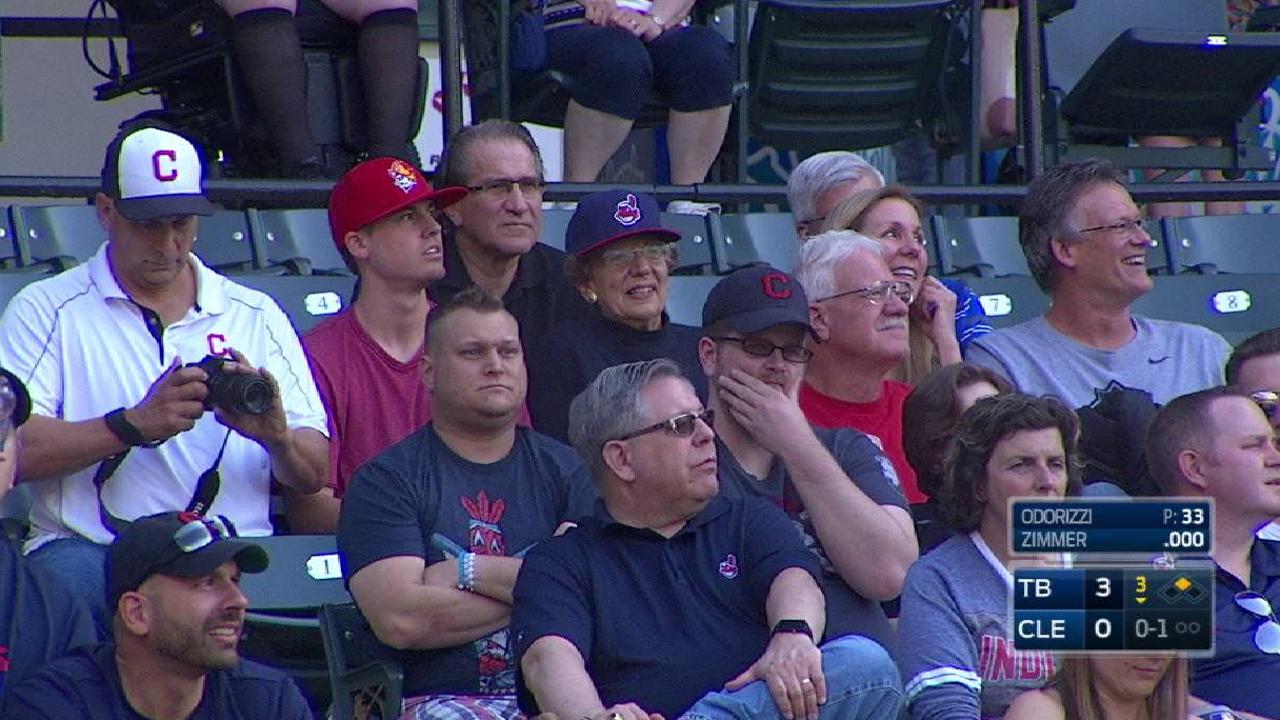 "He was nervous. Nervous, anxious -- all those emotions," Lindor said. "He probably didn't sleep the night before. I like the way he had [batting practice]. I liked his swings. I'm looking forward to seeing what he's going to be doing. I'm sure he'll surprise himself up here. I'm sure he'll do a lot better than what he expects himself to do.
"I told him [on Tuesday], 'First at-bat, take your time, man. Take your time. Wait for them to announce your name. When they announce your name, then you walk to the plate. Soak it in. It's the first time you're going to have your first big league at-bat. The first and last. It's not going to happen again. Just enjoy it. Have fun.'"
Jordan Bastian has covered the Indians for MLB.com since 2011, and previously covered the Blue Jays from 2006-10. Read his blog, Major League Bastian, follow him on Twitter @MLBastian and Facebook. This story was not subject to the approval of Major League Baseball or its clubs.