Tribe top prospect Zimmer enjoys day of firsts
Outfielder notches first hit, run before going deep in ninth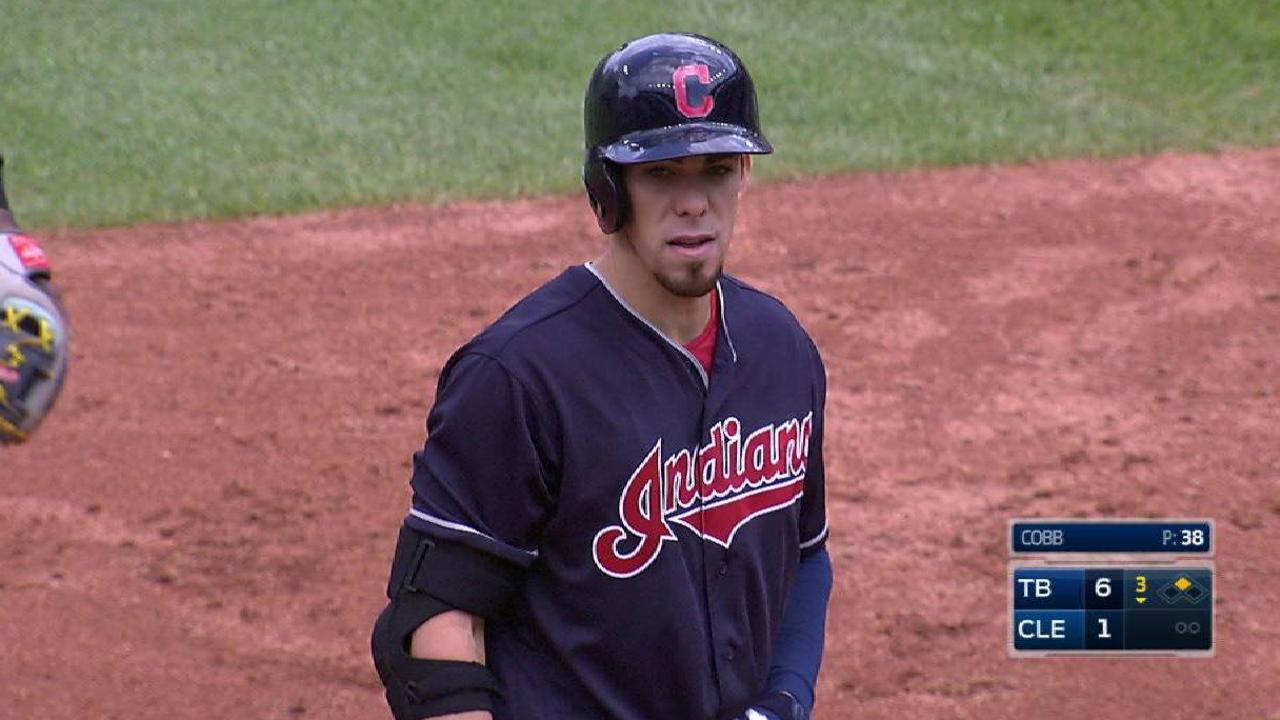 CLEVELAND -- Bradley Zimmer had two baseballs in his possession after his first milestone game in the Major Leagues.
One was from the double that the Indians rookie sent bouncing high off the left-field wall for his first career hit in the third inning of Wednesday's 7-4 loss to the Rays. The other was from the home run he launched in the ninth. That second ball required some bartering. The Indians fan who caught the blast headed home with an autographed bat and baseball.
"Good deal," Zimmer said with a smile.
It was a tough day for the Tribe but a memorable one for Zimmer, who felt much more relaxed after being overwhelmed with nerves for his big league debut on Tuesday night. When Zimmer slowed into second base after his RBI double off Alex Cobb, a calm washed over him. Getting that first one out of the way slowed the game down some.
Zimmer scanned the Progressive Field stands for his parents and grandmother, but could not spot them. He looked again after he crossed home plate following his homer off Alex Colome. Once again, he was unable to find them. When Zimmer does see his family, he will have a pair of baseballs to present as gifts -- one for his mom and one for his dad.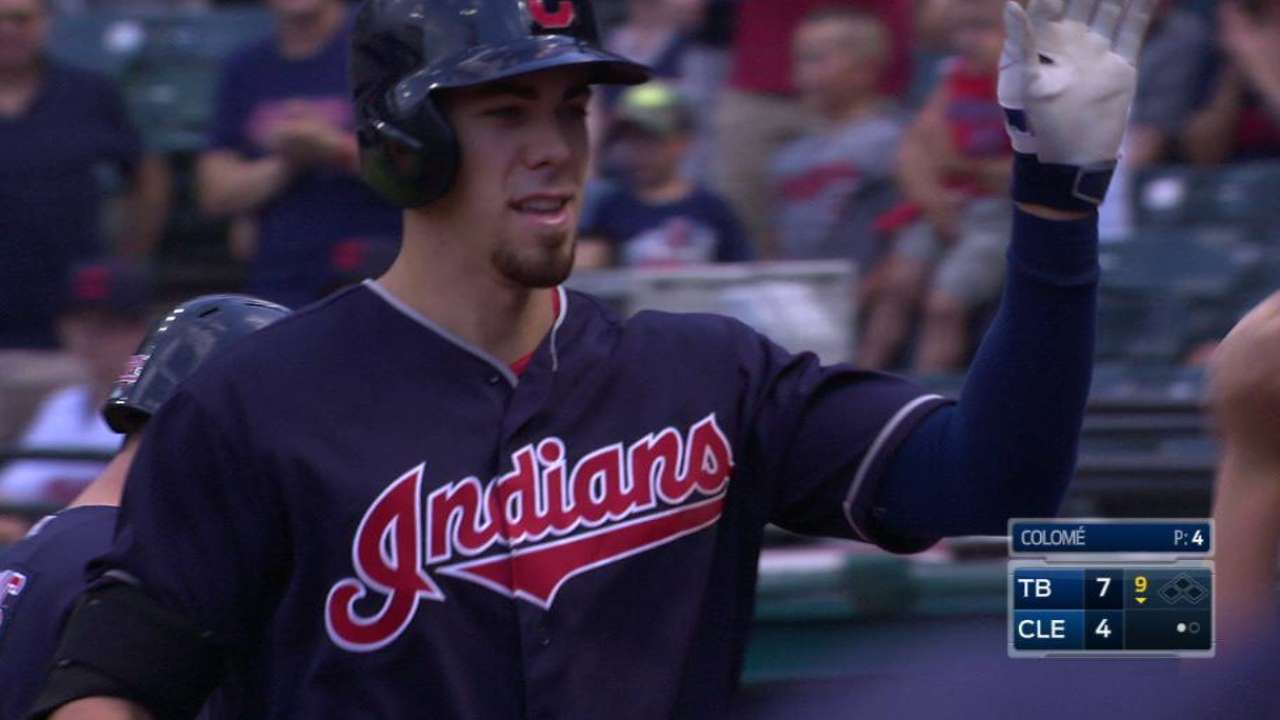 Who gets the home run?
"I feel like I have to give the homer to my mom," Zimmer said.
Zimmer -- ranked No. 19 on MLBPipeline.com's Top 100 Prospects list -- was promoted from Triple-A Columbus prior to Tuesday's game. Fighting nerves, the outfielder went 0-for-3 with three strikeouts in his debut as the Tribe's new center fielder. Zimmer looked more at ease on Wednesday, when he ended the afternoon 2-for-4 with the two extra-base hits and a pair of runs scored.
The opposite-field double in the third backed up up a pregame assessment of Zimmer's swing by Indians hitting coach Ty Van Burkleo. The coach explained that Zimmer's left-handed swing was conducive to generating extra-base hits off the 19-foot wall in left field.
"There's unbelievable power, especially the way he hits balls to left field," Van Burkleo said. "This park plays big over there, especially for a left-handed hitter. He's got enough power that he can pepper that wall and go over it when the conditions aren't wind blowing in like they are in April. That's his strength. When he stays through balls, he really can drive them."
After Zimmer's double, Rays third baseman Evan Longoria made sure the baseball found its way to the Cleveland dugout.
"It's a matter of getting that one hit, looking at his parents," Indians shortstop Francisco Lindor said. "His mom is probably proud. He might get a little teary-eyed. It's cool. It's special."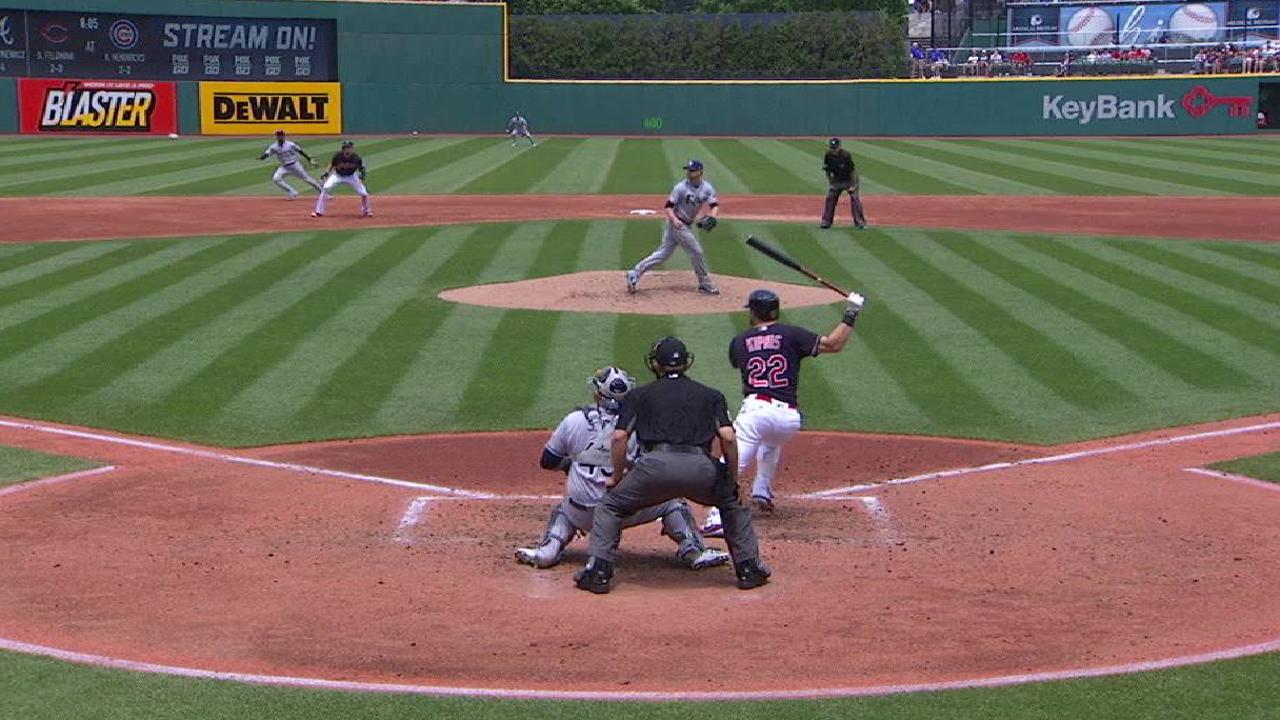 Two batters later, Jason Kipnis singled through the hole on the left side, giving Zimmer a chance to show off his speed. The 24-year-old outfielder got a great jump and motored around third, as left fielder Corey Dickerson gloved the ball and came up firing to catcher Jesus Sucre. Zimmer's headfirst slide avoided a tag from Sucre as he scored his first Major League run.
Zimmer's solo home run off Colome came on an 0-1 cutter, which flew off the rookie's bat at 102 mph, per Statcast™. On Tuesday, Lindor chatted with Zimmer and joked that the rookie should be careful not to trip over first base like the shortstop did on his first career hit two years ago.
"He also said, 'Don't sprint around the bases if you hit a home run,'" Zimmer said with a laugh. "I think at one point I was running pretty hard, but then I slowed down as I got to second. It was a lot of fun."
Jordan Bastian has covered the Indians for MLB.com since 2011, and previously covered the Blue Jays from 2006-10. Read his blog, Major League Bastian, follow him on Twitter @MLBastian and Facebook. This story was not subject to the approval of Major League Baseball or its clubs.