Early-season returns puzzling for rotation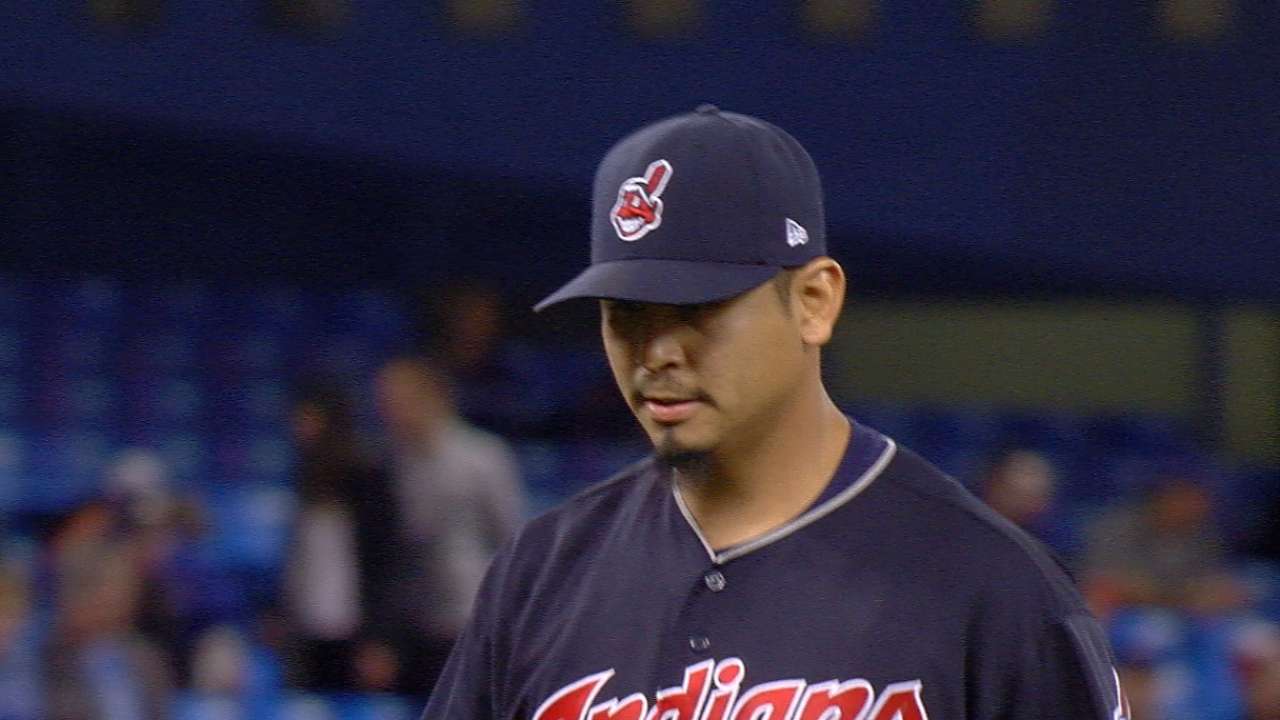 CLEVELAND -- The Indians' rotation problems have been perplexing. There are an assortment of areas in which the starters have been among the most dominant in the American League, but the results have betrayed the kind of picture painted by the numbers.
Over the course of a season, many of the problematic categories will likely correct themselves, given how strong Cleveland's staff has been in terms of strikeouts and walk rate. Indians manager Terry Francona does not want to just be in wait-and-see mode, though. He wants his pitchers to do something about it.
Francona said he and pitching coach Mickey Callaway plan on meeting with the group during the upcoming series in Houston.
"We have to make it correct itself," Francona said. "We need to make it. I don't know that [things will improve] just by showing up and saying, 'Well, it's a new day.' That's a good way to start, but we need to do some things better."
What's going right
Even without ace Corey Kluber at the moment -- he is working his way back from a lower-back strain -- the Indians rate as one of the best groups in the AL at missing bats.
Entering Thursday's team off-day, the Indians led the AL in strikeout percentage (26.1) and ranked second in strikeouts per nine innings (9.8), strikeout-to-walk ratio (3.4) and strikeouts-minus-walk percentage (18.3), per FanGraphs. The 75.2 contact percentage allowed by Cleveland's starters is second in the AL, and the 11.3-percent swinging-strike rate is third.
"Obviously, all of them have really good stuff," Callaway said. "Some of the numbers show that."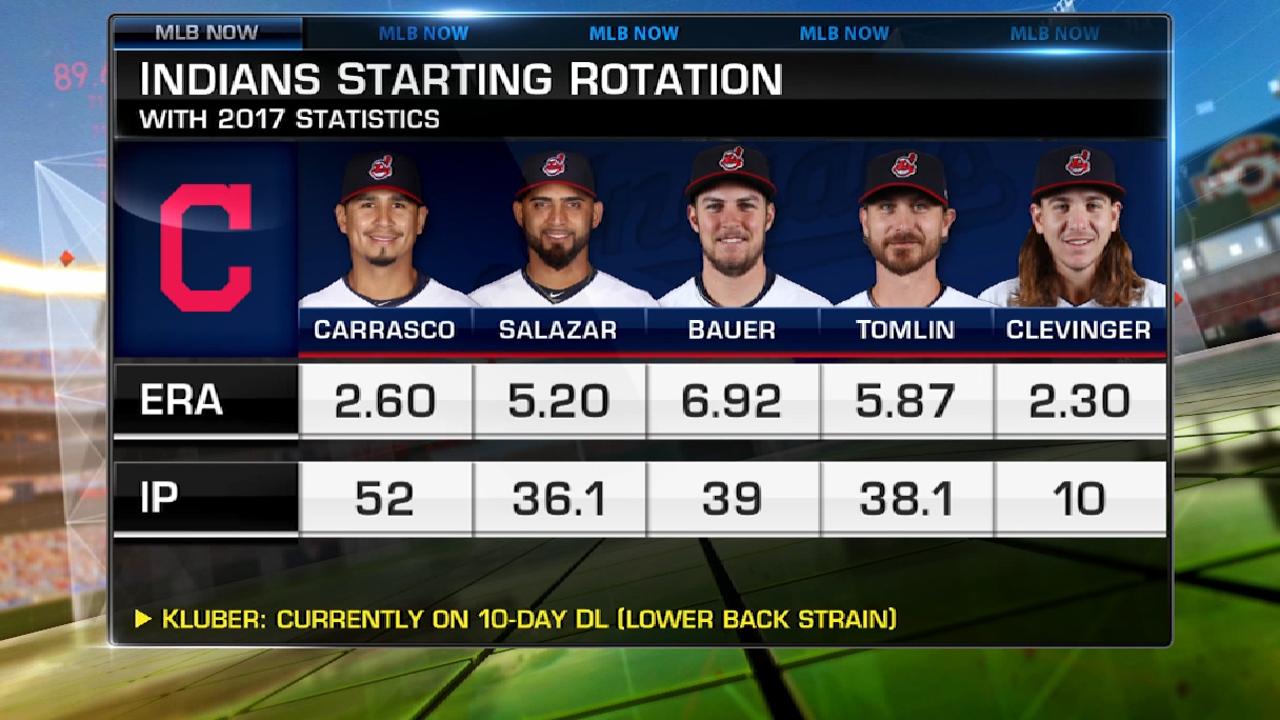 According to Fangraphs' version of WAR, the Tribe's rotation rates as the fourth-best staff in the AL at 3.1 through 39 games. The rotation ranked fourth in Fielding Independent Pitching (4.01) and first in Expected FIP (3.40) -- the latter being a predictive run-prevention metric.
These numbers seemingly show that the Indians' rotation has been successful across the board, especially when it comes to taking care of elements within a pitcher's control. The problem is that the results haven't followed suit. Aside from Carlos Carrasco (2.60 ERA), the four main starters -- Kluber (5.06), Danny Salazar (5.66), Josh Tomlin (6.86) and Trevor Bauer (6.92) -- have turned in bloated ERAs to date.
"We really need to simplify things," Callaway said. "Start pitching to our strengths a little bit more and make sure we navigate lineups the right way."
What's going wrong
Salazar's performance against the Rays on Tuesday provided a five-inning summation of the Tribe's rotation this season. The right-hander struck out nine batters, but he also surrendered four home runs. On the night, Cleveland's pitchers piled up 16 whiffs and gave up five homers.
"You just don't see it very often," Callaway said. "Sometimes, we're like, 'What's going on here? How do we fix this?' It's something that, we need to do a better job as a starting staff right now. It's something that we'll work on and talk about and try to figure out the reasons those things are happening and go from there."
When the Indians' starters are not missing bats, hitters are doing a surplus of damage.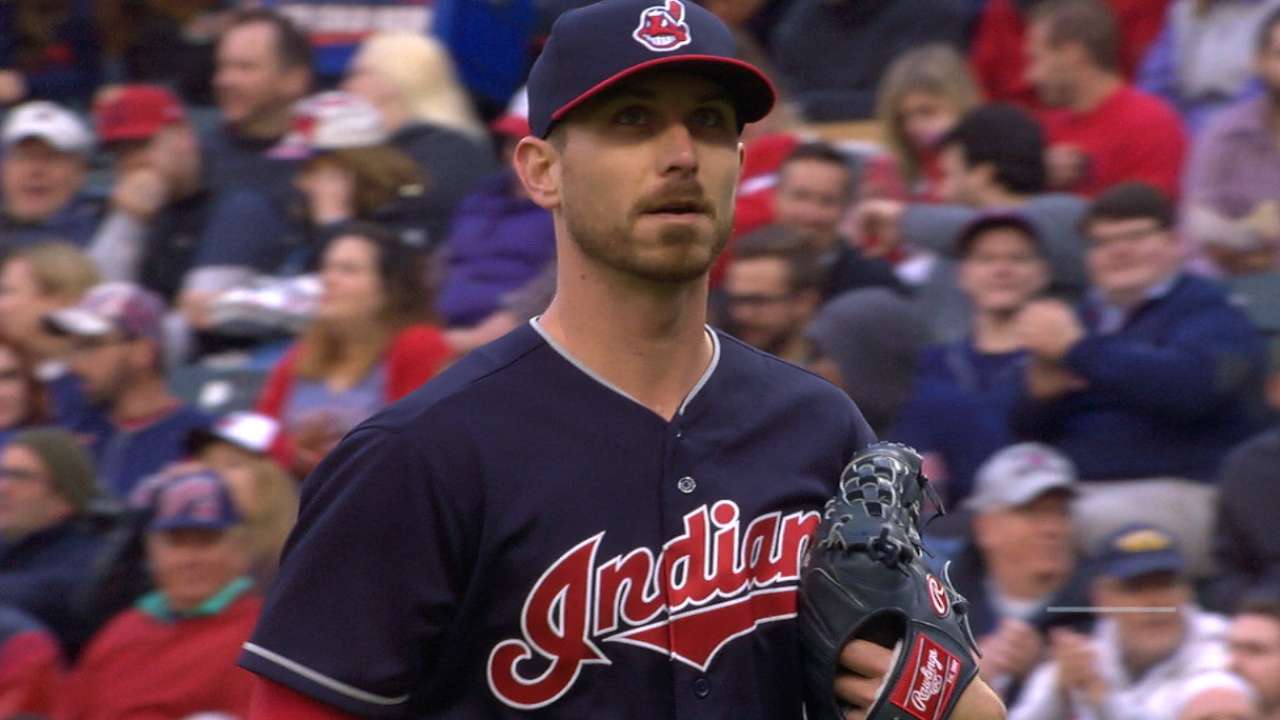 According to Statcast™, Cleveland's pitching staff is allowing a .961 slugging percentage on balls in play deemed fly balls. That ranks 14th in the AL and 28th in the Majors, which has an .836 SLG on fly balls. The 18.2-percent home run-per-fly ball ratio turned in by the Tribe's rotation ranks 14th in the AL, too. The starting staff is 12th in the AL with 16.7 percent of its hits allowed being homers.
The result has been 18 losses for the rotation (14th in the AL) and a 5.15 ERA (15th).
Tomlin said there are no excuses for what has been happening.
"It's disappointing to see," Tomlin said. "We've got to do a better job as a unit. There's no sugarcoating it. There's no, 'It's early,' or anything like that. It's, 'We need to do a better job from top to bottom.' We've had some guys that have pitched good games, but we haven't strung together enough consistent outings as a group to give our team a chance to win, and that falls on us."
Jordan Bastian has covered the Indians for MLB.com since 2011, and previously covered the Blue Jays from 2006-10. Read his blog, Major League Bastian, follow him on Twitter @MLBastian and Facebook. This story was not subject to the approval of Major League Baseball or its clubs.