Tribe not counting Zimmer out after surgery
OF given recovery time of 6-8 weeks with broken hand, will be re-examined in 2 weeks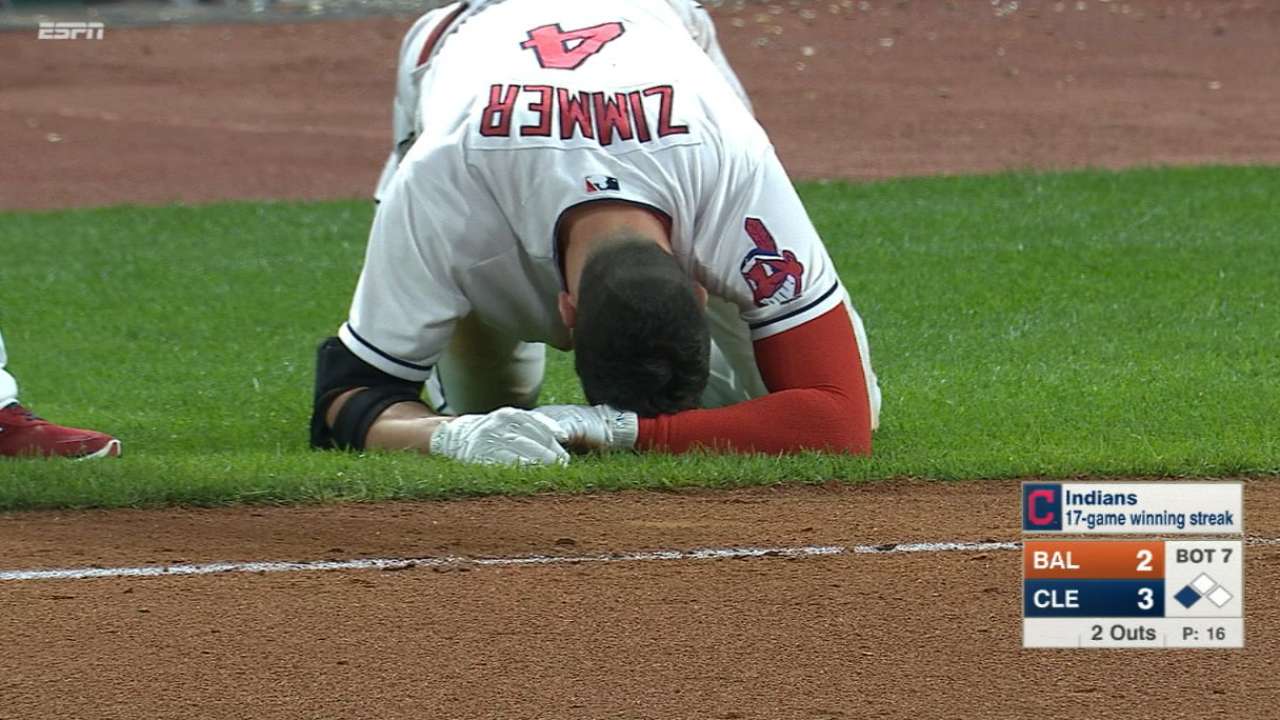 CLEVELAND -- After Bradley Zimmer underwent successful surgery to repair his broken left hand on Tuesday, the Indians received more clarity on the rookie center fielder's timetable for return from the injury.
Indians manager Terry Francona announced on Tuesday that Zimmer will likely miss the next 6-8 weeks following the procedure. Even with the timeframe given for the injury, Francona and the Indians have not declared the 24-year-old Zimmer out for the season, as the team's medical staff will re-evaluate his hand in two weeks.
"He got the surgery and all the stuff done," Francona said. "In two weeks, he'll be re-examined and then the doctor will kind of say what he can do next. The timetable they put on return-to-play was like 6-8 weeks. ... In two weeks, we'll let him get looked at, see what he's able to do and let him do as much as he can and see where it goes."
Zimmer sustained the injury in the Tribe's 3-2 win over the Orioles on Sunday at Progressive Field. In an attempt to avoid the tag from first baseman Chris Davis, Zimmer slid head-first, resulting in Davis stepping on Zimmer's left hand.
Zimmer's surgery on Tuesday was performed by Dr. Thomas Graham at the New York Hand and Wrist Center of Lenox Hill in Manhattan. A statement from the Indians noted that Dr. Graham performed an internal fixation of Zimmer's fractured fourth metacarpal, using a plate and nine screws to fixate the fracture.
Francona's optimism for Zimmer's potential return could be based on Yan Gomes' fractured right wrist in mid-September last season. Gomes was ruled out for the remainder of the season, but he made a speedy recovery and rejoined the active roster for the final series of the regular season.
"I mean, last year," Francona said, "Gomer was supposedly done for the year and he played, so ... we just want to get [Zimmer] better."
Salazar embracing any role
Given the roll that the Indians' starting rotation has been on during the team's historic 19-game winning streak, right-hander Danny Salazar is open to doing whatever he can to be a part of the pitching staff for the remainder of the regular season and in the postseason.
"Right now, I just want to play," Salazar said. "I want to help my team win in any way. I know the starting rotation right now, they're doing great. So, if there is any way I can do something to help, even if it's out of the 'pen, then I'll do it."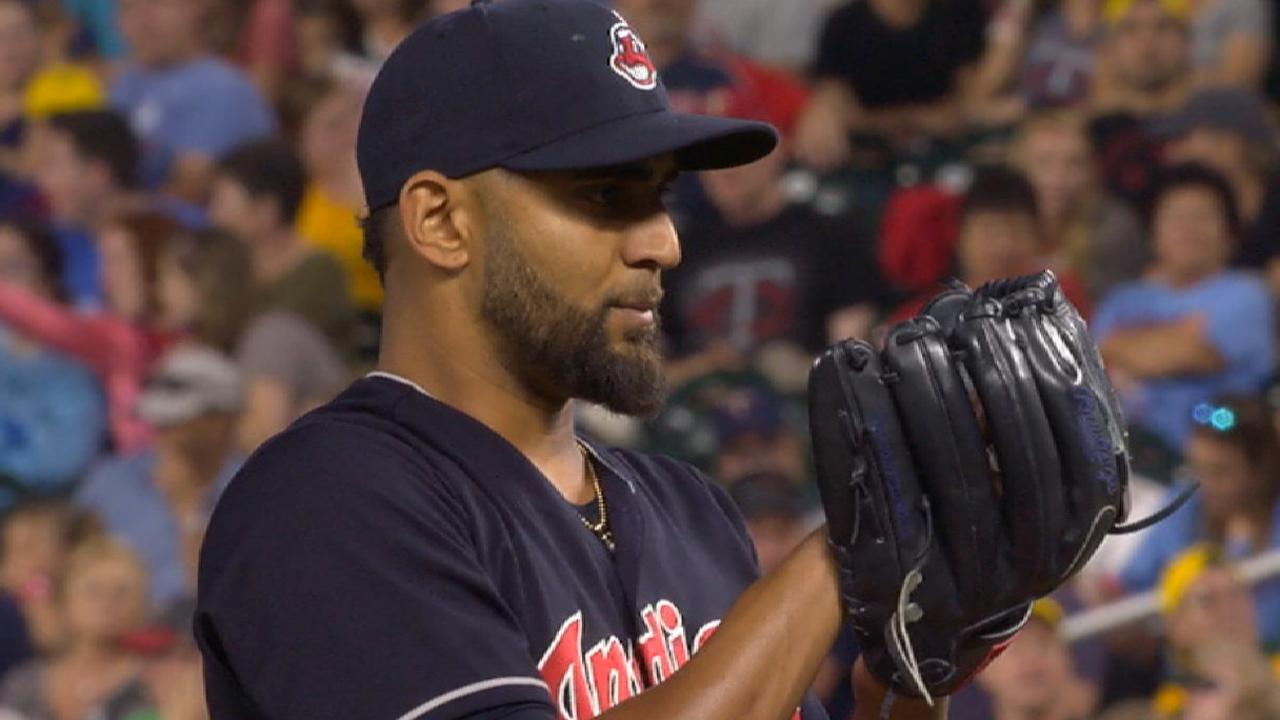 Francona said on Tuesday that he plans on resting the starting rotation in the near future, and that would give either Salazar or Ryan Merritt the opportunity to take the mound in a spot start.
"We have a couple of days coming up that we're going to give some guys an extra day," Francona said. "So we would have a day where we need a starter. Depending on how we get there, it would either be he or Merritt."
Worth noting
• Francona said on Tuesday that Indians reliever Andrew Miller (right knee patellar tendinitis) is feeling good after he threw a 30-pitch simulated game on Monday. The next step for Miller will come on Thursday, when he will either pitch in another simulated game or be activated from the disabled list.
• With Zimmer sidelined, the Indians are considering giving second baseman Jason Kipnis time in center field when he is activated from the DL (right hamstring strain). Francona said that Kipnis wants to play on Sunday against the Royals, but the team's medical staff thinks that Tuesday against the Angels is a more realistic return date.
William Kosileski is a reporter for MLB.com based in Cleveland. This story was not subject to the approval of Major League Baseball or its clubs.