Indians pay heavy price with 4 costly errors
Urshela's second-inning miscue sets up Yanks' big frame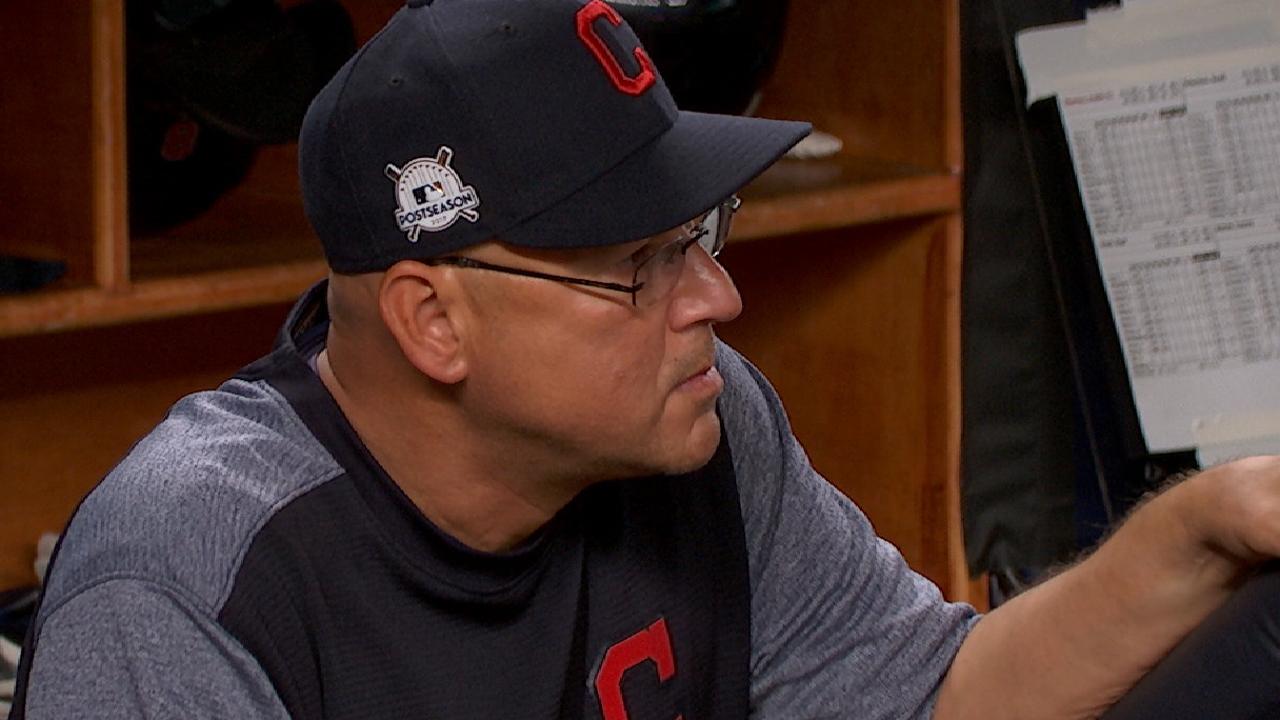 NEW YORK -- The second-inning mound visit from Indians manager Terry Francona was to pull starter Trevor Bauer. But as long as Francona was out there, he was going to send a message to third baseman Giovanny Urshela, whose error earlier in the inning set up the Yankees' commanding four-run rally.
As the infielders lingered around the mound for the pitching change, Francona gave Urshela a pat on the chest to let him know he still had faith in him.
"Very unlike him," Francona said after his team's 7-3 loss in Game 4 of the American League Division Series presented by Doosan on Monday night at Yankee Stadium.
• Shop for Indians postseason gear
So did Urshela's teammates, notably shortstop Francisco Lindor.
"He's a big part of the team," Lindor said, "and he's extremely good at third base."
An inning later, Urshela committed his second error. It was that kind of night for the Indians, who will face the Yanks in a winner-take-all Game 5 on Wednesday night at Progressive Field.
"It's just something that's part of the game," Urshela said through an interpreter, "and you always try to give your best."
It would be shocking if the Indians had another night like Monday, when four errors -- all in the infield -- led to six unearned runs. No team had yielded that many unearned runs in a postseason game since the Tigers had six in Game 1 of the 2014 ALDS against the Orioles at Camden Yards. Only 14 times has a team allowed six or more unearned runs in a postseason game; not surprisingly, that team lost 13 times. The only exception was the 1912 Giants, against the Red Sox in Game 2 of the World Series, which ended in a 6-6 tie in a game called due to darkness.
"The whole night, we made it hard on ourselves to win," Francona said. "We kept trying, but we kept shooting ourselves in the foot. We can't not finish plays or, you know, not make plays. It just makes it really difficult."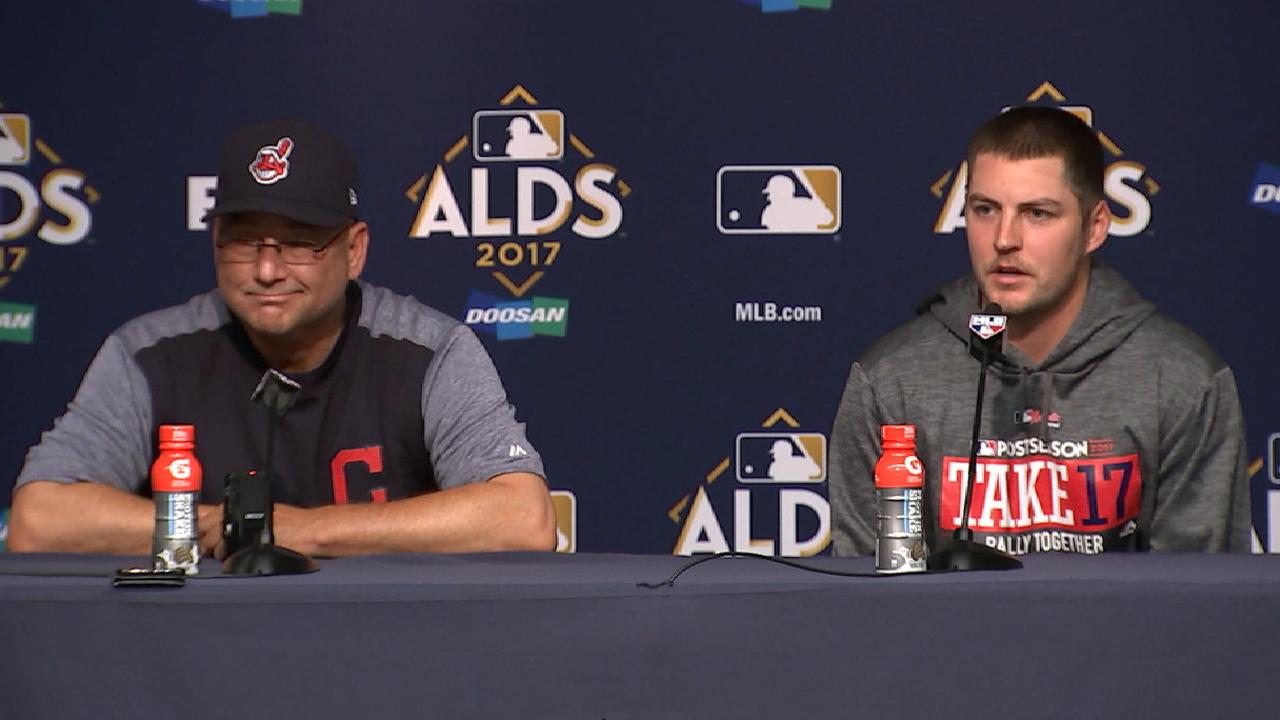 The first error was arguably the most difficult play, a low, sinking line drive in the second inning off the bat of Starlin Castro with a 102.6-mph exit velocity, according to Statcast™. Urshela put his glove out, but the ball dipped under his glove and struck his left shin, sending him to the ground as Castro reached base.
"I saw the ball coming," Urshela said, "and then it fell and dropped a little bit, and so I couldn't reach it with my glove."
Four Yankees runs came across in that inning, all with two out, making Urshela's error particularly costly.
"You could say one thing led to another," center fielder Jason Kipnis said.
The next inning, Castro came around to score on another Urshela error, this one a high throw to first on a Brett Gardner two-out grounder.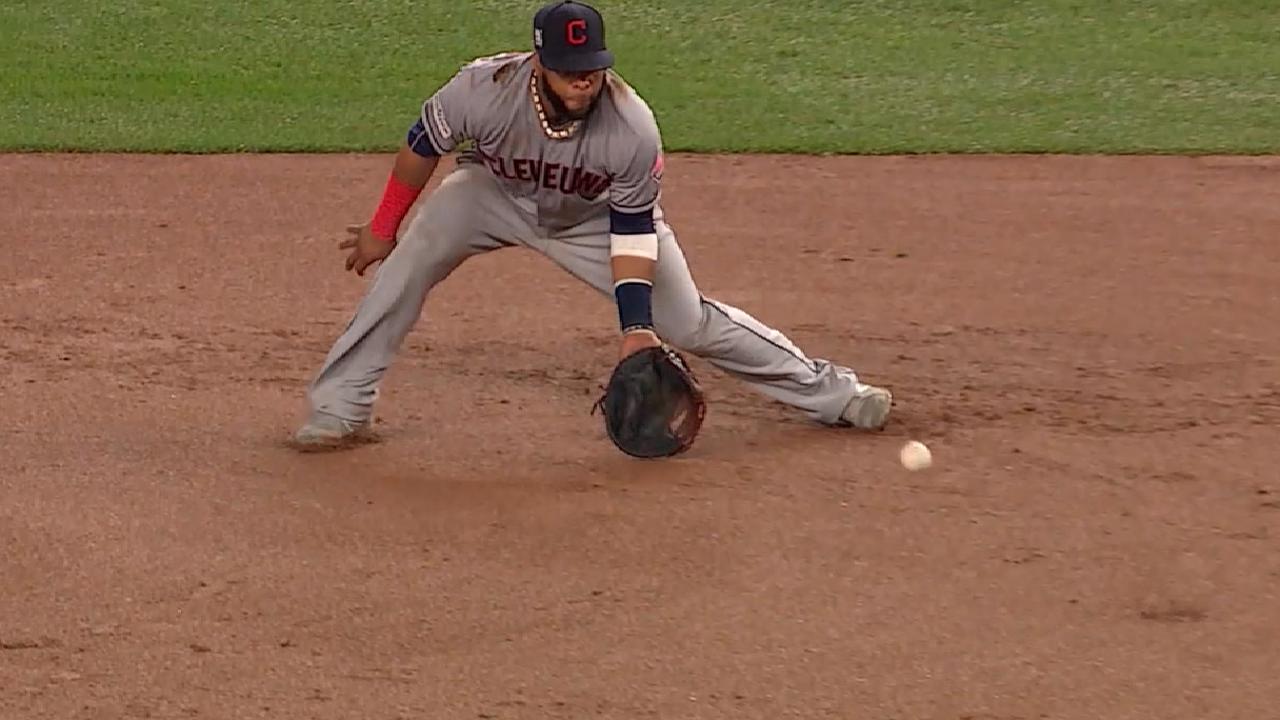 Urshela fielded Gardner's ball cleanly, but he looked to second for the forceout, only to find nobody covering.
"He looked at second," Francona said, "but [Jose Ramirez] was playing so far in the hole, and he just didn't move his feet."
Urshela turned and fired across the infield, but it forced first baseman Carlos Santana to take his foot off the bag.
"It was a miscommunication between me and [Ramirez]," Urshela said, "and then, I wanted to throw it to first, but I felt I was a little rushed."
By contrast, the next errant throw to first was so far in the dirt that Santana would have needed to summon his old catching skills to block it. Danny Salazar had plenty of time after fielding Todd Frazier's dribbler leading off the fifth inning, but Salazar's throw rolled past Santana and into foul territory as Frazier strolled into second. Frazier scored on Gardner's sacrifice fly, challenging Jason Kipnis' arm in shallow center field. It wasn't an error, but it was a surprise play.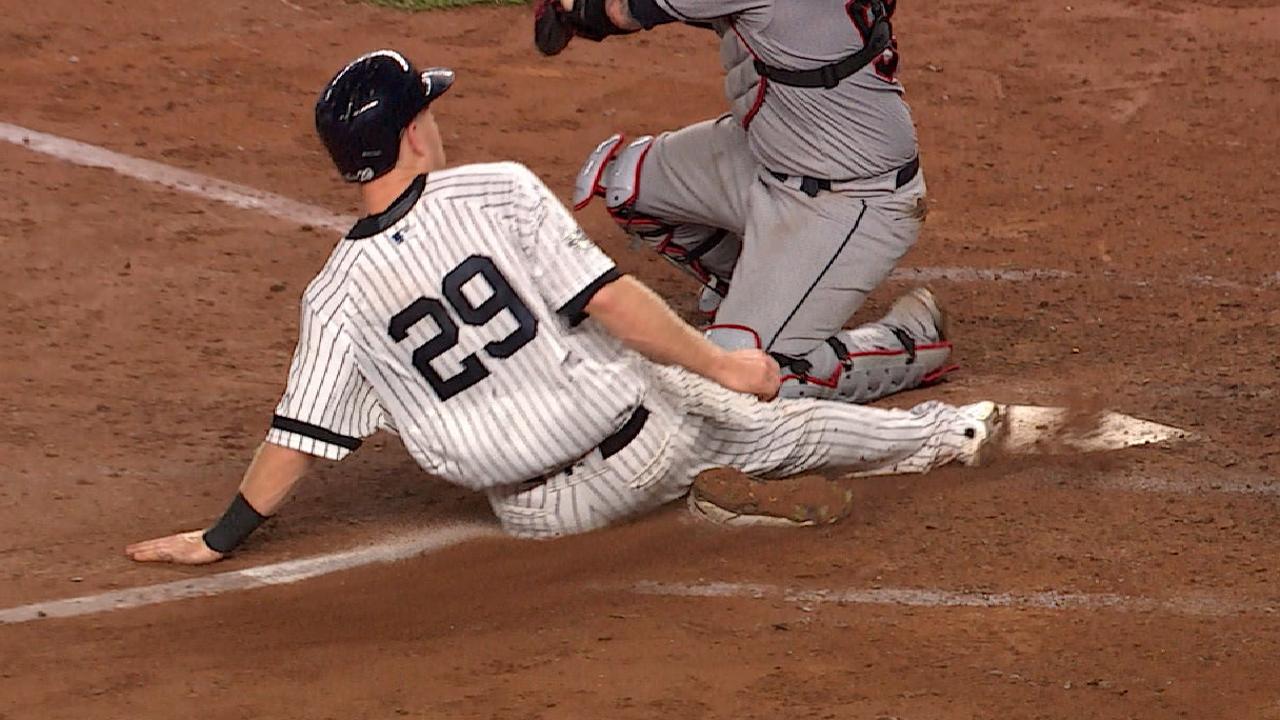 "I talked to the other outfielders," Kipnis said. "It's one of those ones that's tough, just being the high one that you have to kind of wait under, that you can't really build the momentum to get behind the throw."
One more error, this one from Santana on a ball that got past him leading off the seventh, didn't result in another run, but it rounded out the night.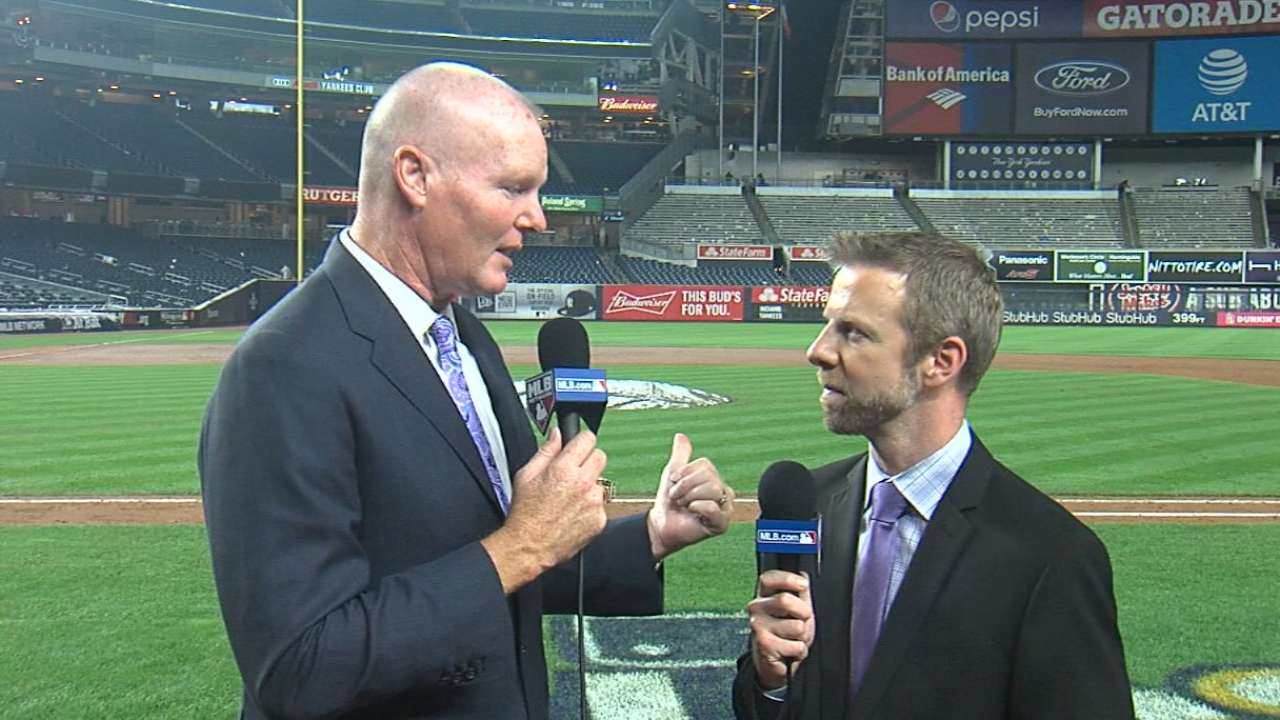 The four errors tied a 22-year-old Indians record for a postseason game, set in Game 5 of the 1995 AL Championship Series. The Tribe hadn't committed four errors in any game that counted since May 30, 2016, against the Rangers.
This is a team that won with defense, compiling just 76 errors in the regular season, fewest in the AL and second fewest in the Majors to the Marlins.
"You can't be perfect every game," Lindor said. "You hope and you work and you practice, and you try to be perfect."
The Indians don't need to be perfect in Game 5, just better.
Jason Beck has been a reporter for MLB.com since 2002. Read Beck's Blog, follow him on Twitter @beckjason and Facebook. This story was not subject to the approval of Major League Baseball or its clubs.