Tribe: Yankees 'played their butts off'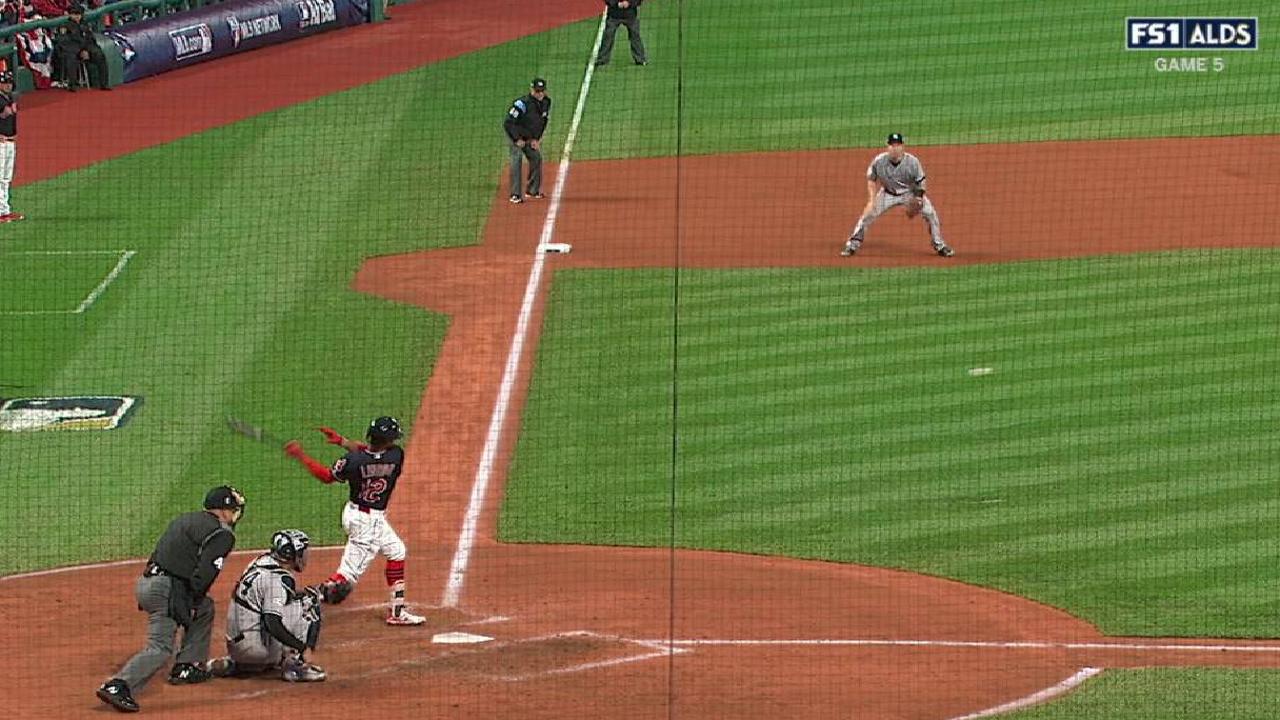 CLEVELAND -- For the Indians -- who finished the regular season as the American League's top seed, rattled off an AL-record 22-game winning streak and looked to avenge their World Series loss to the Cubs last season -- their loss in the first round of the postseason was clearly devastating. Despite their heartbreak after a 5-2 defeat in Game 5 of the AL Division Series presented by Doosan on Wednesday night, the Indians tipped their hats to the victorious Yankees.
"They played better than us, honestly," Cleveland right fielder Jay Bruce said. "There's really not much to say. They're a very good team. I think, really, the whole deal is they got to get to their bullpen with a lead before we did. That's just how it worked out [tonight]."
The Indians held a 2-0 series lead after Friday's thrilling, 13-inning, walk-off victory over New York at Progressive Field, and they appeared to have the momentum heading to the Bronx. But that's where things changed for both teams. In a matter of five days, the Tribe saw its commanding lead over the Yanks disappear before it was eliminated from the postseason Wednesday.
"We just got beat," Indians right-hander Josh Tomlin said. "They played better than us. That's all it came down to. We didn't make the plays. We didn't make the pitch. We didn't have the good at-bats. We got into a little bit of a rut at the wrong time. You never want to go into that rut, and if it does, you definitely don't want it to happen in the ALDS. Unfortunately, it did. They played better. Tip your caps. That's a pretty good team over there."
After the Indians outscored the Yankees 13-8 in the first two games of the series, the Yanks responded by outscoring the Tribe 13-5 over the final three games. Cleveland did not hold a lead at any point in Games 3, 4 or 5, as New York's starting pitching and bullpen held the AL Central champs in check.
"That's what baseball is," Indians reliever Bryan Shaw said. "They came out and played their butts off the last three games. We made some mistakes here and there that cost us. That's what baseball is."
Indians ace Corey Kluber allowed three runs, all of which came on home runs off the bat of Didi Gregorius, and took the loss. The Yankees added two more runs in the ninth on Brett Gardner's RBI single, which preceded an error from Bruce that allowed a second run to score.
"I could probably sum up how they approached this series in my [12-pitch] at-bat against Gardner," Indians closer Cody Allen said. "They grinded it out. Hats off to them. They played really good baseball with their backs against the wall. So all the credit in the world to those guys. We had seven errors in the last two games. Unfortunately, 2017 is a wrap for us."
With the loss, the Indians are now 3-17 in their past 20 chances to close out a postseason series.
"Very disappointing," shortstop Francisco Lindor said. "It's a sad day for me, for the team, for the city of Cleveland and for our families. Hats off to the Yankees. They absolutely outplayed us the last three games and they deserve to win."
William Kosileski is a reporter for MLB.com based in Cleveland. This story was not subject to the approval of Major League Baseball or its clubs.