Herrmann out for the year after elbow surgery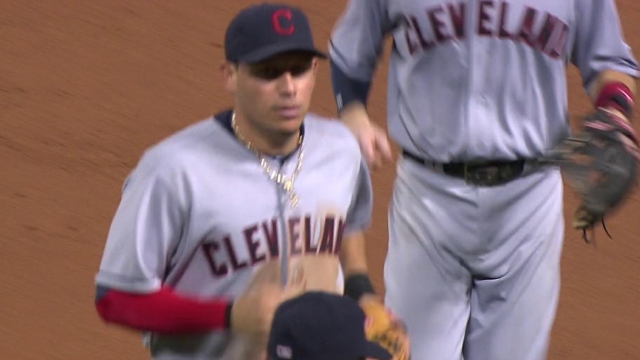 GOODYEAR, Ariz. -- Indians reliever Frank Herrmann had hoped to make a run at the Opening Day bullpen this spring. Now, the pitcher's chances of making the bullpen next spring are no longer certain.
On Wednesday, Herrmann underwent Tommy John ligament-replacement surgery on his right elbow in New York. Dr. David Altchek performed the operation, which typically requires a recovery period of around 12-18 months.
"I feel like I finally got myself where I wanted to be, and thought I could be," Herrmann said earlier this spring after injuring his elbow. "Coming into this year, I felt great. I still physically feel great, other than the ligament. It's frustrating, but it's part of the game. I've had seven full seasons where I haven't been unavailable one day.
"I've been able to be durable. I've been able to go out there and help the team. Now that I feel like I've got to the point where I can really contribute, it's frustrating."
Herrmann -- the longest-tenured Cleveland Indians player on the team's 40-man roster -- felt a sharp pain in his throwing elbow during his one-inning appearance against the A's on Feb. 25. The right-hander pushed through the discomfort, but he lost command of his pitches and surrendered four runs on five hits. It was a discouraging end to a spring that had hardly begun for the pitcher.
Last season, the 28-year-old Herrmann posted a 2.33 ERA in 15 games for Cleveland, striking out 14 and walking four over 19 1/3 innings. It was a small sample, but it gave Herrmann (signed out of Harvard as a non-drafted free agent in 2005) evidence that the curveball he added during his time at Triple-A Columbus could play on the big league stage.
Herrmann is now facing a long road back to the Tribe's relief corps.
"I'm ready for whatever comes my way," Herrmann said last week, "[whether that means] having to sit out a year or the off chance you never get the opportunity to pitch again. It's just kind of how it goes."
Jordan Bastian is a reporter for MLB.com. Read his blog, Major League Bastian, and follow him on Twitter @MLBastian. This story was not subject to the approval of Major League Baseball or its clubs.