Tito welcomes Pestano back after tough Classic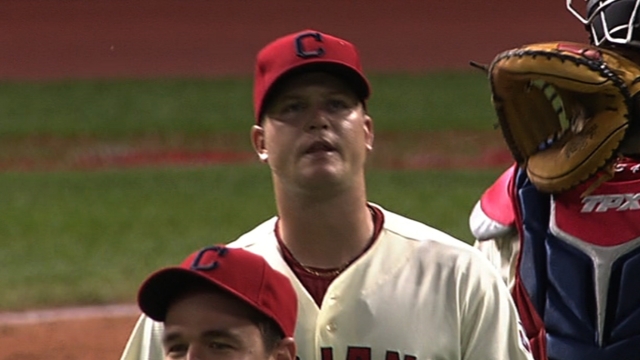 GOODYEAR, Ariz. -- When Vinnie Pestano returned to the Indians' dugout Saturday night, manager Terry Francona called him over. Francona put a hand on Pestano's shoulder, said a few words and then pulled the pitcher in close for a hug.
It was Francona's way of welcoming Pestano back after the reliever's stint with Team USA in the World Baseball Classic, which ended after Pestano allowed two runs in the sixth inning of a 4-3 loss Friday to Puerto Rico.
"He just asked me if I enjoyed the experience, if I had a good time," Pestano said. "He said he was glad to have me back."
Pestano was happy to rejoin his Cleveland teammates, only wishing it were under different circumstances. But despite how the Americans' run in the Classic ended, Pestano did enjoy his time with the team.
"I had a tremendous time with it," Pestano said. "I'd definitely like to be a part of that again. It's just upsetting it's another four years away now. I had a blast. It was something I was really interested in doing from the end of last season. Obviously, I wish the end result was a little bit different, but it's a memory I'll always have. I met some great people."
Pestano said it was a thrill to play for USA manager Joe Torre.
"It was an awesome experience," Pestano said. "Being around [Francona], and now around Joe for just a little bit, you can see why these guys are so well respected in the game of baseball -- just the way they go about handling themselves and go about managing the guys that they're in charge of. That was definitely one of the highlights of the experience."
Pestano took his final appearance for Team USA hard and said it will take a while for the sting to fade. Asked why he seemed to care so deeply about playing in the Classic, Pestano did not hesitate with his response.
"It's an opportunity to represent my country," he said. "Those opportunities don't happen too many times for people. It's something that I've always wanted to do. I know the WBC has only been around since 2006, but the Olympics have been going on forever, and the opportunity to represent your country for baseball players are getting fewer and fewer."
Jordan Bastian is a reporter for MLB.com. Read his blog, Major League Bastian, and follow him on Twitter @MLBastian. This story was not subject to the approval of Major League Baseball or its clubs.