Aviles back with Tribe after great run in Classic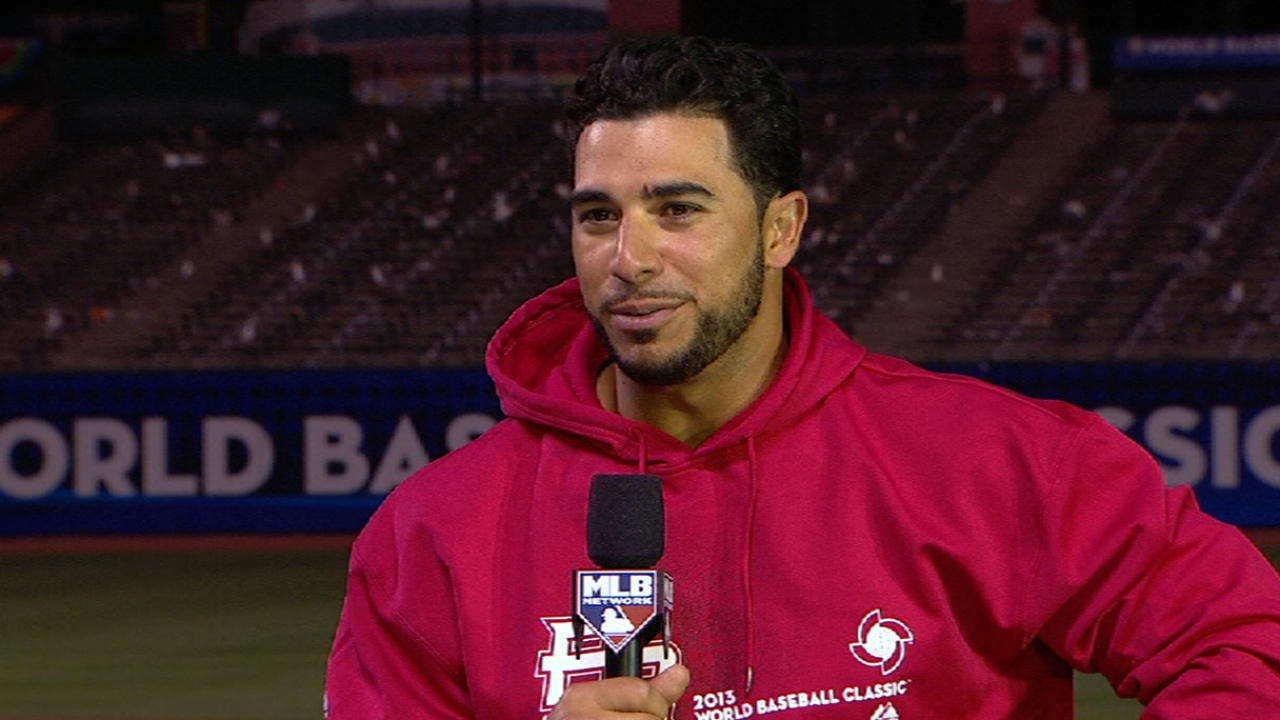 SCOTTSDALE, Ariz. -- Mike Aviles was back inside the Indians' clubhouse Thursday, wearing a smile as he was welcomed back from the World Baseball Classic by his teammates.
Aviles suited up for Puerto Rico, which lost in the Classic championship to the Dominican Republic. Despite the end result, the Cleveland infielder was thrilled to take part in the tournament and hopes it will have a lasting effect on the younger generation of ballplayers from Puerto Rico.
"I'd like to think so," Aviles said, "because I definitely think that it gives the kids in Puerto Rico a chance to understand that, 'Hey, there's a lot of good going on.' There's a lot of good ballplayers there, and it's just a matter of you've got to believe in yourself."
Aviles and Tribe catcher Carlos Santana, who played for the undefeated Dominican team that claimed the title, both rejoined the Indians on Thursday, but manager Terry Francona gave them the day off. Aviles and Santana are both scheduled to return to the lineup for Saturday's night game against Arizona at Goodyear Ballpark.
Francona said it will be important for Santana to catch up on the team's signs over the next 10 days.
"All he really needs to get up to speed on is making sure we're all set on signs," Francona said, "and the communication of the signs. He's probably ahead of everybody else as far as playing goes. He caught so many innings and was under real game situations, so he would be ahead of the game as far as that goes."
In eight games with the D.R., Santana hit .273 (6-for-22) with two home runs, one double, three RBIs, five runs and nine walks. Aviles hit .323 (10-for-31) with one homer, one double, four runs and nine RBIs in nine games for Puerto Rico.
Aviles said he received ample at-bats while away from Cleveland's camp.
"I don't know if I would've gotten 30 or so at-bats had I stayed here," Aviles said. "Definitely from an at-bat standpoint, I was able to get my work in, and the ground balls and stuff like that. I got all my work in. I feel ready, and hopefully I'll continue to build on that."
Aviles said the excitement level shown by the fans during each game was a highlight of his Classic experience.
"I've never seen that," he said. "They were so into the game and just so proud to be cheering us on. It was definitely one of those deals where you went to the park and you were excited, because you knew they had your back no matter what. That was my favorite part."
Getting a pair of hits off Indians reliever Vinnie Pestano, who played for Team USA, was also fun for the infielder.
"That was more for the bragging rights," Aviles said with a laugh. "He had been telling me I was 0-for-6 against him before that. Well, I'm 2-for-my-last-2 against him, and hopefully I don't need to face him anymore, so I can hold on to that until the next time."
Jordan Bastian is a reporter for MLB.com. Read his blog, Major League Bastian, and follow him on Twitter @MLBastian. This story was not subject to the approval of Major League Baseball or its clubs.