Francona taking aggressive tack on 3-0 counts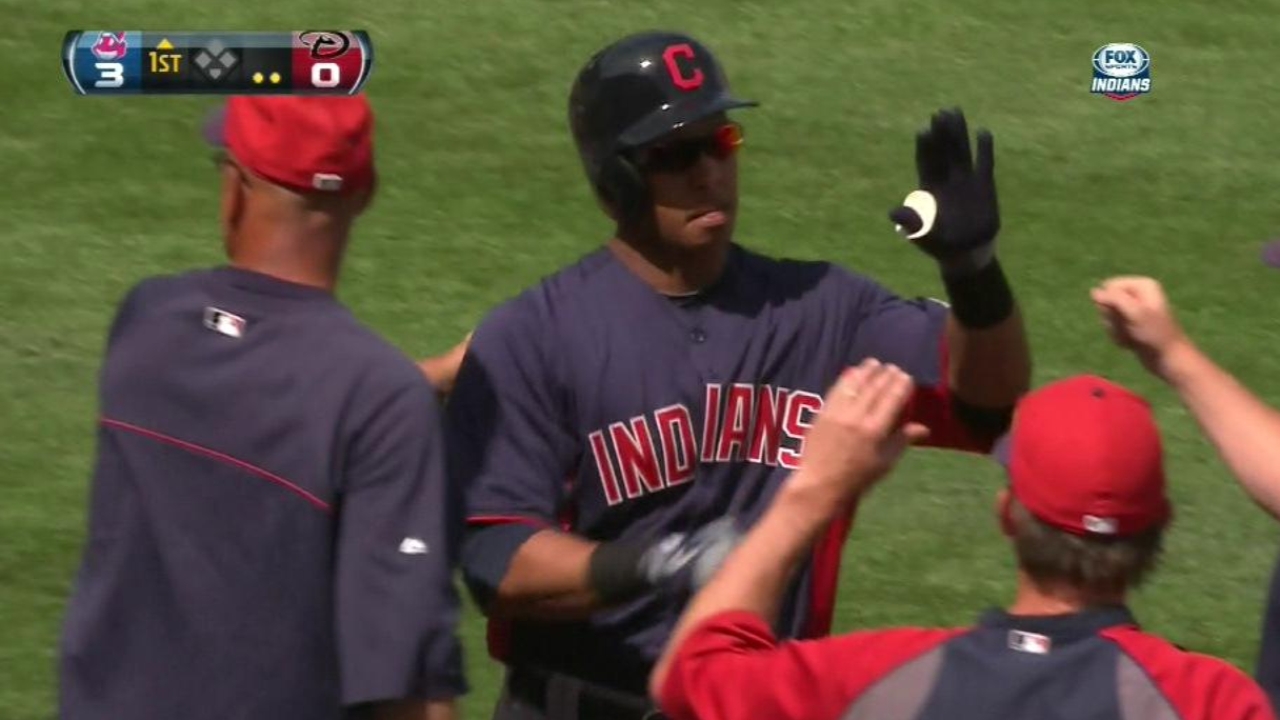 GOODYEAR, Ariz. -- It is common practice in baseball for hitters to take a pitch when in a count consisting of three balls and no strikes. Indians manager Terry Francona does not understand why more players do not swing under such circumstances.
Cleveland's hitters will be given the go-ahead to attack 3-0 pitches in certain situations this year.
"I never quite understood why so many people just automatically take 3-0," Francona said. "If you're a smart enough hitter, and you're able to just say to yourself, 'OK, I'm going to get a certain pitch in a certain spot,' it's like a free swing.
"A lot of times, even if a guy swings 3-0 and fouls a pitch back, because they took a healthy swing, they feel better about the next pitch. I think it's great, and I think it breeds confidence."
In the first inning of Thursday's 5-4 Cactus League victory over the D-backs, Indians left fielder Michael Brantley was given the green light to swing on a 3-0 count. Brantley responded by launching the next pitch over the right-field wall for a three-run home run.
"That's the way you swing at a 3-0 pitch," Francona said.
During his tenure as the manager of the Red Sox from 2004-11, Boston led the American League with a .526 batting average on 3-0 counts, ranking second in the league in hits (40). By comparison, the Indians had the fewest at-bats (11) and hits (one) on 3-0 counts in the AL under manager Manny Acta from 2010-12. Last year, the Indians had 116 plate appearances end on a 3-0 count, but with only five at-bats with zero hits.
"I just think that too often you take the best hitter's count that can possibly be," Francona said, "and you take the bat out of the hitter's hands. It doesn't make any sense to me."
Francona noted that there are certainly situations in which a batter should take a 3-0 pitch.
"When it's more important to get a baserunner, then you give the take sign," Francona said. "Or if you can't tie the game up with one swing, you don't swing. And our guys know that. Other than that, that's a great time to hit."
Jordan Bastian is a reporter for MLB.com. Read his blog, Major League Bastian, and follow him on Twitter @MLBastian. This story was not subject to the approval of Major League Baseball or its clubs.