Injury won't keep Kipnis from Opening Day lineup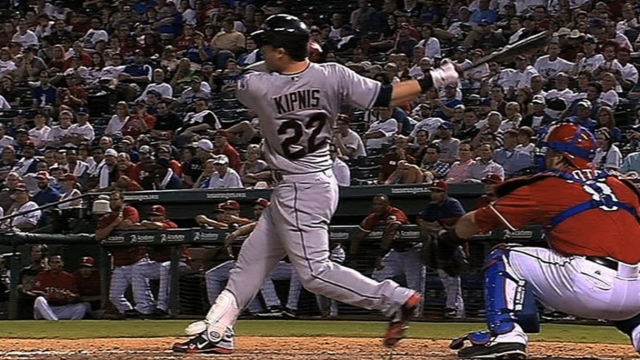 GOODYEAR, Ariz. -- Jason Kipnis is not worried about his sore right elbow and he is definitely not concerned about the statistical showing he has turned in this spring. When Opening Day arrives, the Indians second baseman believes he will be ready to go.
Cleveland's second baseman has missed the past three Cactus League contests with a tender throwing elbow and will likely be sidelined for at least one more day, according to manager Terry Francona. If the same injury flared up during the regular season, Kipnis said he would play through it without much issue.
"I don't think it's anything that's going to linger on for too much longer," Kipnis said on Friday afternoon. "I don't think it's that serious at all. We just have the luxury to rest right now, so we'll take advantage of it. During the season, I'd be in there still all the time, and I wouldn't have a problem with it."
When Kipnis has been on the field this spring, he has performed below expectations in the batter's box.
Through 15 Cactus League games, Kipnis has hit just .154 (6-for-39) with one home run, three RBIs and nine strikeouts. The 25-year-old second baseman said he has been working on improving his approach at the plate and -- despite the results found in the box scores -- he feels he has made progress in that regard.
"I'm not really concerned about the average in Spring Training," Kipnis said. "I still have my confidence. Right now, we're just still working on things and we're trying to get our timing down and still have good at-bats. I think I'm starting to have better at-bats and swing at the right pitches."
A couple of years ago, Kipnis might have been a little more worked up over the poor on-field results.
"Yeah, I think that's fair to say," Kipnis said. "If you're trying to win a spot or you're trying to make a good impression, you're obviously wanting to put up results. But having a year now and being confident in myself, I know that I've done that in the past where I didn't hit in spring, but I'll come out of the gates on fire, or something like that."
Kipnis, who has a .220 batting average in 47 career Cactus League games, hit .257 last season for the Indians with 14 home runs, 22 doubles and 76 RBIs in 152 games. The second baseman added 31 stolen bases and 86 runs scored.
"Maybe I'm just saving all the hits," Kipnis joked. "Everyone else is using all their's up."
Jordan Bastian is a reporter for MLB.com. Read his blog, Major League Bastian, and follow him on Twitter @MLBastian. This story was not subject to the approval of Major League Baseball or its clubs.