Kazmir wins rotation spot in comeback effort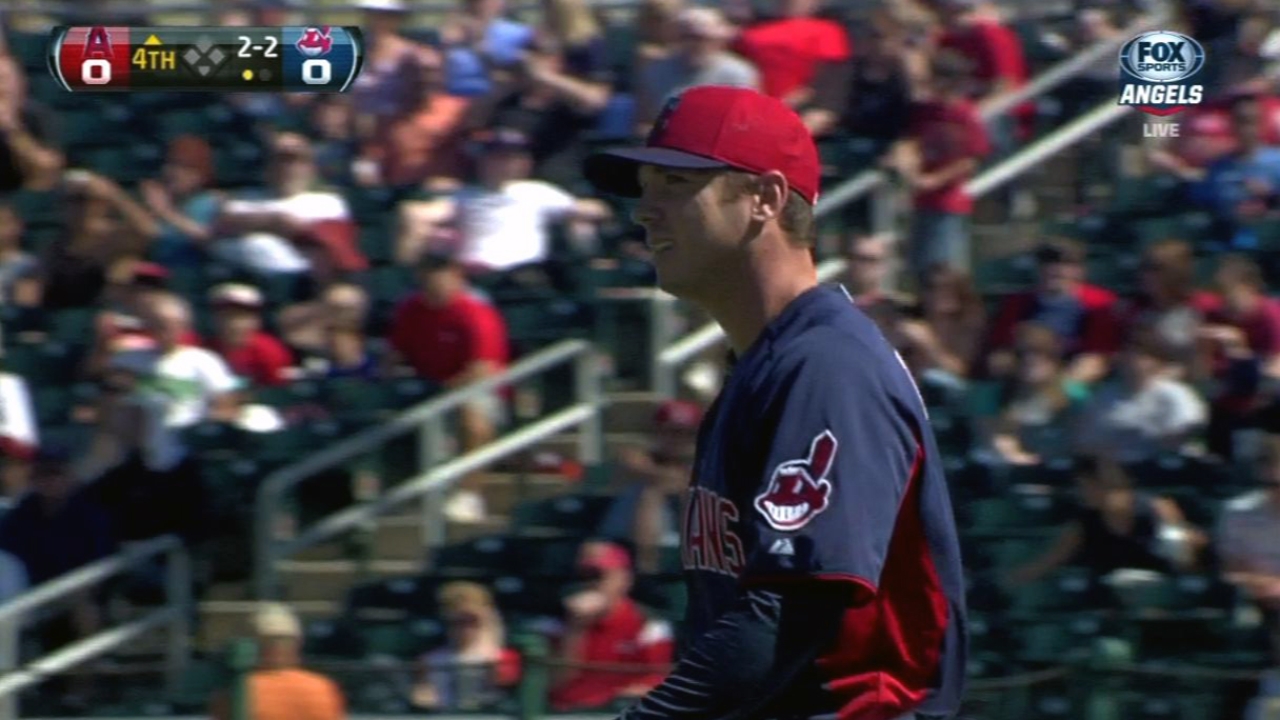 SCOTTSDALE, Ariz. -- Scott Kazmir did not allow himself to consider giving up, but there were times last year, while he was suiting up for the Sugar Land Skeeters in Independent ball, when the big leagues seemed a lifetime away.
"I felt like I was making the right steps," Kazmir said. "But at the same time, in the clubhouse, at a stadium in the Atlantic League, watching the big league game on TV, it seemed like it was a long way away. That's just shows how far I've come in the past year."
On Monday, the Indians announced that Kazmir had earned the fifth spot in the team's starting rotation, initiating one of baseball's most intriguing comeback stories of the coming season. Once one of the American League's rising stars, Kazmir's unexpected fade, and subsequent release by the Angels in 2011, sent him on a path of rediscovery.
After a stint with the Skeeters, and winter ball in Puerto Rico, where he was managed by Edwin Rodriguez -- Cleveland's Double-A Akron manager -- Kazmir was given a second chance by the Indians. The left-hander showed improved command and velocity this spring, beating out a considerable cast of candidates as a non-roster invitee.
"It's a really great story," Indians general manager Chris Antonetti said. "As we told Scott when we met with him, he deserves a ton of credit."
Kazmir will make his first start on April 6 against the Rays -- his former team of six seasons. Cleveland will wait until then to add the lefty to the roster. In the meantime, right-hander Carlos Carrasco -- sidelined all of last season with a right elbow injury -- will begin the year on the Opening Day roster in order to serve a six-game suspension leftover from an incident in 2011.
As soon as the suspension is off the books, Carrasco will be sent to Triple-A Columbus.
"We didn't want to be in a position later in the year," Antonetti said, "when Carlos is ready to contribute at the Major League level and we had that opportunity, to have to deal with the suspension. We wanted to try to get that out of the way now."
From 2005-08, Kazmir was a standout starter for Tampa Bay, going 45-34 with a 3.51 ERA over 689 2/3 innings and 742 strikeouts, including a league-leading 239 in '07. Kazmir then went 19-24 with a 5.54 ERA in 55 outings between '09-11. After he went 0-5 with a 17.02 ERA in five starts at Triple-A Salt Lake in '11, he was released by the Angels.
"I feel like I've already hit bottom," Kazmir said. "There's nowhere but up now."
This spring, while featuring a fastball that sat around 91-92 mph, Kazmir allowed nine runs (eight earned) on 29 hits with 23 strikeouts and only three walks in 21 innings, which covers four Cactus League appearances and a pair of Minor League outings. Kazmir was arguably Cleveland's most consistent starter this preseason, helping him win the final rotation job.
Kazmir said being given a spot on the team is one of the best moments of his career.
"This is right up there, if not the biggest," Kazmir said. "It's something where, knowing where I was a couple years ago and being able to be here now, it's unbelievable. It just goes to show that I guess hard work does pay off."
Jordan Bastian is a reporter for MLB.com. Read his blog, Major League Bastian, and follow him on Twitter @MLBastian. This story was not subject to the approval of Major League Baseball or its clubs.