Versatility helps Raburn earn spot on bench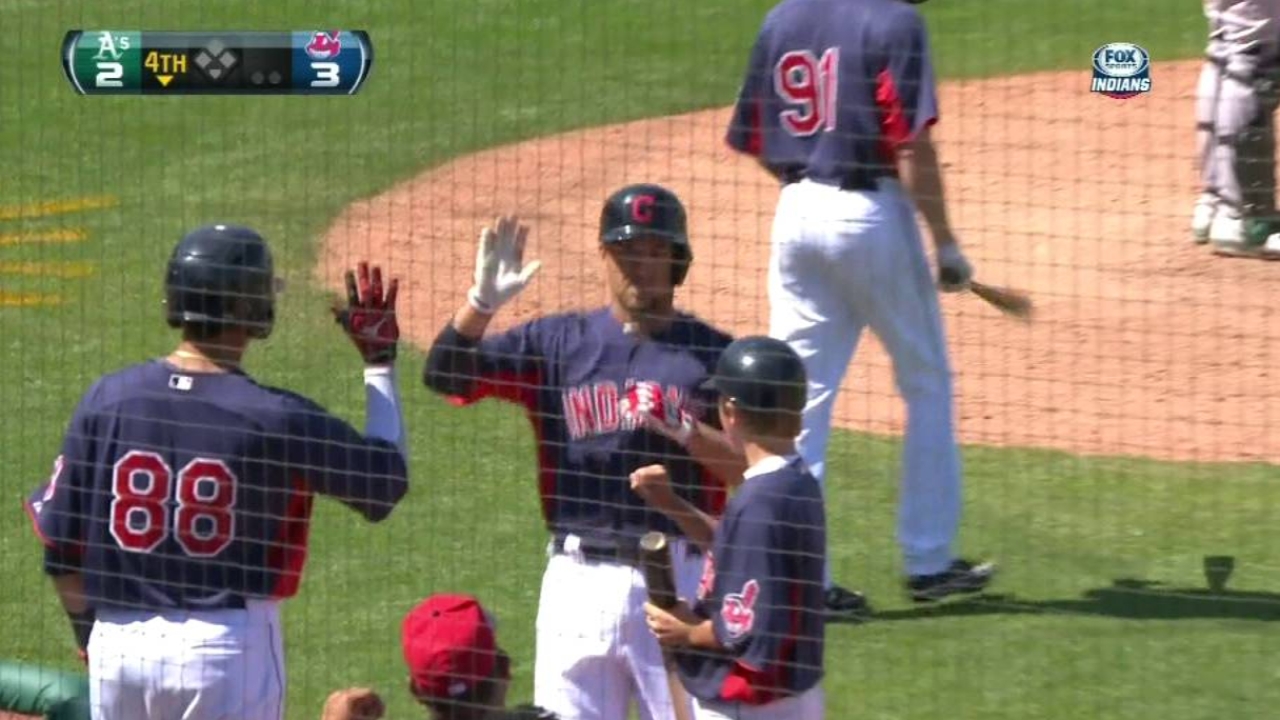 GLENDALE, Ariz. -- Ryan Raburn knew he had to come out swinging this spring. The veteran utility man was invited to Cleveland's camp as a non-roster player and given an opportunity to compete for a spot on the Indians' bench.
Raburn grabbed the job by the horns and refused to let go.
"I had to," Raburn said. "I didn't have the luxury of coming in and just kind of feeling my way and getting ready for the season. I had to come in and prove I could still play."
Indians manager Terry Francona called Raburn into his office on Monday and informed the infielder that he would be included on the team's Opening Day bench. Throughout this spring, Raburn displayed an effective swing, showed off some power and proved to the Tribe's decision-makers that he could be an option for second base, third base and the outfield corners.
That versatility helped Raburn win the job.
"He's got a short, quick stroke," Francona said. "I think it's a swing that can lend itself to maybe not playing every day. This is a guy that a year ago came out of Spring Training as an everyday player, and everybody kept raving about him and he was set to have a big year. He got off to a slow start. That's part of the reason we were able to get him. His versatility really helps us."
A year ago, the 31-year-old Raburn was in the Opening Day lineup for the Tigers. It was easy to see why Detroit gave him a chance as a starter, too. Over the 2009-11 seasons in the Motor City, Raburn hit .274 with a .329 on-base percentage and a .473 slugging percentage, averaging 15 home runs, 19 doubles, 52 RBIs and 116 games per season.
Last season, though, Raburn's production dropped off. He hit .171 in 66 games for the Tigers, who sent him down to Triple-A Toledo in May. Raburn also had two stints on the disabled list.
This spring, Raburn has been on a tear, hitting .357 (15-for-42) with five home runs, 10 extra-base hits and 12 RBIs through 21 Cactus League contests.
"I'm glad to put last year behind us," Raburn said. "I'm starting a new year this year with a great ballclub. I think it's going to be a blast and I'm looking forward to having a great year. I know I can still play. Last year was just one of those bad years. It seemed like everything went the wrong way.
"More than anything, I think it was great to have the opportunity to come back and show that I can still play. It's just beginning. We have a long season ahead of us and I plan on contributing as much as I can."
Jordan Bastian is a reporter for MLB.com. Read his blog, Major League Bastian, and follow him on Twitter @MLBastian. This story was not subject to the approval of Major League Baseball or its clubs.