Hagadone eager for fresh start in Cleveland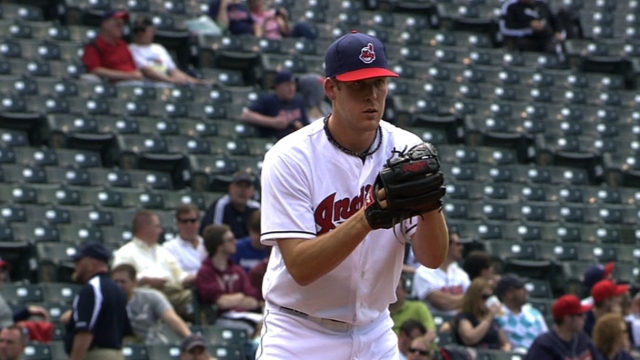 GLENDALE, Ariz. -- A wave of feelings went through Nick Hagadone when he learned he was going to be included in the Indians' Opening Day bullpen. Given the unfortunate way his season ended last summer, the lefty was thrilled to receive the chance at a fresh start right out of the gates.
"It's hard to describe," said Hagadone, referring to how he felt when he received the good news on Monday. "I think we have something special here, so to have the opportunity to be a part of that, it's going to be amazing. I'm so excited to get going. I can't wait to get started and contribute."
The 27-year-old Hagadone impressed Cleveland this spring by turning in 8 1/3 shutout innings through nine Cactus League appearances. In that span, the lefty piled up 11 strikeouts, scattered five hits and issued only two walks with a .167 opponents' batting average.
That showing is similar to how Hagadone performed early on for the Tribe last year.
In his first 17 games for Cleveland in 2012, Hagadone posted a 2.04 ERA with 16 strikeouts, seven walks and a .148 opponents' average through 17 2/3 innings. Over his final 10 appearances, though, the southpaw posted a 16.43 ERA and hitters had a .447 average against him. He allowed 17 hits and eight walks with 10 strikeouts in 7 2/3 innings during that period.
After his last outing on July 6, Hagadone headed into the tunnel behind the dugout at Progressive Field and broke the radius bone in his left forearm when slamming a door in anger. He was subsequently optioned to Triple-A and placed on the Minor League Disqualified List because of the self-inflicted injury and then underwent surgery.
The details of that situation -- a grievance was filed by the pitcher due to service time and financial issues -- are still being worked out between Major League Baseball and the MLB Players Association.
Hagadone wants to put that episode behind him.
"Being able to come back and make the team after how last year ended is a big step," Hagadone said. "Hopefully, we can move on from 2012 and just go from there. Going through stretches like that, and being able to make changes, are really important for future success. You can learn from the worst times. June was probably the worst month I've had as a pitcher at any level.
"Being able to take something away from that, learning how important it is to work ahead in the count and not be as predictable as I was, I think that's huge going forward."
Jordan Bastian is a reporter for MLB.com. Read his blog, Major League Bastian, and follow him on Twitter @MLBastian. This story was not subject to the approval of Major League Baseball or its clubs.