Despite being sent down, Carrasco proud of effort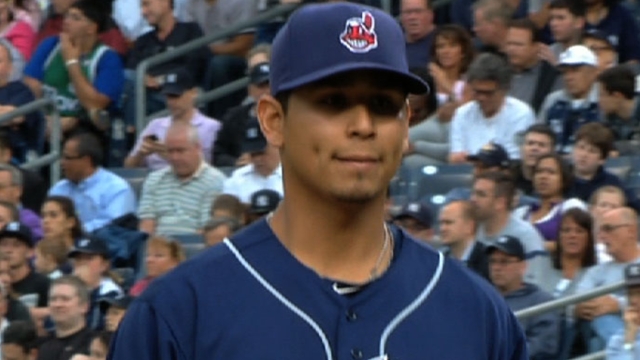 PEORIA, Ariz. -- Carlos Carrasco was hoping to break camp as a member of the Indians' Opening Day rotation. The right-hander did not achieve that goal, but he is still pleased with how close he came, considering the comeback trail he has been navigating.
Carrasco missed all of last season while recovering from Tommy John surgery on his right elbow, and was one of two finalists for the fifth spot in Cleveland's rotation this spring. That job went to non-roster invitee Scott Kazmir, who will take the ball for the Tribe against the Rays on April 6.
Carrasco will open the season with Triple-A Columbus.
"They told me that they're going to send me down," said Carrasco, who received the news on Monday. "I said, 'OK, that's fine.' I've got to go down there, finish my rehab, get some innings and everything, and be ready when they call me. I'm going to be ready.
"I feel happy with everything this spring. At the beginning, I didn't feel that good. But over the last three or four weeks, I've started to feel good again with everything. For the most part, I'm healthy and I'm just ready to go."
In a Minor League outing against the White Sox's Triple-A affiliate on Wednesday, the 26-year-old Carrasco spun five shutout innings and ended his afternoon with eight strikeouts, one walk and one hit allowed. Indians manager Terry Francona raved about the performance, noting that Carrasco was sitting around 95 mph with his fastball.
"They said he was just blowing guys away," Francona said. "Most of the time when a guy goes to a back field, you'll see a velocity dip a little bit. Nobody's in the stands. His [velocity] spiked up. It's interesting. We're trying to get a handle on why that is. ... Maybe it's like he gets in a comfort zone, he's loose and he lets it fly. The good news is it's there. Now, you want to see it more consistently."
As things currently stand, Carrasco is set to join starters Daisuke Matsuzaka, Corey Kluber and Trevor Bauer in the rotation at Triple-A Columbus. Lefty T.J. House appears to be the leading candidate for the other opening in the starting staff. Right-handed pitching prospect Danny Salazar was optioned to Triple-A earlier this spring, but he might still open the year with Double-A Akron.
"It's the easiest way to derail your season, by not having enough pitching," said Francona, when asked about the rotation depth. "It's the hardest thing to do, but I thought [GM Chris Antonetti] did a great job. We have some guys sitting in Triple-A that are still developing that we could call up. We have a veteran we could call up. I think there's some balance there that, if something happens, we could go to some guys."
Jordan Bastian is a reporter for MLB.com. Read his blog, Major League Bastian, and follow him on Twitter @MLBastian. This story was not subject to the approval of Major League Baseball or its clubs.