Francona opposes blanket rule for collisions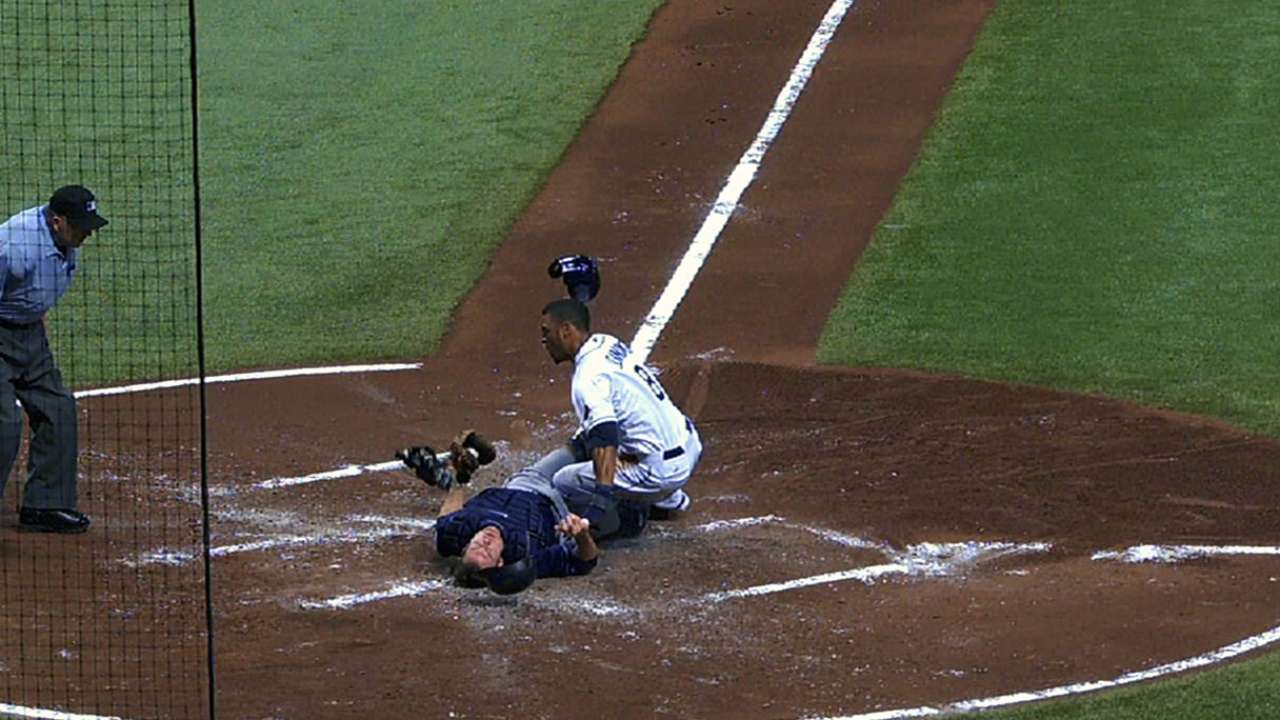 CLEVELAND -- Indians manager Terry Francona had no problem with the home-plate collision that forced Cleveland catcher Lou Marson out of Saturday's game against the Rays. If they are clean baseball plays, Francona does not have much of an issue with collisions at the plate in general.
There has been a recent public debate about whether such collisions, which have the potential to cause concussions, should be eliminated from baseball. Francona does not believe a rule could be devised to properly regulate such plays.
"I don't know how you'd do that," Francona said on Monday. "I understand the point. I'm all for nobody ever having a head injury. But I just think when it's been said, it hasn't been thought through enough. If you say that -- no collisions -- you're putting a lot of baserunners in a horrible position. Because catchers, on instinct, sometimes not just instinct, the ball takes them to the plate, and what's a baserunner to do? I just think you need to think it through.
"If you don't want to have a collision, instruct your catcher to move. That's really easy, but you can't make a rule. The rule is the catcher can't block the plate until he has the ball. For the very most part, that's when you see guys get hit. They're the gritty guys, but they try to block the plate before they have the ball, and there's a bobble, or they get in late, and they can't brace themselves. That's where you see the problems.
"Part of it is it's the game. I agree, it'd be great if nobody ever has head injuries. But if that's how you feel as an organization, just instruct your [catchers] to move."
Tampa Bay's Desmond Jennings bowled over Marson on a play in the third inning of Cleveland's 6-0 loss to the Rays on Saturday. Marson held onto the ball, but he was eventually removed from the game for precautionary reasons. The Indians' backup catcher said on Monday that he was feeling better but still had some stiffness when turning his head from side to side.
Francona said Marson could catch, if needed.
"He's doing better; he's doing OK," Francona said. "His neck is stiff, but he's moving around a lot better."
Jordan Bastian is a reporter for MLB.com. Read his blog, Major League Bastian, and follow him on Twitter @MLBastian.Bryan Hoch is a reporter for MLB.com. Follow him on Twitter @bryanhoch and read his MLBlog, Bombers Beat. This story was not subject to the approval of Major League Baseball or its clubs.