Tribe's need for catching help keeps Giambi on DL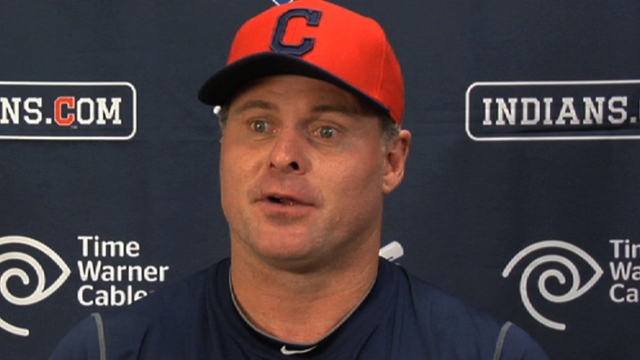 CLEVELAND -- The Indians were expected to activate veteran Jason Giambi from the disabled list on Tuesday, but the team's plans changed after catcher Carlos Santana injured his left hand.
Rather than using the vacant spot on the active roster for Giambi -- Cleveland was carrying only 24 players on Monday -- the Indians added reinforcements behind the plate. Catchers Yan Gomes and Omir Santos were promoted from Triple-A Columbus and backup catcher Lou Marson (neck) was placed on the 15-day DL. Santana is currently listed as day to day with his hand injury.
"We talked to Jason Giambi about not being activated tonight," manager Terry Francona said on Tuesday. "That allowed us to purchase the contract of Omir Santos. When we're comfortable that Santana can at least back up, then we can activate Giambi. We're hoping that's day to day."
Santos, 31, was thrilled to be back in the big leagues, but he was not happy about the circumstances.
"It was exciting, but I know it's bad for the team," Santos said. "It's not good when both catchers go down and you call up both catchers from Triple-A. That's not a good sign, but I was happy. I'm happy for me, but sad for them. I'm here, hopefully, for a couple days so they can go back to work."
Santos has appeared in parts of four big league seasons with the Orioles, Mets and Tigers. His best season came in 2009, when he hit .260 with seven home runs and 40 RBIs in 96 games for New York. Over the past two years, though, he has appeared in only 14 games for Detroit, spending the bulk of his time in the Minor Leagues.
When the 42-year-old Giambi does join the active roster, he will serve as a part-time designated hitter and pinch-hitter. He served a similar role over the past few seasons for the Rockies, hitting .245 with a .370 on-base percentage over 211 games from 2010-12. In that span, Giambi hit 20 homers, drew 72 walks and knocked in 75 RBIs.
Jordan Bastian is a reporter for MLB.com. Read his blog, Major League Bastian, and follow him on Twitter @MLBastian. This story was not subject to the approval of Major League Baseball or its clubs.