Marson shares thoughts on home-plate collisions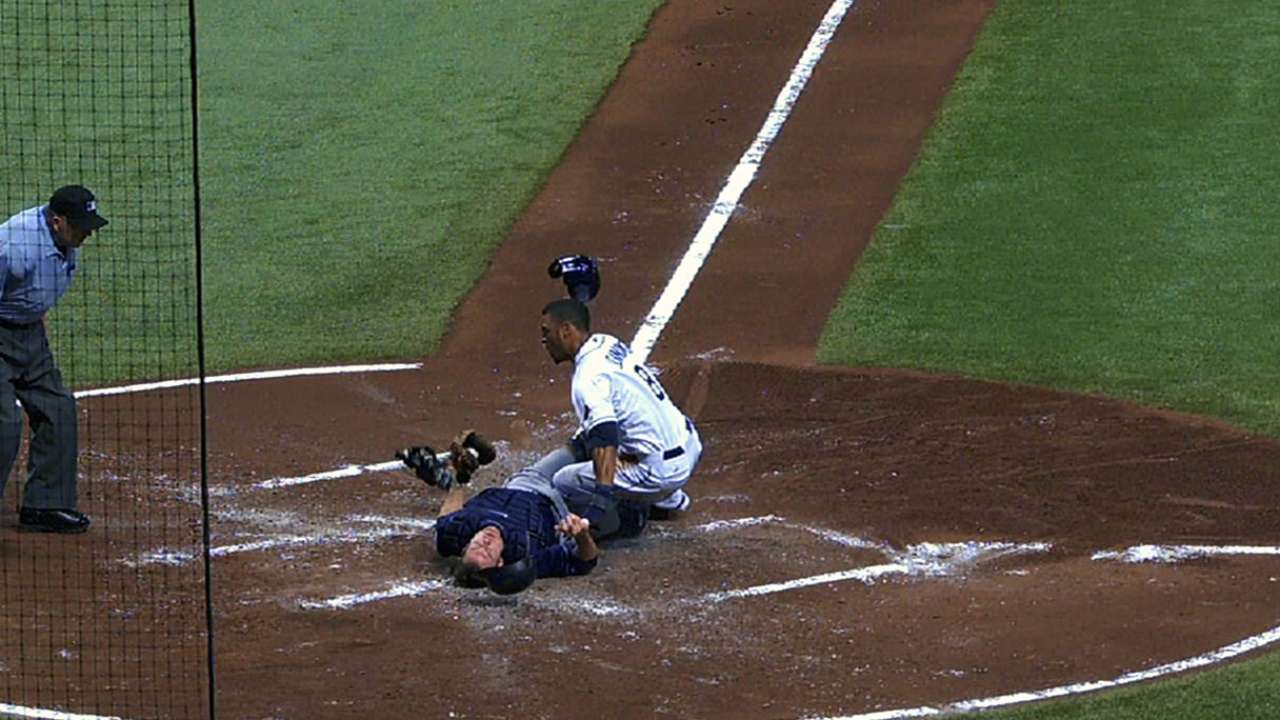 CLEVELAND -- Lou Marson understands why some people feel that collisions at home plate should be eliminated. The backup catcher -- still feeling the effects of being bowled over less than a week ago -- just does not see how such plays can be regulated.
In the third inning of Saturday's game against the Rays, Desmond Jennings plowed through Marson, driving a shoulder into him and sending his helmet flying. Marson held on to the ball for an out but came away with a neck strain that has since landed him on the 15-day disabled list.
Marson believes that if Jennings were required to slide, the injury might have been more severe.
"As far as the rule, I don't think you can change it," Marson said. "If he slides there, I might get hurt worse -- maybe my knees or something. It was so bang-bang. Usually, on plays like that, I'll have a chance to at least brace myself or try to give a blow back. That's why I was keeping my mask on."
On Tuesday, Tom Verducci wrote an article for SI.com that advocated outlawing home-plate collisions and ridiculed the long-held reasoning that such plays are simply "part of the game." Marson linked to the article on Twitter but did not add any commentary. He does not necessarily agree with Verducci's stance, but he does enjoy the discussion.
"I thought it was a really good article, and not just because I was in it," he said. "I've just always been interested in that issue. It's tough. [Outlawing collisions] would completely change how everybody teaches you how to block the plate, from rookie ball all the way up to the big leagues. It's a tough question. I don't know how they could change it."
Marson said that his technique is to force the runner to hesitate before trying to knock him over.
"I'm trying to block the plate and make you make a decision," he said. "Are you going to slide, or are you going to try to blow me up? I feel like that split second they have to decide kind of slows them down, at least a little bit."
Marson knows players who refuse to slide in such situations.
"I'm not going to name any names," he said, "but I've played with guys on other teams who were big guys that had the mentality of, 'I'm not sliding, period. I'm either going to blow up the catcher or I'm going in standing up.' Some guys just don't want to slide."
Jordan Bastian is a reporter for MLB.com. Read his blog, Major League Bastian, and follow him on Twitter @MLBastian. This story was not subject to the approval of Major League Baseball or its clubs.