Tribe's new additions helping against lefties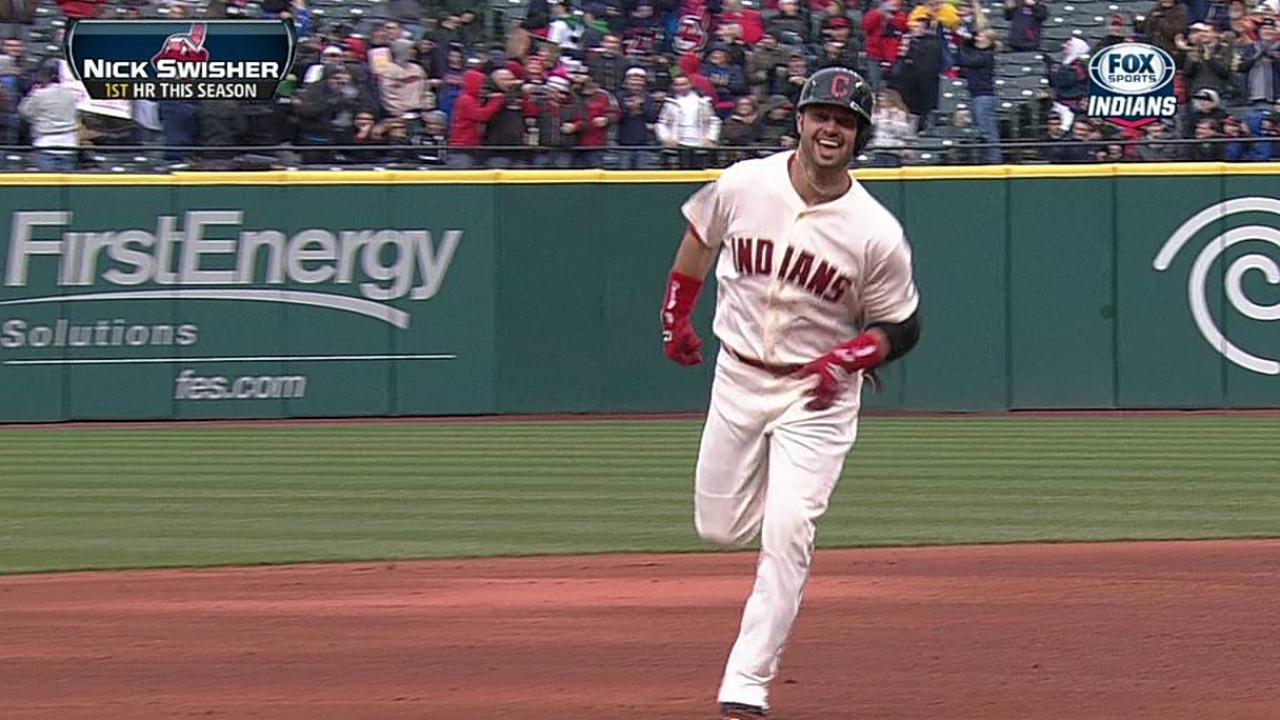 CLEVELAND -- The Indians worked hard over the winter to address the lineup's woes last season against left-handed pitching. So far this year, Cleveland has shown drastic improvement with its new cast of hitters.
Through the Tribe's first 10 games, the team has bested the likes of Rays lefty David Price and White Sox southpaw Chris Sale in overwhelming fashion. Overall against lefties, the Indians ranked first in the American League in runs scored (24), hits (42), home runs (seven) and doubles (15).
"It's very encouraging," Indians second baseman Jason Kipnis said. "It's definitely impressive, the pitchers that we have wins against so far already this year. They're some of the better pitchers we're going to see all year. The offense is going good. We anticipated this happening, because of the players we brought in and it's coming to fruition now."
There were times in 2012 when the Indians rolled out an all-lefty lineup, giving opposing teams an advantage with southpaws on the mound. Cleveland hit .234 with an American League-low .664 OPS (on-base plus slugging percentage) against left-handed pitching last season.
Over the winter, the Indians added switch-hitter Nick Swisher, right-handed slugger Mark Reynolds and right-handed hitters Drew Stubbs and Mike Aviles to help balance out the lineup. Cleveland already had switch-hitters in catcher Carlos Santana and shortstop Asdrubal Cabrera in the fold.
Entering Sunday, the Indians were hitting .240 as a team with a .318 on-base percentage and a .446 slugging percentage against left-handed pitching. Against righties, Cleveland had hit .241 with a .318 OBP and a .424 SLG, showing how much more balance exists in the 2013 batting order.
Price and Sale, who combined to go 3-0 with a 1.63 ERA against the Indians last year, have gone 0-2 with a 15.43 ERA against the Tribe so far this year. On April 4, the Indians also tagged veteran lefty Mark Buehrle for six runs over 5 1/3 innings in Toronto.
Early success against such pitchers can potentially help the Indians down the road.
"Absolutely," Kipnis said. "People will be more confident, saying, 'We've done this before. Let's go out there and do it again.' Guys are more confident in our lineup."
Jordan Bastian is a reporter for MLB.com. Read his blog, Major League Bastian, and follow him on Twitter @MLBastian. This story was not subject to the approval of Major League Baseball or its clubs.