Despite struggles, Tribe not giving up on Jimenez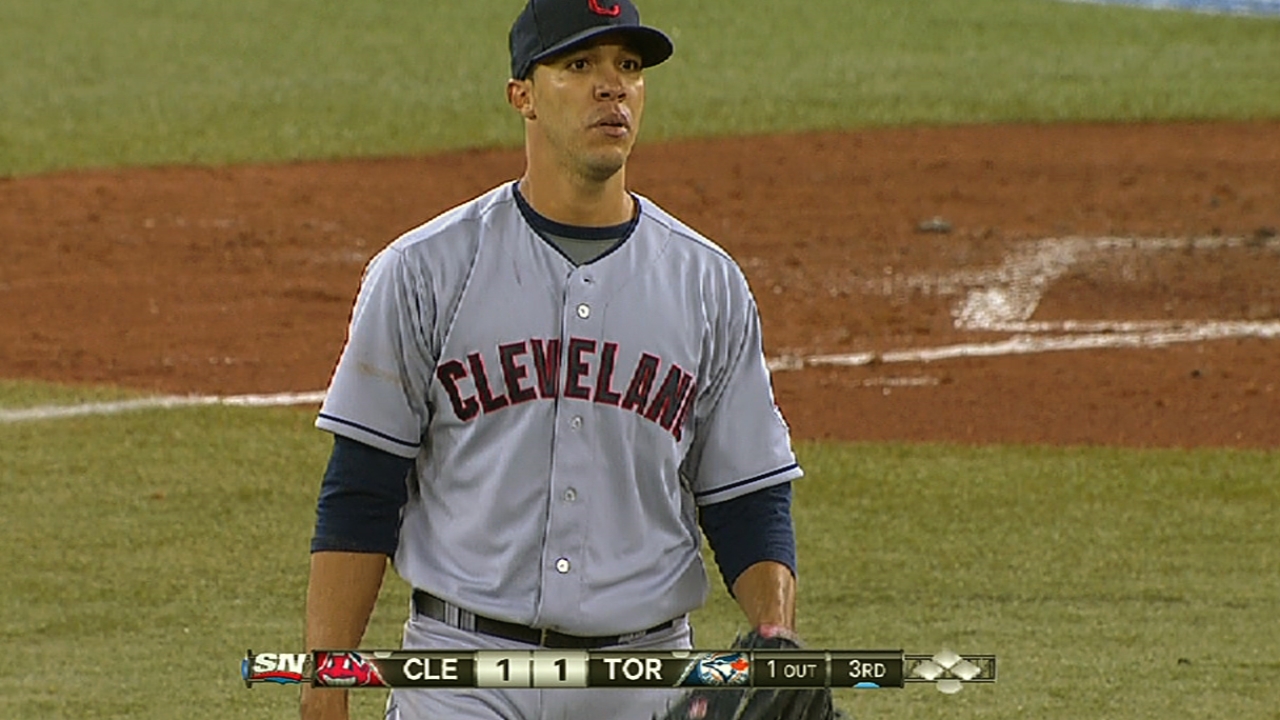 CLEVELAND -- All of the Indians players were given a clean slate when Terry Francona took the job as manager over the offseason. That includes starter Ubaldo Jimenez, who struggled mightily last season and has gotten off to a rough start this year.
When analyzing Jimenez's outings in the early going this season, Francona said it is important for the team not to put too much emphasis on what took place last summer.
"Last year is over," Francona said on Wednesday. "You can't pitch for last year. It doesn't work. It just makes it harder. So we need to separate that, first of all. We need to figure out, 'What did he do good? What didn't he do good?' Build on what he did well and fix what he didn't do well.
"If you start going back to last August, then he's got no chance. Nobody is good enough to go back and fix last year."
Through three outings this season, Jimenez is 0-2 with an 11.25 ERA. In Tuesday's 7-2 loss to the Red Sox, the right-hander allowed seven runs with five walks (all the runs and walks came in the second inning) in only 1 2/3 innings. It marked only the fourth time in Indians history a starter allowed that many runs and walks in less than two innings of work.
Dating back to July 14 of last season, Jimenez is 1-12 with a 7.27 ERA in 17 appearances. Since the start of the 2011 season, the pitcher has led baseball in starts with at least seven runs allowed (nine) and starts with at least five walks issued (11). Overall last year, Jimenez went 9-17 with a 5.40 ERA in 31 starts.
Francona said it would it would not be advisable to give up on Jimenez only three starts into this season.
"There's a lot of factors," Francona said. "This is in general, because we're three starts in, but if you start getting rid of pitching, you might come up in June, July and August and not have any. There's a lot of things to factor. We have some young guys that are hopefully in Triple-A, and even in Double-A, maturing and developing so when they get here they can win and not get up here and get beat up."
Francona liked Jimenez's plan to resume throwing two bullpen sessions between starts -- an approach he and pitching coach Mickey Callaway used during Spring Training.
"The one really good thing," Francona said, "and I know I've talked about this, but he and Mickey have a really good relationship. I think there's a lot of trust there. You're going to have challenges throughout the season. We knew that coming in. I just think we'd prefer to tackle them as opposed to running away from them.
"I think [throwing two side sessions between starts] is a great thing for him. A lot of guys can't handle that. If he can handle it, that's good."
Jordan Bastian is a reporter for MLB.com. Read his blog, Major League Bastian, and follow him on Twitter @MLBastian. This story was not subject to the approval of Major League Baseball or its clubs.