Kazmir excited to be back starting in Majors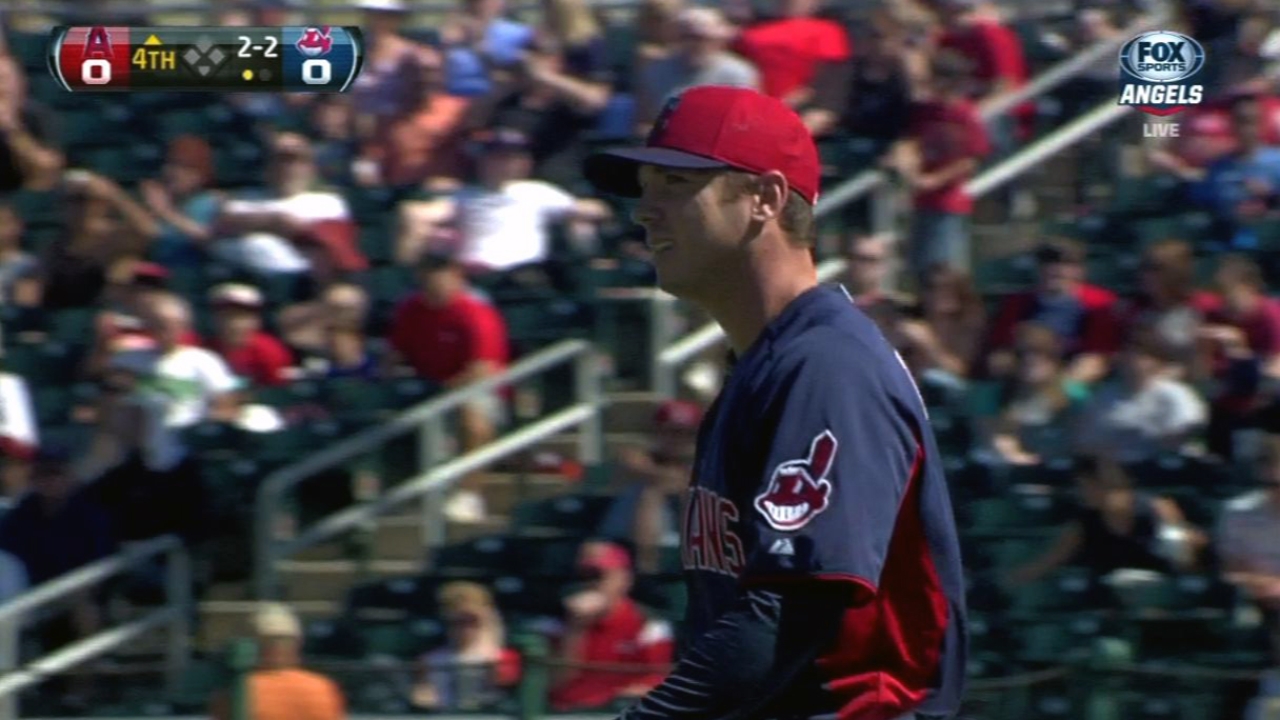 HOUSTON -- Just eight months ago, Indians left-hander Scott Kazmir was pitching about 10 miles away in the Houston suburb of Sugar Land throwing for the Sugar Land Skeeters, an independent league team in its inaugural season.
Kazmir is scheduled to be removed from the disabled list on Saturday and will start that evening's game against his hometown Astros. It will be his first appearance in the Major Leagues since pitching one game for the Angels at the beginning of the 2011 season.
Going all the way down to independent ball would be tough to take for some Major Leaguers. Kazmir turned it into a positive.
"It was fun," said Kazmir, who made 14 starts for the Skeeters and went 3-6. "I had a great time. I was lucky that team was over there last year. It was just a good setup, 20 minutes from the house. It was great settling in, to get back in the swing of things."
Kazmir, a regular in the Tampa rotation for five years, never doubted his ability to pitch, despite being released by the Angels in June 2011, after five disastrous starts for Triple-A Salt Lake City.
"I knew what I was capable of," he said. "I knew I just needed some reps. I ended up going to winter ball in Puerto Rico. I had a good winter. The team I played for, Edwin Rodriguez was the manager."
Rodriguez is the manager of the Indians' Double-A team in Akron, opening a door for Kazmir in Cleveland. He signed a free-agent Minor League contract.
Kazmir understood there were no guarantees going into Spring Training.
"I had to prove more to myself than anything, being out for so long," he said. "I was able to do that. It seemed like every day my game was starting to come together, starting to click."
Kazmir knew there would be a few nerves attached to making his return to the Majors, particularly with plenty of family and friends scheduled to be in attendance Saturday night.
"Especially to get that first one out of the way," he said. "I'm excited. It's finally coming up. I had a little hiccup along the way, starting the year."
Kazmir was simply playing catching the day before Opening Day, when he felt a pop in his oblique that put him on the disabled list to start the season.
"That was frustrating, to say the least," he said.
"You go out there the first time you want to show out, you want to do real [well]. At the same time, you don't want to overthrow. You want to stay within yourself and get your game. You have to slow back on that adrenaline."
"If anything, that will help him," Tribe manager Terry Francona said of Kazmir not having pitched in the Major Leagues for a while. "He's very excited about it. We just have to get him stretched out [in innings]. He can pitch. He's not going to be nervous."
Gene Duffey is a contributor to MLB.com. This story was not subject to the approval of Major League Baseball or its clubs.