Giambi embracing role as veteran mentor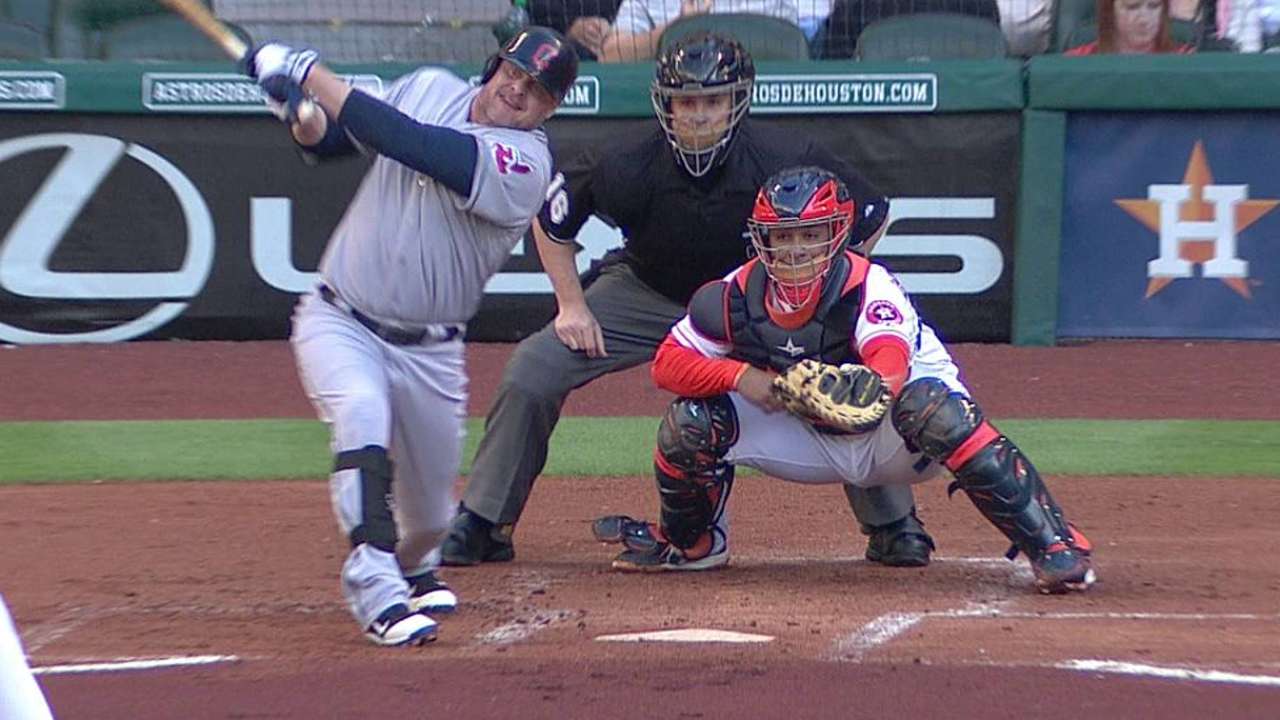 HOUSTON -- If you're still playing in the Majors at 42 years old, you have the right to turn philosophical. Indians designated hitter Jason Giambi has certainly earned that.
Giambi said he expects to be able to help the Indians more in the clubhouse than on the field.
"I came here to help, to be a mentor," Giambi said. "We're grooming these guys to become the leaders of this ball club. I can still contribute [on the field], I can still swing the bat. But the most important thing is to keep these guys going in the right direction.
"I want to help them rebuild. They've had some tough years here in Cleveland. You need to wipe the slate clean and start over."
Giambi may not be the slugger he used to be, but manager Terry Francona has appreciated what Giambi has brought to the Indians.
"He's really a good leader," Francona said. "I've said since Spring Training, he's not a veteran, he's the veteran. He's a guy I've probably leaned on more already only two weeks into the season. He's probably more [than I expected]."
Giambi simply loves the game of baseball.
"That's what keeps me coming back," he said. "You don't get anywhere else in life where 25 guys drive in the same direction with one common goal. That's exciting. I love the game. I love the grind. It's like life. You can be a zero and turn into a hero real quick. You can have a tough week, then have an incredible week. Today's a new ball game. It doesn't matter how we played last night. We've got to win tonight."
The Indians are off to a 5-10 start entering Saturday, certainly worse than expected. Giambi can help keep the ship going in the right direction.
"We're pressing a little bit, trying to get that big hit," he said. "Everybody's trying to do a little too much. We have guys on base, and sometimes we just need a single instead of a homer. It's about doing the little things, moving guys over. Trying to keep adding on. We'll score some runs, but we don't do that in multiple innings.
"With two Wild Cards, every game matters now. You look back and say, 'We should have won this game.' It adds up. That could be the difference in going to the playoffs or not. That second Wild Card makes it interesting because you're never really out of the hunt -- if you can play some good baseball."
Giambi definitely wants to coach or manage when he finishes playing. He interviewed for the Colorado Rockies managerial job that went to Walt Weiss and turned down a few offers to be a coach or hitting instructor with several other clubs.
"Walt Weiss must be really good," Francona said.
So Giambi decided to keep on playing.
"I want to enjoy this while I can," he said. "Unfortunately, this game will let you know when it's time to walk away. Sometimes it's not your choice. I've been lucky enough and blessed enough to be in my 19th Major League season. And I'm going to enjoy every minute.
"Most of the guys I played with are managers now. It's exciting that I'm still able to play this game. Tony [La Russa] was my first manager and he's retired now. [Mark] McGwire's a hitting coach."
Giambi has been on postseason teams with Oakland and the Yankees, and through dismal years, too.
"I try not to get caught up in the ups and downs, because there's so many ups and downs in this game," he said. "Concentrate on the ingredients. Hit a good pitch, hit it hard, you'll get good results."
Gene Duffey is a contributor to MLB.com. This story was not subject to the approval of Major League Baseball or its clubs.