Indians hope rest, treatment will aid Myers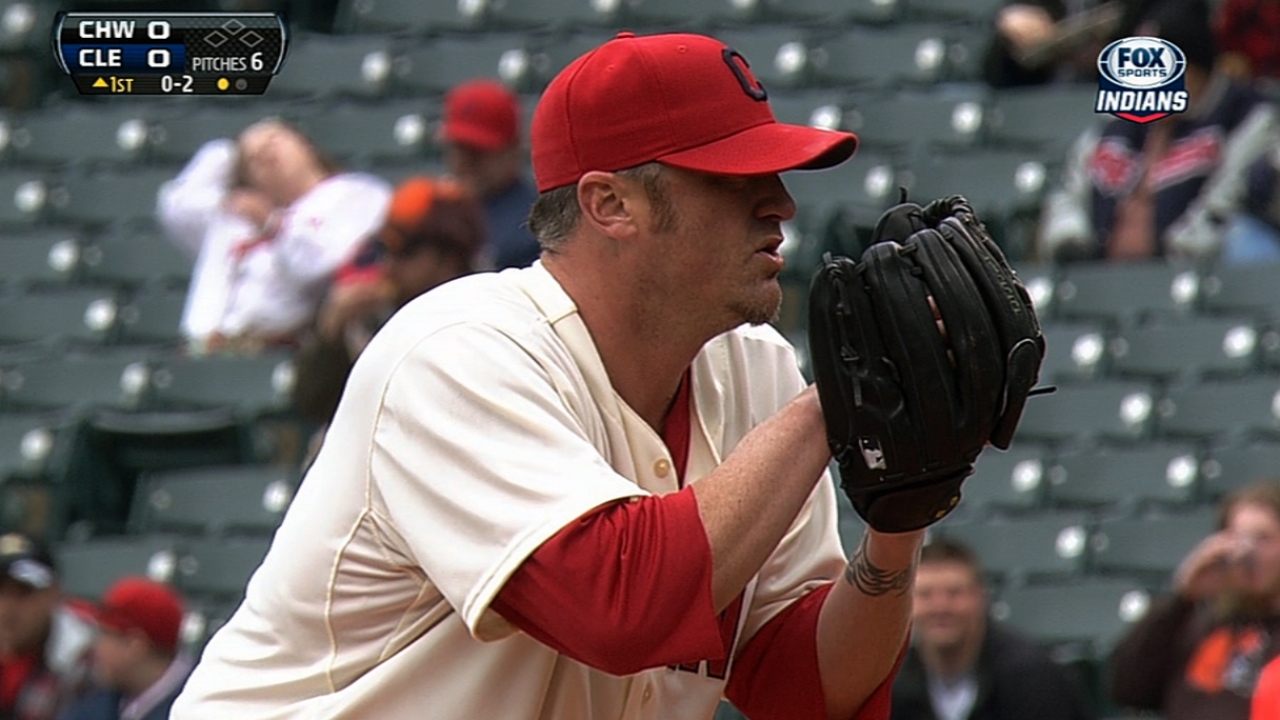 CHICAGO -- The Indians are hoping that a combination of rest and treatment will be enough to solve right-hander Brett Myers' right arm injury. Cleveland plans on giving the pitcher a couple of weeks off to determine whether that approach will suffice.
On Monday, the Indians announced that Myers has been diagnosed with tendinitis in his right elbow and a mild sprain of the ulnar collateral ligament in the joint. The starting pitcher underwent an MRI exam on Sunday in Cleveland after being placed on the 15-day disabled list.
Myers will take two weeks off from throwing before being re-examined. At that point, if the 32-year-old is asymptomatic, he could be cleared to begin a throwing program.
"I'm not happy about [being injured]," Myers told MLB.com. "There was inflammation in there. They saw something on the UCL ligament they weren't sure what it was, but they diagnosed it as a sprain. The doctor told me it's usually six weeks for a younger guy because they want to be sure.
"I'm hoping that it's just two weeks and in 10 days I can start throwing again."
Myers logged five innings in his most recent start on Friday against the Astros. Following that outing, in which he allowed three runs on five hits (two home runs) with four strikeouts and two walks, Myers indicated that he has been pitching through what he believed was forearm tendinitis.
"I definitely know I need time off from throwing and make it calm down," Myers said. "It hasn't gotten any better and maybe gotten a little worse than it has been, but I don't feel it when I pitch. I don't feel anything when I'm throwing. The four days in between, it's just sore and not recovering like it should."
Myers had been dealing with the issue since Spring Training and Indians manager Terry Francona noted that the pitcher told the team he has had similar problems early on in previous seasons. Francona hoping Myers is able to bounce back and rejoin the team by late May.
"It is what it is," Francona said. "I don't think he felt like it was going to be worse than [the diagnosis]. It'll be two weeks down and then hopefully get him on a good throwing program and get him back on the mound helping us. I don't think we were expecting [it to be] worse."
Myers, who was originally scheduled to start against the White Sox on Wednesday, has been replaced by right-hander Corey Kluber in the rotation.
Through four appearances this season, Myers had gone 0-3 with an 8.02 ERA for the Indians, allowing a Major League-leading 10 home runs and 19 runs, which was tied for the most in baseball heading into Monday's action. That early showing followed a subpar spring, during which Myers posted a 9.00 ERA in six Cactus League outings (21 innings).
Over the offseason, Cleveland signed Myers to a one-year contract worth $7 million that includes a club option worth $8 million for 2014.
Jordan Bastian is a reporter for MLB.com. Read his blog, Major League Bastian, and follow him on Twitter @MLBastian. MLB.com reporter Brian McTaggart contributed to this report. This story was not subject to the approval of Major League Baseball or its clubs.