Santana's calmed approach paying dividends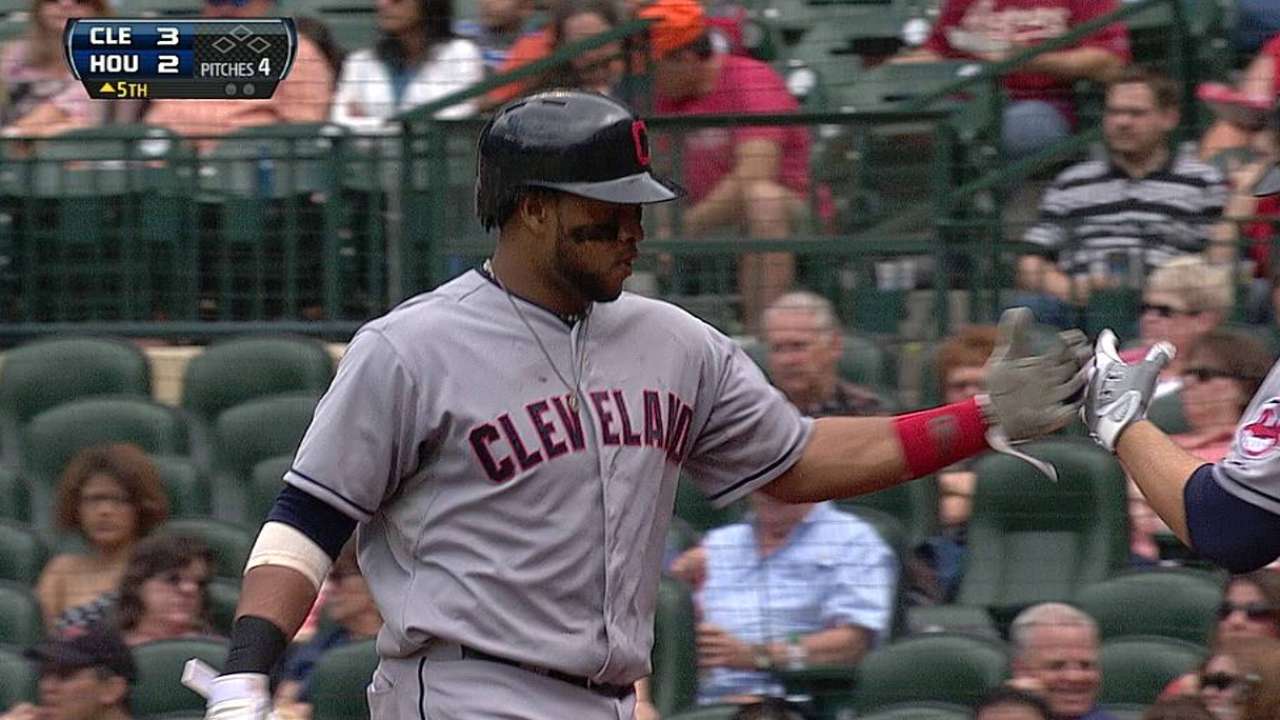 CHICAGO -- Carlos Santana used to swing out of his shoes. Upon seeing a pitch he liked, the Indians catcher had a bad habit of hacking at it with all his might.
So far this season, Santana has reined himself in and the results have been strong.
"All the time, I tried to swing hard," Santana said. "This year, I have more control and I'm seeing the ball better."
The catcher's calmed approach has led to a strong first month.
Through 15 games, the switch-hitting Santana is batting .352 with four home runs, seven doubles, eight walks, nine RBIs and 11 runs scored. His 17.7 extra-base hit percentage (the percentage of extra-base hits within total plate appearances) ranked second in the American League, entering Tuesday.
"He's been pretty good so far," said hitting coach Ty Van Burkleo, who then laughed at his understatement. "He's a dangerous hitter. He's got power from both sides. He's got pretty darned good eye for the most part. Sometimes he'll try to do a little too much, but when he stays within himself, you've got to really pitch to him."
Another promising development for the Tribe has been Santana's early consistency from both sides of the plate.
Santana has hit .321 with a 1.044 OPS in 28 at-bats against right-handed pitchers and .385 with a 1.231 OPS against lefties. The catcher's production hitting lefty or righty has varied over his young career. In his rookie season in 2010, Santana hit .314 (1.002 OPS) against righties and .143 (.582 OPS) against lefties. From 2011-12, he hit .221 (.751 OPS) against right-handers and .296 (.888 OPS) against left-handers.
"What's really important for me is consistency," Santana said. "My first year, I was better left handed. The second year, it was right-handed. This year, I feel comfortable with my swing from both sides. I think it's experience. ... And I don't try to do too much from both sides."
When Van Burkleo was hired as Cleveland's new hitting coach this past offseason, he was excited about Santana's potential.
"Just looking at his video, I loved his swing," Van Burkleo said. "I think the biggest thing was just getting him to stay within himself and not take the big swing where he loses control of his body. He's got a big leg kick, but it also really loads that front side well, and when he maintains it and gets into that good firing position, he creates tremendous torque.
"If you look at Miguel Cabrera, he's got a big coil in the lower half, and that's why he creates so much torque and can drive the ball to all fields."
Jordan Bastian is a reporter for MLB.com. Read his blog, Major League Bastian, and follow him on Twitter @MLBastian. This story was not subject to the approval of Major League Baseball or its clubs.