Indians activate Marson from DL, option Gomes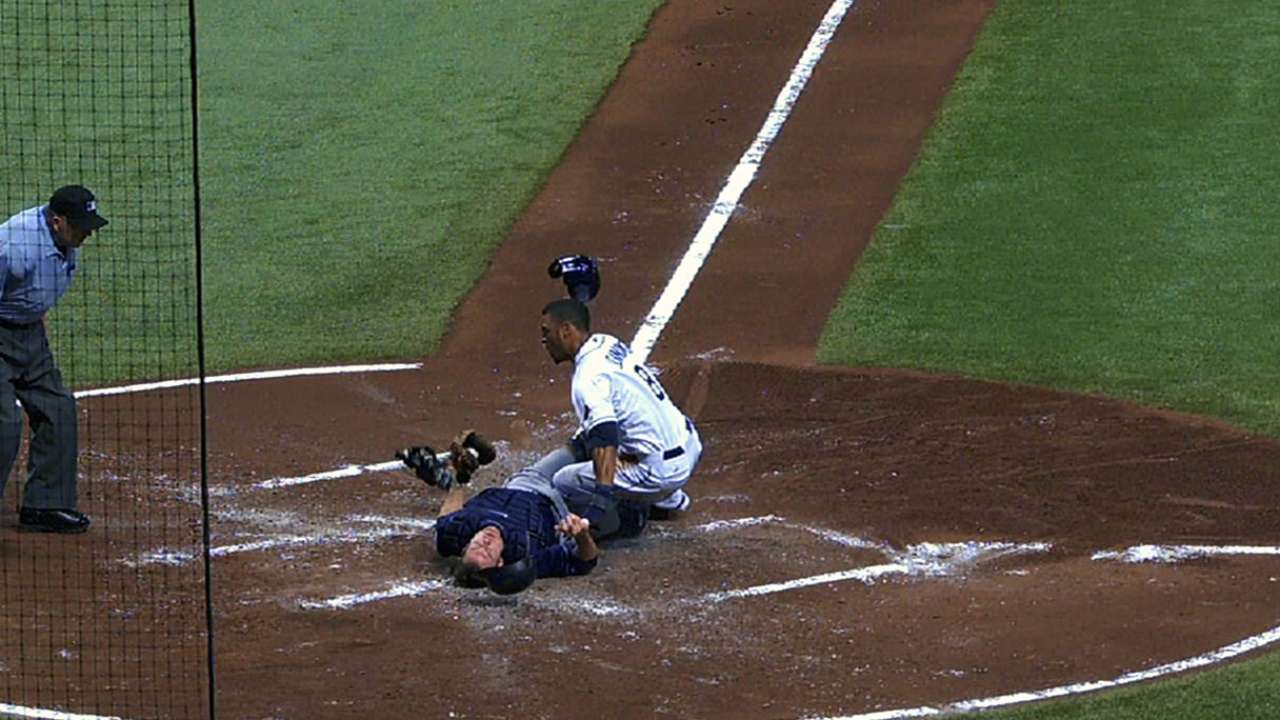 CHICAGO -- Lou Marson did not like being placed on the disabled list. The backup catcher was also not a fan of being away from the Indians while recovering from a neck strain sustained in a home-plate collision in his first start of the season.
Needless to say, Marson was thrilled to be activated and reunited with his teammates on Wednesday.
"It's nice to be back," Marson said. "I was hoping when I was hurt that I could travel with the team, because I didn't want to have to stay in Cleveland and be away from the guys."
To clear room on the active roster for Marson's return, Cleveland optioned catcher Yan Gomes to Triple-A Columbus. The Indians were impressed with Gomes' play -- both in the batter's box and behind the plate -- but the organization wants the young catcher to have regular playing time to further his development.
Marson has served as a backup catcher for the Tribe for the past four seasons and has experience handling the sporadic playing time that comes with the job. The Indians wanted the 25-year-old Gomes to understand the long-term thinking in sending him back to the Minors.
"We discussed that with him," Indians manager Terry Francona said. "To his credit, I think he understands it. The day you send a guy down is not maybe necessaarily the best day to explain stuff to guys, but he was really good about it. We took a lot of time to try to explain it. He needs to play. For his career, this is a good thing for him to do right now.
"It's hard enough backing up. You can ask Lou. He'd probably say the same thing. It's hard. It's hard to do [especially] for a younger guy, with less experience. He needs to go play."
With starting catcher Carlos Santana sidelined with flu-like symptoms, Marson got the nod behind the dish for Wednesday's game against the White Sox. Marson's last start was on April 6, but the catcher was forced to exit after being plowed over at the plate by Tampa Bay's Desmond Jennings in the third inning of a 6-0 loss to the Rays.
On April 8, Marson took over for Santana in the ninth inning against the Yankees after the Tribe's regular catcher injured his left hand. Marson was still in pain that night and, looking back on it now, the backup catcher knows going on the 15-day DL was the appropriate move.
"Absolutely," Marson said. "I was pretty sore for almost a week. I thought I could stay in there and maybe catch if something happened to Carlos, or at least be ready. But I went in [on April 8] and it didn't feel good at all. They had to do something. It wouldn't have been good.
"I wouldn't have been able to perform the way I wanted with my neck not being able to rotate and turn without hurting. Yan came up and did a good job. That was awesome."
Jordan Bastian is a reporter for MLB.com. Read his blog, Major League Bastian, and follow him on Twitter @MLBastian. This story was not subject to the approval of Major League Baseball or its clubs.