Indians place Marson on DL, recall Gomes
Lefty Barnes tabbed as 26th man for Sunday's twin bill with Royals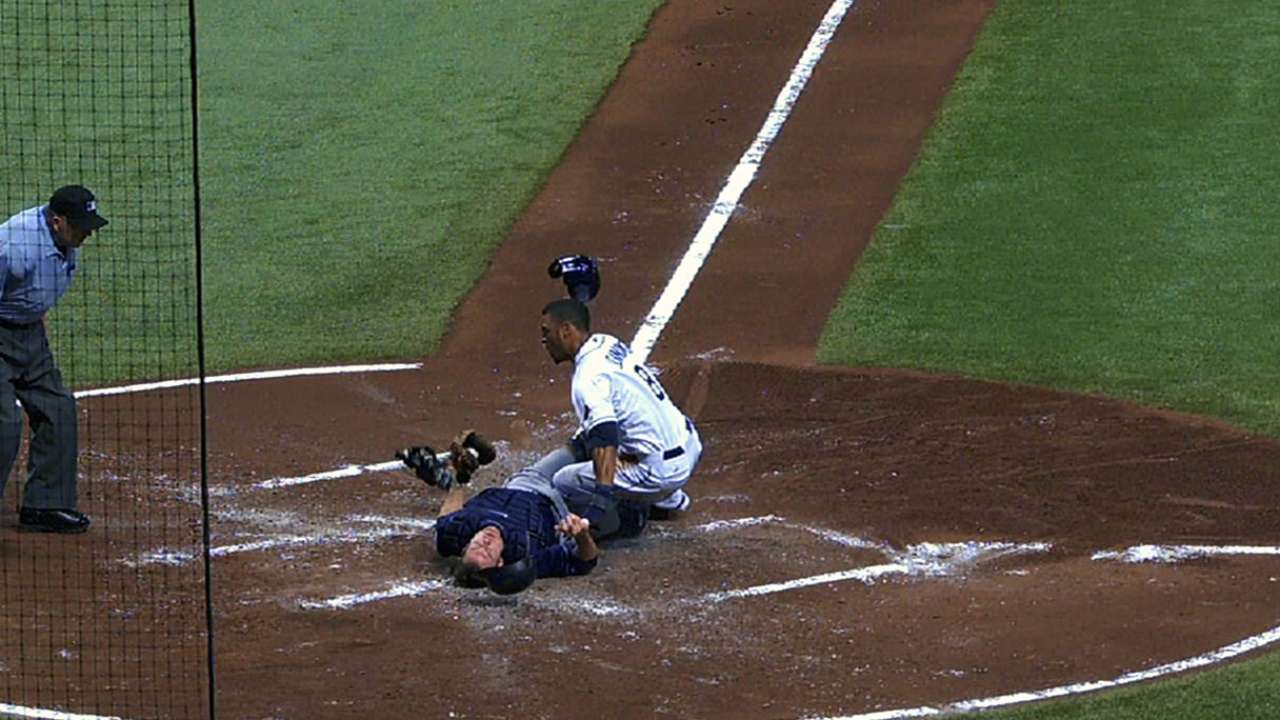 KANSAS CITY -- The Indians made a pair of roster moves prior to Sunday's doubleheader with the Royals.
Cleveland placed backup catcher Lou Marson on the 15-day disabled list due to inflammation in his right shoulder and recalled catcher Yan Gomes from Triple-A Columbus as his replacement. The Indians also called up lefty Scott Barnes from Triple-A to serve as the 26th man for the twin bill at Kauffman Stadium.
This marks Marson's second trip to the disabled list this season for the Tribe. The catcher was activated on Wednesday following a bout with a strained neck, which he sustained in a collision at home plate on April 6. Marson has been limited to three games this year due to injuries.
"He tried to work through it during the spring," Indians manager Terry Francona said of Marson's arm injury. "I know he had it last year, which a lot of guys do. And then when he got hit [on April 6], that didn't help. He's battling a couple things. First, his neck hurts. And then his routine was thrown off with his throwing. We sat down and talked to him and we're like, 'Hey, man. This isn't fair.'
"His big strength is catching and throwing. I looked at his numbers from years past, he was always among the league leaders. So we need to try to get him back to that, in fairness to him. He was willing to try to work through it, because he's kind of a hard-nosed kid and he prides himself on that. But I know what we did is right."
Gomes -- acquired by Cleveland in an offseason trade with the Blue Jays -- filled in for Marson during the backup's previous stint on the DL. In six games for the Tribe, the 25-year-old Gomes hit .211 with two home runs and three RBIs. Gomes also posted a 3.52 catcher's ERA and threw out the only two runners to attempt a stolen base against him.
"Whatever we've thrown at him, he's handled," said Francona, referring to Gomes. "We still have to walk that balance of we're trying to win here, obviously, and balance his development."
Gomes was happy to be back with the Indians, even knowing that playing every day in the Minors -- as opposed to sporadically in the Majors -- is good for his long-term success.
"I feel like you're in a way going to get your best experience by being up here," Gomes said. "But if it's the development stage, it's definitely good to play every day. You just can't [treat] it [like you're] a backup guy. You've still got to work hard every day kind of as if you're a starter, talking to the pitching staff every day and hitting. You've got to do work every day as if you're playing every game."
Barnes gives the Indians added bullpen depth for Sunday's doubleheader, which was scheduled following a rainout of Friday night's game at Kauffman Stadium. Under the guidelines of the latest Collective Bargaining Agreement, a team can carry 26 players for a twin bill. Barnes will likely be sent back to Triple-A after the doubleheader.
In seven games for Columbus this year, Barnes is 2-0 with a 4.70 ERA and eight strikeouts against five walks in 7 2/3 innings. Last season with the Indians, the 25-year-old lefty posted a 4.26 ERA in 16 appearances, including nine scoreless innings in his final nine outings down the stretch in September.
Jordan Bastian is a reporter for MLB.com. Read his blog, Major League Bastian, and follow him on Twitter @MLBastian. This story was not subject to the approval of Major League Baseball or its clubs.