Asdrubal starting to heat things up at plate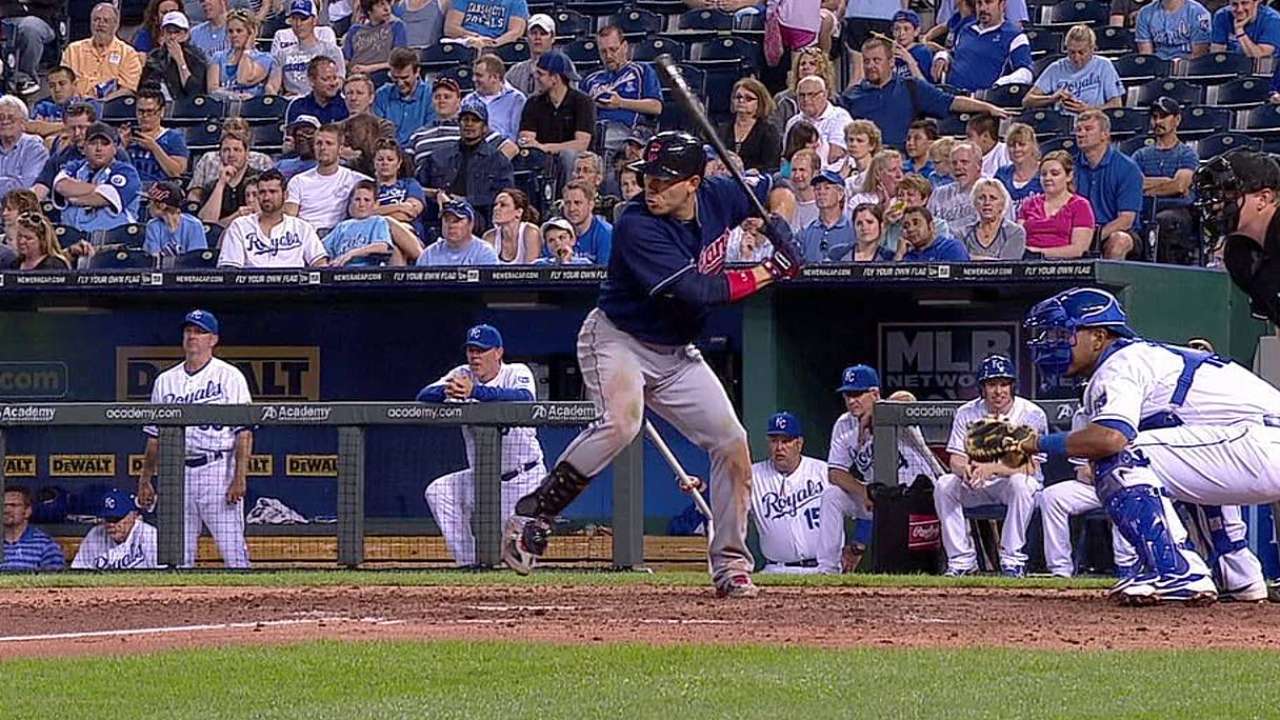 KANSAS CITY -- Throughout Asdrubal Cabrera's early-season cold spell at the plate, Indians manager Terry Francona repeatedly said it was only a matter of time before the All-Star shortstop starting heating up.
Cabrera appears to be turning that corner.
"It looks like it," Francona said on Monday. "That's not surprising."
With his 2-for-3 showing against the Royals on Monday, the switch-hitting Cabrera is batting just .225 with two home runs, four doubles, one triple and eight RBIs in 21 games. Over his past eight games, though, the shortstop has hit at a .414 (12-for-29) clip.
Cabrera, who missed last Wednesday's game in Chicago due to a right quad injury, went 5-for-9 in Sunday's doubleheader in Kansas City. Francona said he considered giving Cabrera the second game off, but the shortstop asked to stay in the lineup.
"You're trying to balance work load and things for a doubleheader," Francona said. "He had the quad [injury]. I didn't want to get in the way of him getting hot. Sometimes the manager can get in the way. I didn't want to do that. He really wanted to play that second game. It looks like he's starting to get a little more aggressive with his swings. That's good."
Armed with an 8-0 lead in the sixth inning on Monday, Francona pulled Cabrera from the contest to provide the shortstop with some well-earned rest.
Francona said Cabrera is one player he does not worry too much about when a slump comes on.
"He really knows how to play the game," Francona said. "By that, I mean he sees the field really well. Whether it's moving up on a ball or going first to third. Those types of players, it's like they've got [more than two] eyes. It's a big compliment. He's got a good baseball clock."
Jordan Bastian is a reporter for MLB.com. Read his blog, Major League Bastian, and follow him on Twitter @MLBastian. This story was not subject to the approval of Major League Baseball or its clubs.