Swisher held out of lineup with sore left shoulder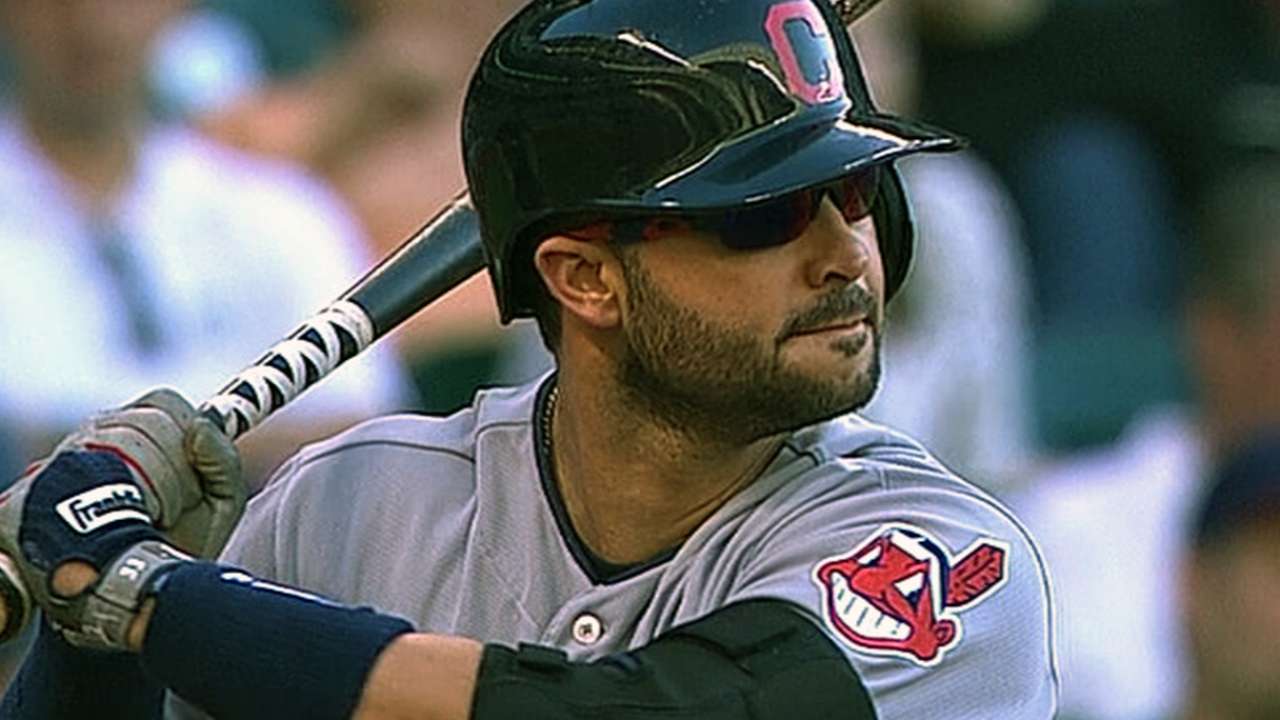 CLEVELAND -- Nick Swisher has willingly shifted between first base and right field to help the Indians' depleted lineup over the past couple of weeks. In the process, the difference in positions has taken a toll on Swisher's throwing arm.
On Tuesday, Indians manager Terry Francona held Swisher out of the starting lineup for Cleveland's game against the Phillies due to soreness in his left shoulder. Francona noted that, considering the Tribe has a scheduled off-day coming Thursday, Swisher might be allowed to rest his ailing arm on Wednesday as well.
That means Swisher could be out until Friday's game against the Twins.
"His left shoulder has been nagging at him a little bit," Francona said on Tuesday. "We've been playing the heck out of him. I told him I'd give him tonight off. ... It wouldn't be a shocker if he doesn't play [Wednesday], either."
Through 23 games this season, the 32-year-old Swisher has split his time between first base (12 games), right field (six games) and designated hitter (five games). Five of Swisher's six starts in right field have come within the past 12 games, while center fielder Michael Bourn has been sidelined with a right index finger injury. Right fielder Drew Stubbs has held down center in Bourn's absence.
Francona noted that Swisher's swing was likely affected by the shoulder soreness as well. The switch-hitting Swisher has posted a .265 average with two home runs, six doubles, nine RBIs and 13 runs this season, but he has only hit at a .160 (4-for-25) clip over his past seven contests.
Francona said the constant movement between right field and first base was the probable cause behind the injury.
"That's why I hesitated at times to do it," Francona said. "It was also a way to get [DH Jason] Giambi in there. Plus, [it helped] with some of the injury things we had going. He always did it. I think, especially as his arm started hurting, it was probably harder for him to do it."
Swisher was not in the clubhouse prior to Tuesday's game, but he did address the issue on Sunday in Kansas City.
"I want to do whatever [Francona] needs me to do, whatever makes this team better," Swisher said. "It's definitely a lot different being at first base than it is out there in right field. At first base, it's easy to make that nice little quick throw. Then you go out to the outfield, you've got to let that thing rip."
Jordan Bastian is a reporter for MLB.com. Read his blog, Major League Bastian, and follow him on Twitter @MLBastian. This story was not subject to the approval of Major League Baseball or its clubs.