Giambi's hustle draws praise throughout clubhouse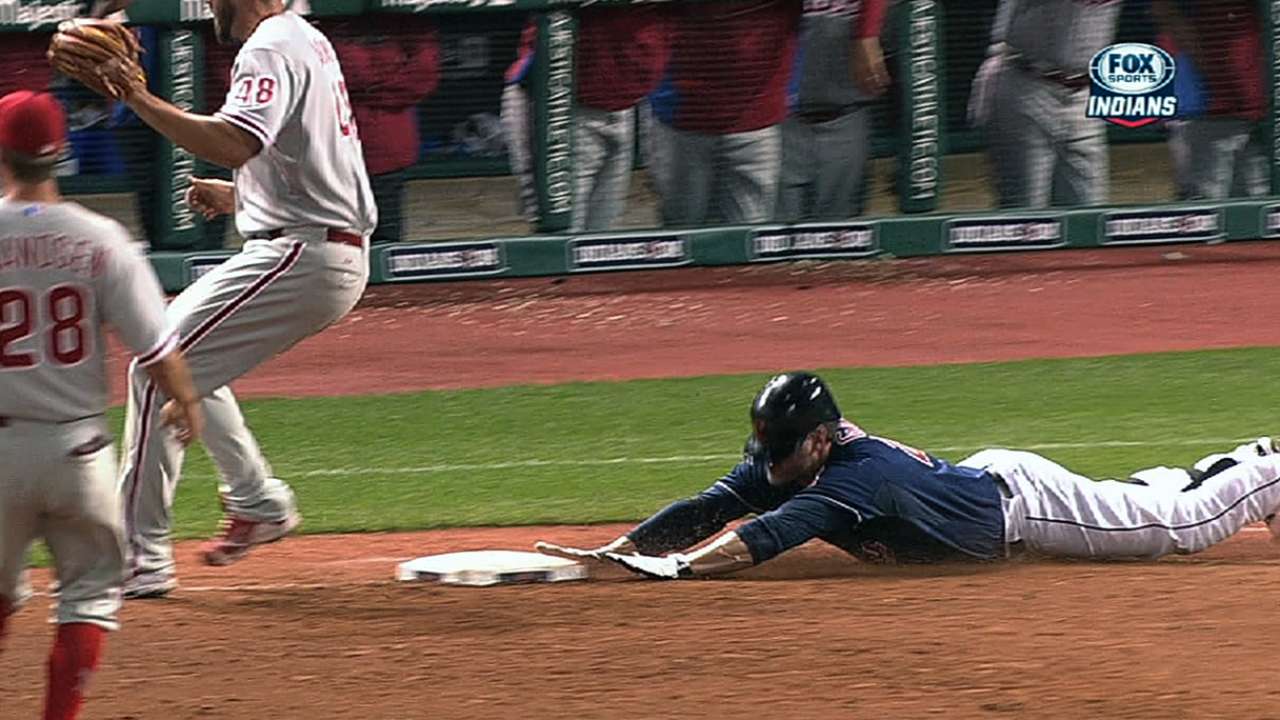 CLEVELAND -- For all the power the Indians put on display Tuesday night, it was an infield single that dominated the conversation in the clubhouse a day later.
In the eighth inning of Cleveland's 14-2 rout of the Phillies on Tuesday, Jason Giambi pulled a pitch down the first-base line, where the baseball glanced off the glove of a lunging Ryan Howard. Giambi tore up the basepath and dove headfirst into first base, claiming an unlikely infield single.
"I felt like Mr. Potato Head," Giambi quipped. "My parts were going everywhere."
The Indians, who launched seven home runs in the victory, were up by a dozen runs at the time.
"That was better than any home run we hit," Indians left fielder Michael Brantley said Wednesday. "Just being around him and knowing him, he's a competitor. He's an awesome teammate. Just to see, in that situation, he was hustling down the line and a headfirst slide, it was just awesome."
Indians manager Terry Francona said after the win that the effort turned in by the 42-year-old Giambi on that play should be enough to inspire any ballplayer.
"You know what?" Francona said. "If you're a young player, and after you watch that, you don't run a ball out, you should be humiliated. Anybody in baseball. I was so [darn] excited. That's just a guy that cares."
Francona took it a step further while discussing the play on Wednesday.
"I think in one, quick 90-foot segment, he displayed what he's about," Francona said. "I don't know if you could see it, our dugout erupted. The last thing you ever want is for somebody to get hurt, but that showed how he feels toward the game of baseball. That's the best way I can put it.
"As he was running down to first, he had 24 other guys pushing him. That's a nice feeling."
Told of Francona's high praise, Giambi smiled.
"That's what I'm here for," Giambi said, "to try to set a good example for these kids and play the game hard and show them how to play hard. I'm coming to the ballpark and loving every minute of it."
Jordan Bastian is a reporter for MLB.com. Read his blog, Major League Bastian, and follow him on Twitter @MLBastian. This story was not subject to the approval of Major League Baseball or its clubs.