Carrera returns after brief stint in Philly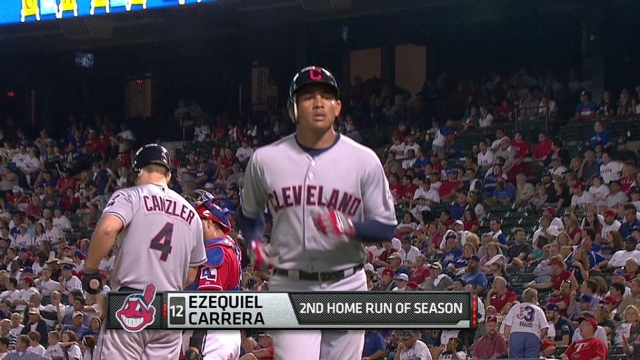 CLEVELAND -- Ezequiel Carrera, the human boomerang, has returned to Cleveland after a brief stint in Philadelphia.
Carrera fell short in vying for a Major League roster spot with the Indians during Spring Training. Cleveland designated him for assignment, and he latched on with the Phillies. Carrera made his return to Cleveland when the Phillies visited the Tribe on Monday, a day before a two-game set at Progressive Field.
However, before Carrera could suit up against his former mates, the Phillies designated him for assignment to create a spot for Delmon Young on their roster. So, Carrera drove to his home in Columbus and waited for his phone to ring.
On Thursday, it was the Indians on the other end of the phone.
"I was surprised," said Carrera, who collected one hit in 13 at-bats for the Phillies. "I'm very happy to come back to Cleveland. It's another opportunity."
The Indians chose Jason Giambi and Ryan Raburn instead of Carrera for their bench at the start of the season. Carrera, who batted .272 and tallied eight stolen bases in 48 games for the Tribe last season, hit .279 in 43 at-bats this spring. The 25-year-old is out of options, so he had to clear waivers before he could be assigned to a Minor League affiliate. The Phillies jumped at the chance and claimed him.
"We knew that there was a good possibility that we'd lose him," said manager Terry Francona. "Now, we had a chance to get him back. This is a guy that has come through our organization, that the Indians developed, so having him back is great."
Carrera gives Francona another outfield option off the bench, a valuable commodity with center fielder Michael Bourn still on the mend with an injured right index finger.
"He's a guy that can play all three [outfield] positions," Francona said. "He obviously brings speed and a left-handed bat. So, it complements us very well.
"But, the basics of it is he's a guy we really liked and didn't want to lose."
Zack Meisel is a reporter for MLB.com. Follow him on Twitter @zackmeisel. This story was not subject to the approval of Major League Baseball or its clubs.