Perez, Indians reflect on Wednesday controversy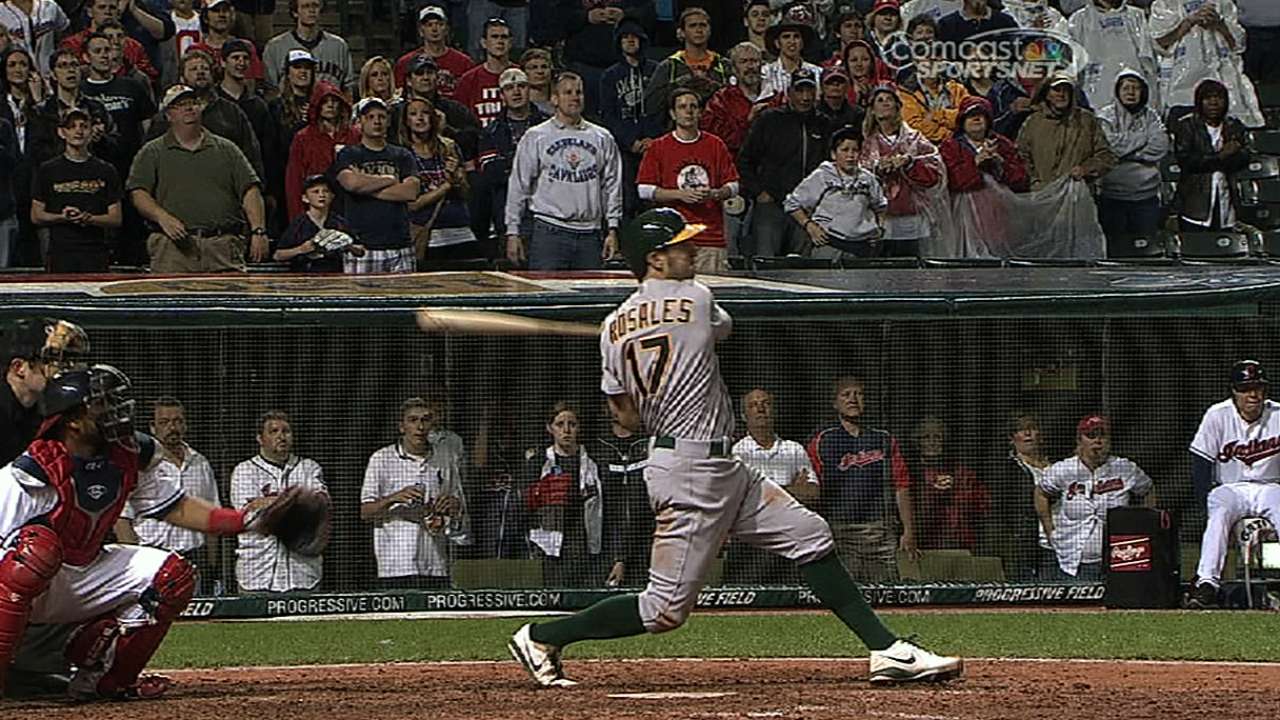 CLEVELAND -- Mike Aviles passed his phone around to a gathering of teammates in the clubhouse on Thursday morning.
One by one, Indians players read the latest article discussing Wednesday night's controversial call. It may take some time before talk about the play dies down.
With two outs in the top of the ninth inning, Oakland's Adam Rosales hit a Chris Perez pitch toward the top of the 19-foot wall in left-center field. The ball appeared to strike the railing above the padded fence. Initially, umpires ruled it a double, but they reviewed the call as Rosales waited at second base.
After the review, they upheld the original ruling, and A's manager Bob Melvin argued his way to an ejection before the Indians eventually hung on for a 4-3 victory.
"That's definitely one of the weirdest saves I've had," Perez said. "The most memorable, for sure. To end the game like that -- I had two outs and nobody on and then the home run, err, double, and then a hit-by-pitch and a walk. It shouldn't have been as intense as it was."
On Thursday, Melvin detailed his thinking during the umpires' review.
"It actually worried me when it took so long," he said. "Even the group in the suite next to us, you could see them look at the replay one time, and they all turned around and said, 'It's a home run.' And when I went to look at it in the video room, their announcers were saying, 'It's a home run, let's go. What's taking so long?' So that was my experience with it."
As Indians players sat around a table on Thursday morning, playing cards and completing crossword puzzles, they discussed how they would approach the situation if they were forced to replay Wednesday's contest from the point of the disputed call.
Melvin doubted that would take place.
"I don't know if there's a precedent for that," Melvin said. "I do know the rule stands that when I ask them to go in and look at replay and they do, and when they come out with a decision, that's supposed to be the end of it. And that's why I was thrown out, for continuing it. Other than that, I don't know."
Major League Baseball executive vice president for baseball operations Joe Torre issued the following statement Thursday regarding the instant replay review: "By rule, the decision to reverse a call by use of instant replay is at the sole discretion of the crew chief. In the opinion of Angel Hernandez, who was last night's crew chief, there was not clear and convincing evidence to overturn the decision on the field. It was a judgment call, and as such, it stands as final.
"Home and away broadcast feeds are available for all uses of instant replay, and they were available to the crew last night. Given what we saw, we recognize that an improper call was made. Perfection is an impossible standard in any endeavor, but our goal is always to get the calls right. Earlier this morning, we began the process of speaking with the crew to thoroughly review all the circumstances surrounding last night's decision."
Zack Meisel is a reporter for MLB.com. Follow him on Twitter @zackmeisel. Jordan Bastian is a reporter for MLB.com. Read his blog, Major League Bastian, and follow him on Twitter @MLBastian. This story was not subject to the approval of Major League Baseball or its clubs.