Raburn makes his return to Detroit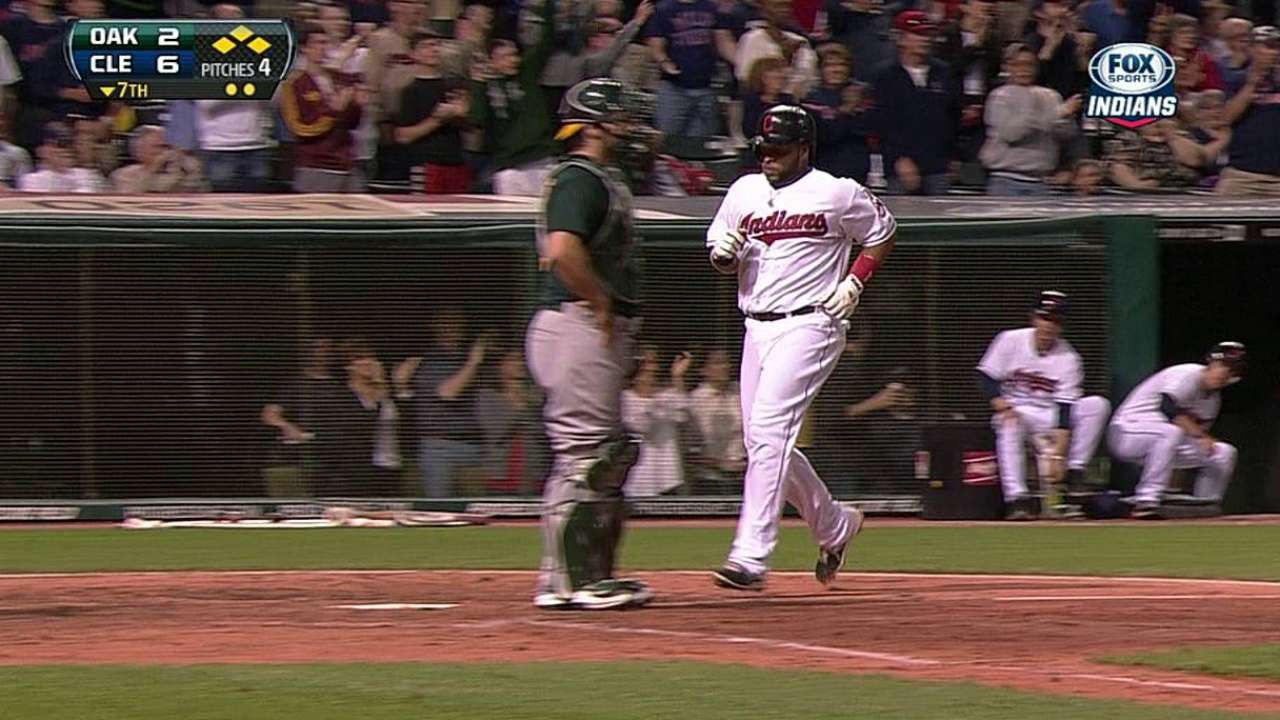 DETROIT -- Ryan Raburn did not make any wrong turns when he navigated his way through Comerica Park on Friday afternoon. The Indians utility man did admit that he glanced in the direction of the Tigers' clubhouse before heading to the visitors' side.
Detroit fans might have a mixed reaction to Raburn's return, but he was happy to be back in the city he called home for parts of seven seasons.
"It's pretty fun. I've been here so long," Raburn said. "To come back, I'm kind of excited and a little nervous, but I'm anxious to get back out there and see a few of those guys. It's a little different feel being over on the other side."
Raburn, who was not in Cleveland's lineup on Friday, makes his return as the American League's reigning Player of the Week. He filled in admirably as a starter over the past three weeks while the Indians tried to hold down the fort until center fielder Michael Bourn's return from the disabled list. Bourn's absence forced right fielder Drew Stubbs to center, opening the door for playing time in right for Raburn.
Entering Friday, Raburn was hitting .329 (24-for-73) with four home runs, six doubles and 11 RBIs in 22 games for Cleveland. It has been a drastic improvement over last season, when he hit .171 in 66 games for the Tigers, was demoted to Triple-A Toledo and battled injuries in the second half.
"I just wanted to come over here and show guys I could still play," Raburn said. "And just have fun -- enjoy the game. Last year was not very enjoyable. It was tough. Everybody saw how bad it was last year. It just wasn't real fun to come to the ballpark every day."
On Thursday in Washington D.C., Tigers manager Jim Leyland shouldered some of the blame for Raburn's poor showing last season.
"Everybody knows what I think of Ryan Raburn," Leyland told reporters. "I think I probably screwed him up last year making him a second baseman. If I had played him part time in the outfield and moved him around and not just had high expectations, he'd have probably been fine. So I'll take the responsibility for that. He's a talented guy. It was probably my fault."
Raburn smiled when he heard of Leyland's comments.
"There's different theories and different scenarios," Raburn said. "I appreciate him thinking it was his fault. It was nobody's fault. I think it's just the nature of the game. You go through spurts where it seems like nothing goes right for you and you go through spurts where there's nothing you can do wrong.
"It was just one of those years where it was going to go wrong. It did last year. But nobody is to blame. I was the one out there playing and I just didn't get it done."
Jordan Bastian is a reporter for MLB.com. Read his blog, Major League Bastian, and follow him on Twitter @MLBastian. This story was not subject to the approval of Major League Baseball or its clubs.