Kazmir shows dominant velocity in Thursday's gem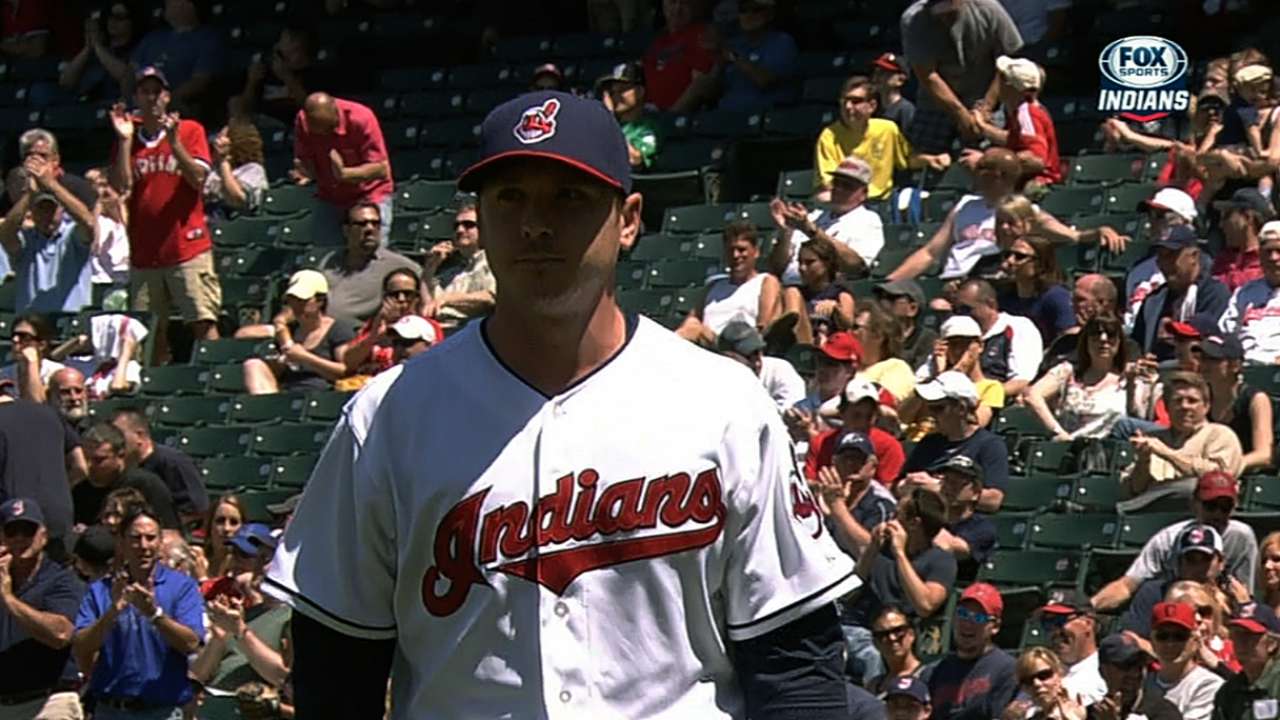 DETROIT -- For six innings on Thursday, Scott Kazmir showed that he once again has the potential to be a dominant pitcher in the big leagues. For three pitches, the Indians left-hander looked like the overpowering ace he was for the Rays a few years ago.
After yielding a home run to Josh Donaldson, an angered Kazmir reached back and struck out Lou Montz on three pitches. Those three pitches registered at 95, 96 and 95 mph for the lefty.
"That was pretty good," Indians pitching coach Mickey Callaway said with a grin. "We went back and looked at it. He hadn't hit 95 or 96 since 2009."
Kazmir's return to the Major League stage has been well-documented. He was one of the American League's elite lefties with Tampa Bay before health and mechanical issues led to his release by the Angels in 2011. Kazmir spent last summer pitching for the Sugar Land Skeeters in Independent ball, focusing on fine-tuning his delivery.
Cleveland signed him to a Minor League contract over the winter and -- after a solid showing in the spring -- named him the fifth starter.
During Thursday's win over Oakland, Kazmir turned in six innings, holding the A's to one run on five hits an ending the afternoon with 10 strikeouts and no walks. Kazmir has won back-to-back starts for the first time since June 2010, he struck out 10 for the first time since '09 and had double-digit strikeouts with no walks for the first time since May 2008.
"He's gotten better -- considerably better -- every outing he's been out there," Callaway said. "From the first of Spring Training to now, it's been unbelievable. He's probably gaining all this confidence and all of a sudden, something's going to click and he'll be right where he was."
Heading into Friday's games, hitters made contact with pitches in the strike zone only 78 percent of the time against Kazmir, according to fangraphs.com. Only Texas starter Yu Darvish (74 percent) had a better rate. Just behind Kazmir in that category are R.A. Dickey, Max Scherzer and Matt Harvey (each at 79 percent).
Kazmir was averaging 91.3 mph on his fastball, which is a tick under the 91.7 mph average he registered in 2008.
In the sixth inning on Thursday, Kazmir showed he has some gas left in the tank.
"Those were some angry throws right there after that home run," Kazmir said. "I feel like a light bulb went off with how I was throwing it, how I was behind the ball and getting through it. Hopefully I'll keep it going."
Jordan Bastian is a reporter for MLB.com. Read his blog, Major League Bastian, and follow him on Twitter @MLBastian. This story was not subject to the approval of Major League Baseball or its clubs.