Chisenhall looking to improve against lefties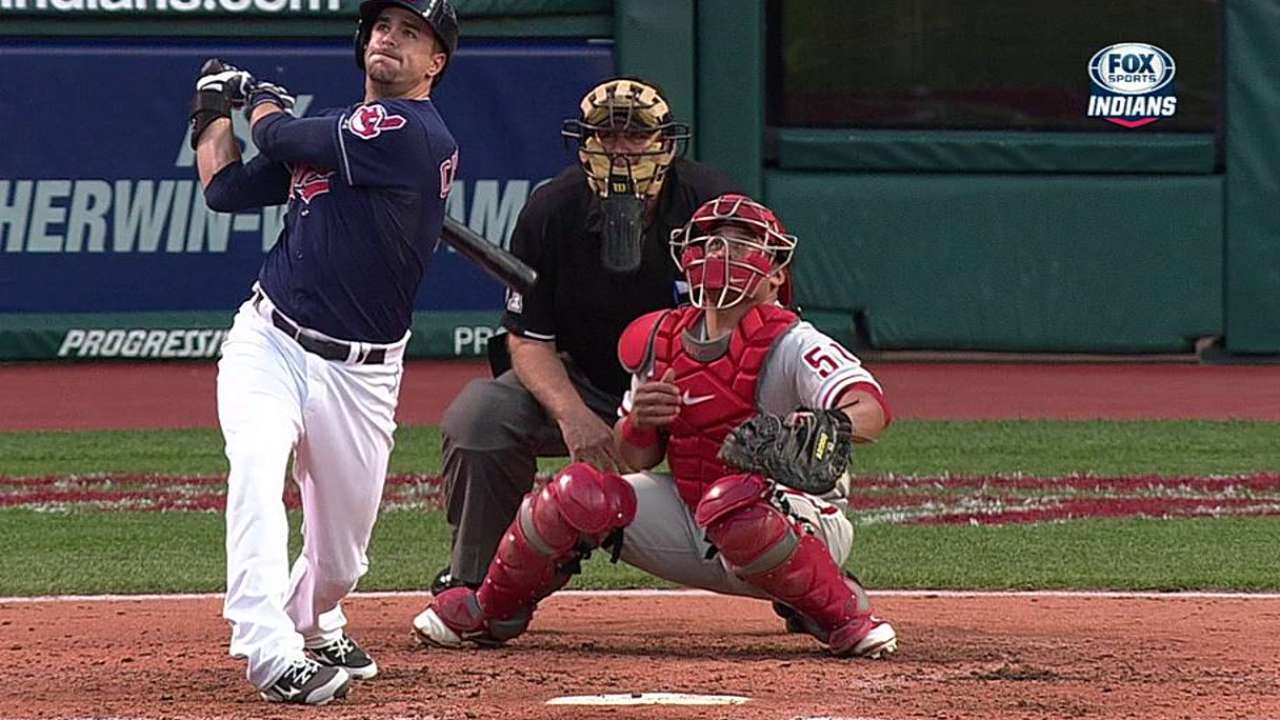 DETROIT -- Indians manager Terry Francona believes that third baseman Lonnie Chisenhall is a few good games away from swinging his season in the right direction.
Through the first six weeks, Chisenhall has struggled in the same areas that have plagued him in years past. The lefty-swinging third baseman is struggling against left-handed pitching and having a hard time getting on base regularly.
"He's just gotten himself into a little bit of a rut," Francona said. "You see him getting fastballs that he's normally all over and he's fouling them over the third-base dugout. ... He's a couple games away from being nice and respectable."
Heading into Sunday's action, Chisenhall was hitting .220 with three home runs and 11 RBIs through 25 games, but had drastically different splits. He was hitting .261 against right-handers compared to .091 off lefties. Overall, Chisenhall had 20 strikeouts and only two walks in 95 plate appearances.
Francona has occasionally spelled Chisenhall in favor of right-handed-hitting utility man Mike Aviles, especially against left-handed starters. Through 21 games, Aviles was batting .286 with two homers and 13 RBIs, with a .429 mark against righties and a .200 average off lefties. In 62 plate appearances, Aviles had seven strikeouts and three walks.
Francona admitted there is a balancing act when handling the playing time for Chisenhall and Aviles.
"A little bit," Francona said. "Early in the season, I didn't want to pinch-hit for Lonnie, because I thought I want to let guys kind of play, get their feet wet and not look over their shoulder. Now that we're into the season a little bit, I think you can start doing some things off the bench a little bit more."
Francona pointed to Saturday night, when he allowed Chisenhall to lead off the sixth against Tigers lefty Drew Smyly, but then used Aviles as a pinch-hitter against righty Al Alburquerque in the seventh. Aviles had an RBI single in that at-bat.
During Sunday's 4-3 win in 10 innings over Detroit, Francona replaced Chisenhall with pinch-hitter Mark Reynolds, who came through with a go-ahead single off lefty Darin Downs. Chisenhall finished 0-for-3 with a walk.
Francona noted that the key for Chisenhall is focusing on catching up to fastballs.
"I just think he's got to get in a position where he can let his bat speed work," Francona said. "He's just got himself in a position where he can't quite get the bat head where it wants to be. It'll get there, and when it happens [he'll be fine]."
Jordan Bastian is a reporter for MLB.com. Read his blog, Major League Bastian, and follow him on Twitter @MLBastian. This story was not subject to the approval of Major League Baseball or its clubs.