Indians' patience forcing pitchers to work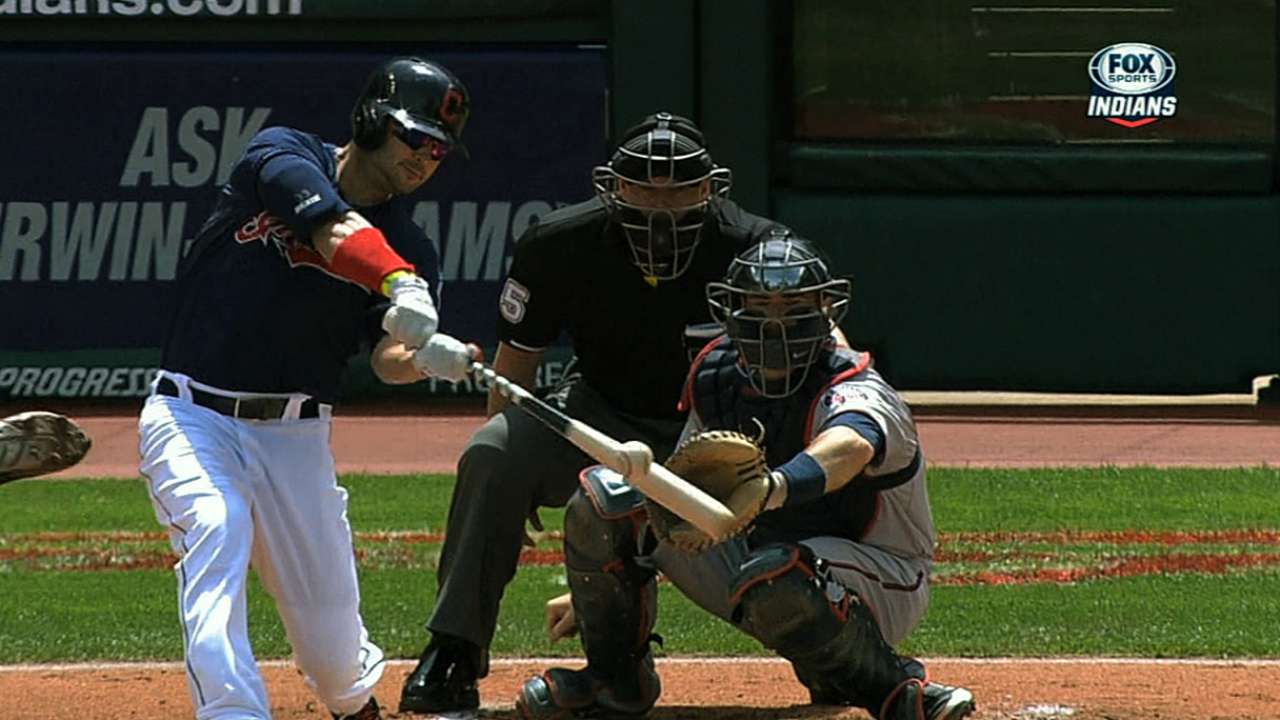 DETROIT -- It is not often that a team forces Detroit ace Justin Verlander to pass the century mark in pitches before the end of the fifth inning. Cleveland achieved that rare feat on Saturday night, but it simply fell in line with an early-season trend for the club.
The Indians have been forcing pitchers to work all season.
Entering Sunday's game against the Tigers, the Tribe ranked fourth in the American League with 3.93 pitches per plate appearance. Cleveland boasted the fourth-lowest percentage of first-pitch swings (22 percent) in the AL and was tied for first in the league in percentage of 3-1 counts (10 percent), creating a wealth of hitter's counts.
"I think it's a byproduct of good at-bats," Indians manager Terry Francona said. "I think what it really boils down to is, get a pitch you can hit. Sometimes it's the first pitch, but if you get good pitches to hit, and you take good healthy swings, the byproduct at the end of the day, you'll have grinded guys."
After a 35-pitch first inning and a 27-pitch second, Verlander lasted only five innings in Cleveland's 7-6 victory. The right-hander hit the showers at 110 pitches, marking only the fifth time in his career he's logged at least 110 pitches without working into the sixth inning -- the last time coming in 2010.
"I thought we had a great approach," Indians first baseman Nick Swisher said. "Any time you're going up against a guy like that, you have to. For us to be able to get him up to 100 pitches by the fifth inning, that's doing some work."
The Indians have forced an opposing pitcher to throw at least 110 pitches in less than six innings twice this season. In Sunday's 4-3 extra-inning win over the Tigers, Detroit starter Rick Porcello threw 101 pitches in six innings, and closer Jose Valverde tossed 29 as the Indians rallied to tie it in the ninth.
Entering play on Sunday, Cleveland was tied for fifth in the Majors for the most games (11) in which an opposing starter went over 100 pitches in less than seven innings.
Verlander was the latest example.
"I was proud of our effort," Francona said. "We always give an effort, but the quality of our at-bats [Saturday] was really good. That's one of the best pitchers you're going to see, and we made him work for everything and we extended some innings and we took advantage of it."
Jordan Bastian is a reporter for MLB.com. Read his blog, Major League Bastian, and follow him on Twitter @MLBastian. This story was not subject to the approval of Major League Baseball or its clubs.