Tribe promotes Bauer, Huff; Chisenhall down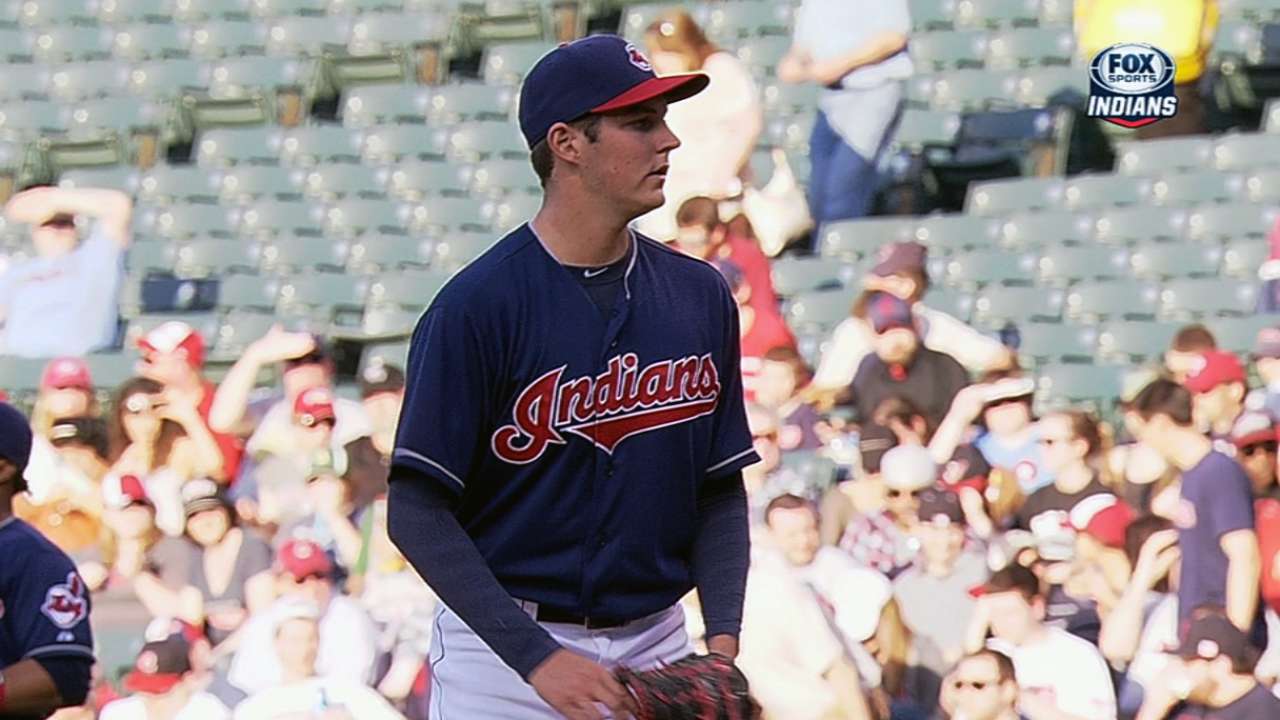 CLEVELAND -- In addition to right-hander Trevor Bauer -- the starter in the second game of Monday's traditional doubleheader against the Yankees -- the Indians announced prior to the first game that southpaw David Huff was promoted from Triple-A Columbus. To make room, the team optioned third baseman Lonnie Chisenhall.
The afternoon start was Bauer's third for the Tribe this season. In his first two, the righty went 1-1 and posted a 2.70 ERA across 10 innings, striking out seven and walking 13 while holding opponents to an .097 batting average.
In Columbus this season, Bauer went 1-1 with a 2.55 ERA. He struck out 31 and walked 10.
"I might be the high guy on him," Indians manager Terry Francona said on Saturday. "I think this guy is going to be what we're looking for. He just has to develop, and sometimes that takes a while to do.
"I think there's a part of this kid that knows he's good and that he's going to be good. There's just some development left. I think what gets hidden is he's a pretty fierce competitor."
Huff has pitched for the Tribe in each of the past four seasons, but he entered Monday without an appearance at the big league level this season. His career record in the Majors is 18-26. In 285 1/3 innings, Huff posted a 5.30 ERA to go along with 157 strikeouts and 97 walks.
With the Clippers this season, Huff went 3-1 with a 4.07 ERA, recording 28 strikeouts and nine walks. Opponents hit .223 against him.
Chisenhall's demotion is the result of a mediocre performance in the batter's box to start the season. The third baseman is batting .213 with three home runs and 11 RBIs in 94 at-bats across 26 games. He's struck out 22 times this season and has managed just three walks.
"The outcome of his at-bats I think was starting to affect his play," Francona said, "and he even kind of admitted that.
"This guy is such a building block in our organization. This is not an indictment on him. He's going to figure it out, and he's going to be a force here."
Against left-handers, Chisenall hit .091 (2-for-22) with one double, one home run, five RBIs and six strikeouts.
"[We] just think it's better for him right now to go take a deep breath, get some at-bats, get himself rolling and you'll see him back here, leaning on some fastballs," Francona said.
Mark Reynolds started at third base for both games of Monday's doubleheader. Francona said that Mike Aviles can fill the position capably as well.
Mark Emery is an associate reporter for MLB.com. This story was not subject to the approval of Major League Baseball or its clubs.